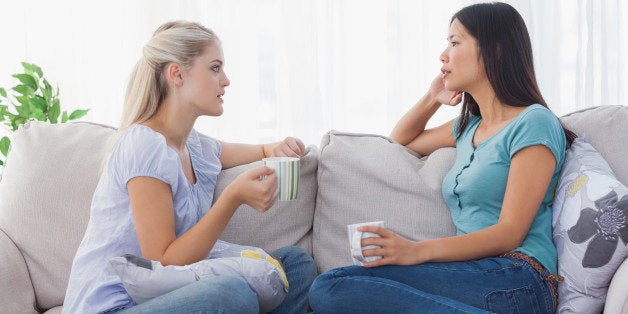 You don't need to know what to say. You don't have to have helpful insight to share. You can be uncomfortable. You can be awkward. But don't change the subject when your friend brings up mental illness.
When we bring up mental illness and something in your eyes and body language changes, it hurts. When you are suddenly like, "Have you seen the new season of Orange Is The New Black?" it makes is feel like our struggle is something we should hide and be ashamed of. It makes us feel like mental illness is a weird monster when it's more like a Sesame Street muppet monster. It's nothing to be afraid of. (BTW We do want to talk about Orange Is The New Black but after you compassionately listen to us.)
We notice when you suddenly need a drink refill when we bring up mental illness, and it's not cool.
Friend: The anxiety has been hard.
You: I AM THIRSTY.
(Um, you kind of seem like the crazy one, actually...)
By not being willing to accept the illness, you are rejecting us as people, too. We can't be separated from our mental health conditions. Also, mental health conditions are not simple and they are not wholly negative.
Your friend who has anxiety also has extraordinary empathy. She texts you a bitmoji of herself crying if you fail an exam. She'll drop anything if you need her. She feels your pain.
Your friend with depression is also extremely creative. His imagination exhausts him but it also dreams up inspiring, groundbreaking work. He knows worlds of brilliance because he knows ones of darkness, too.
Yes, you can borrow our copy of The Power of Now and our kale smoothie recipe. We have so many resources because we've tried everything due to our constant search for something to settle our minds. Yes, we will talk you down when you are worried your boyfriend is not interested anymore because he didn't text you back. We can cognitive therapy the crap out of that. ("Hmm.. Can you think of a few reasons why he might haven't texted back that aren't so catastrophic and unrealistic? *Heart emoji*")
But don't try to subtract our illness because that will probably equal us hanging out with our friends who are supportive instead of you. We'll just hang with Demi Lovato or something. NBD.
Cool people don't stigmatize anymore. Being a stigmatizer is like waiting for all your friends to join you on MySpace again. We're not coming back and it's going to get more and more lonely. We're on Facebook watching funny cat videos without you.
Stigma is mean and it just makes you look insecure and uneducated. Come over to the awesome side.
Also, the last people in pain need is to be silenced and feel shame about that pain. Community and connection can save lives, and isolation and fear can take them.
You don't have to be our Oprah and inspire us to change. You don't have to be our Dr. Phil and give us psychological advice in a southern accent while wearing a fake mustache. You don't have to be our Judge Judy because that would be random. But you do need to be a good friend and just listen.