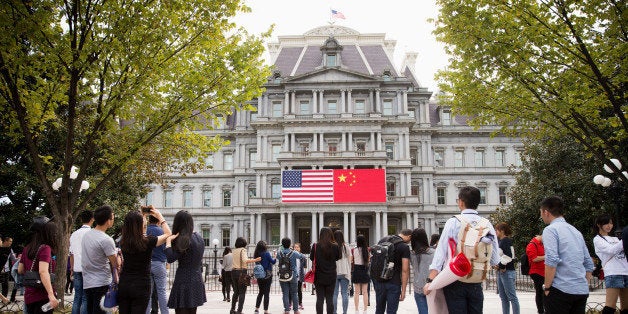 In stark contrast to the warm welcome Pope Francis received from President Obama this week, Chinese President Xi Jinping arrives at the White House amid a period of heightened tensions, as China is in the midst of a financial meltdown and cyber-hacking headlines continue. While President Xi visited American business leaders in Seattle prior to his arrival in Washington, his agents have been embedded in American enterprise for years, hacking their way into American firms in an effort to stop the bleeding at home.
President Obama has made clear that China is a global "free rider" that profits on the back of American innovation, with China hacking its way into our economy by stealing our trade secrets and killing thousands of American jobs.
In recent days, our President has signaled a readiness to slap Beijing with sanctions over their alleged hacking of American companies and government agencies. While the White House has cyber security on the agenda during President Xi's visit, leaders in the U.S. Congress need to come together and stand up against Chinese job hacking and market manipulation.
In early July 2015, the U.S. Office of Personnel Management revealed that over 22 million Americans inside and outside the federal government had their personnel information allegedly hacked by the Chinese government. In recent months, Chinese hackers targeted United Airlines stealing data on aircrafts, passenger information and commercial secrets. Time and time again, China has shown that it wants to surpass the United States as a superpower by hacking its way to the top.
China's tactics don't just end with the hacking of American firms. President Xi Jinping and the Chinese elite are now implementing policies that hurt the U.S. aluminum market in an effort to stop the bleeding at home.
The U.S. aluminum market is responsible for more than 10,600 American jobs, indirectly supports tens of thousands more, and contributes $6 billion in U.S. economic output each year. As a result of Chinese manipulation of the global aluminum market, thousands of American jobs may soon be lost to China.
In July 2015, an aluminum smelter in Ravenswood, West Virginia was permanently closed with the loss of 650 American jobs. The challenging aluminum market conditions largely driven by increased Chinese exports were the reason for closure. This is just the tip of the iceberg and we only have a handful of U.S. smelters left. Many of these U.S. facilities will soon be forced to shut their gates to thousands of American workers if China's cheating is allowed to continue.
Chinese state-owned aluminum producers have dramatically expanded capacity over the last few months. Some of these tactics have included interest-free loans, dumping, debt forgiveness and preferential regulatory treatment. All of this has allowed China to increase aluminum exports by 22 percent, driving global market prices to a six year low.
Together, these tactics have a very real and troubling impact here at home.
In August 2015, another aluminum smelter in Hawesville, Kentucky that employs 565 hard-working American worked announced they were shutting down operations as a result of the current decline in the price of aluminum.
To stop the bleeding of American jobs here at home, the U.S. government needs to bring a World Trade Organization case against the Chinese government to force them to eliminate these illegal subsidies.
In May 2014, the Department of Justice charged five members of the People's Liberation Army with job hacking. According to the indictment, after the United Steelworkers International Union issued a "call to action" against Chinese industrial policies they were hacked by Chinese forces. Our leaders in the U.S. Congress need to come together and stand up against Chinese job hacking and market manipulation.
President Xi Jinping has his own communist version of the American Dream which he calls the "Chinese Dream." But President Xi's "Chinese Dream" comes at the cost of American jobs, competitiveness and freedom of the global market.
Bill Richardson, former governor of New Mexico and member of the U.S. House of Representatives, served as secretary of energy and ambassador to the United Nations during the Clinton administration.
Popular in the Community