May was a big month for the international star, Priyanka Chopra. BayWatch her Hollywood debut movie released earlier this week. Coincidently she also met India's Prime Minister (PM), Mr. Narendra Modi in Berlin on Tuesday, while promoting her new movie. What a proud moment for this Indian actress to be able to finally meet the Prime Minister of her country. Instead of celebrating her achievement, we the people of India decided to slut-shame and troll her on social media. Why? Twitter thought that the actress 'wasn't properly dressed to meet a national leader'.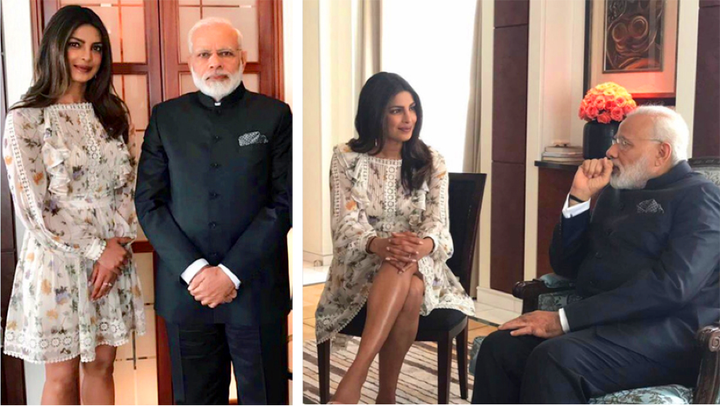 Hundred of people trolled her social media accounts commenting on her dress and shaming her for disrespecting the national leader of her country. People commented on her legs, how she sat and how it was important to wear an Indian attire to show respect to this great leader. A man who himself is a strong advocate of gender equality and women's empowerment through his policies and work.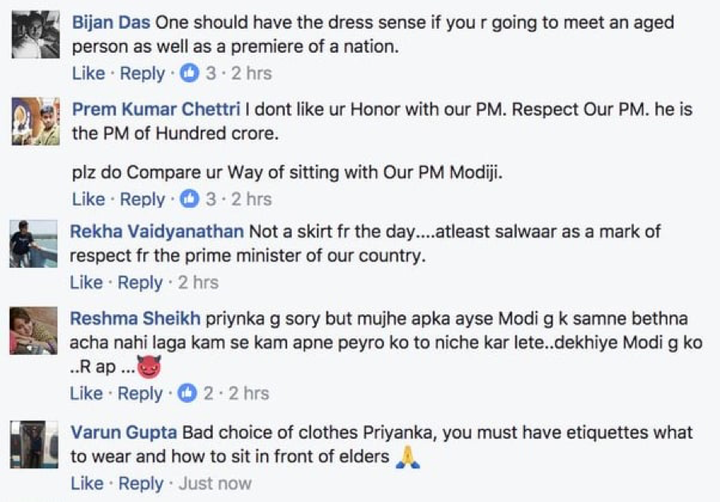 This is not the first time a society has condemned a woman for her clothes. The Burkini ban in France publicly undressed women wearing modest beachwear kicked them off the beach completely. We shamed #TeacherBae for the tight clothes that revealed her curvy body. She received more than 100 comments about her "inappropriate attire" and only one or two highlighting her achievement as 'Teacher of The Month'. United Airlines recently barred several girls from boarding a flight because of inappropriate leggings.
In 2014, Australian TV host Karl Stefanovic wore the same suite for a year and no one noticed. "No one has noticed; no one gives a (expletive)," Stefanovic told Australian newspaper The Age. "But women, they wear the wrong color and they get pulled up. They say the wrong thing and there's thousands of tweets written about them." Women are often judged more harshly and keenly for what they wear, do and say. When will we stop objectifying women? Rather than focusing on women's achievements and their success we continue to drag them down for how they look and dress.
A woman's attire is her personal choice and no one should have the right to slut-shame her on what she wears. It's high time we move on from a patriarchal mindset of treating women as objects and start focusing on their qualifications and achievements. It's not about the clothes Priyanka Chopra wore when she met the PM, it's about a patriarchal society degrading and controlling women. It's about how society views women and feels it's within their rights to control and shame women daily.
Our focus should not be on shaming girls and woman for what they wear and say, but rather sensitizing boys and men to stop sexualizing women. We live in a society that is more comfortable in slut-shaming girls and women that suggesting men to change their attitudes. GenderEquality is not in specific clothes, it's within the choices to wear what we want and be free from online and offline harassment and violence. Let's focus on not constantly teach our girls to NOT GET RAPED, but rather Focus on teaching our boys TO NOT RAPE.
An outfit has no bearing on a woman's ability to do her job. Luckily for Priyanka Chopra, her work speaks louder than these trolls. She shut the trolls down by posting another picture showing off more legs with her mother Madhu Chopra along with "Legs for days…. #itsthegenes with @madhuchopra nights out in #Berlin #beingbaywatch."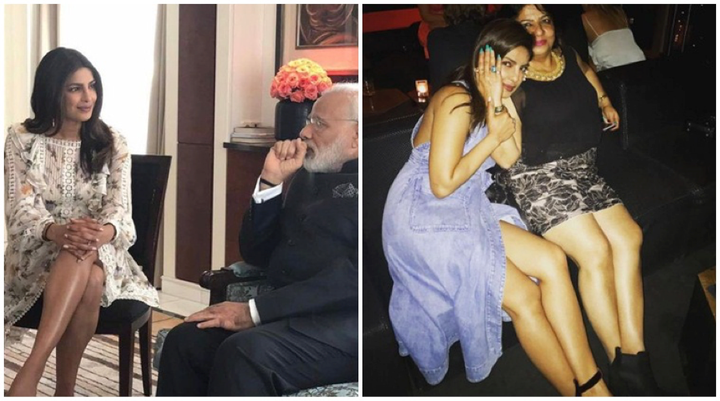 Priyanka Chopra with all the feathers in your cap you are an inspiring role model for girls worldwide. You started your journey with the Miss World Crown and since then have conquered the world with your exemplary movie career, various film awards, the PadmaShree Award and your recent appointment as the UNICEF Goodwill ambassador. Your list of accomplishments is too long and I applaud you for breaking the glass ceiling and shattering gender stereotypes through your work. You have successfully created a floor for the next generation.
While Priyanka, is on in her quest to conquer the world and rock to the latest campaign Bridging the GAP , let us as a society start focusing on the real issues. Let's stop controlling women through their choices and the clothes they wear. We need to sensitize ourselves to respect girls and women as equal. Let's celebrate their success and accomplishments with much fervor and zest. The next time twitter trends, it should be because of an #EmpoweredNari breaking all barriers and not because someone chose to wear what she wanted.
Related
Popular in the Community