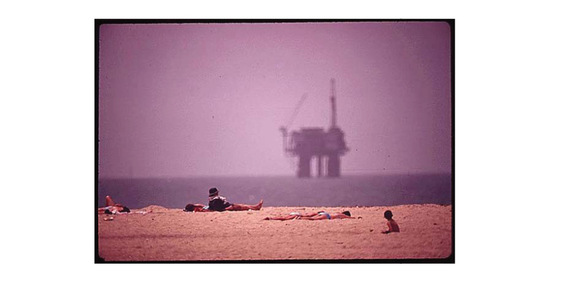 Contaminated water, polluted air, increased earthquake risk: As fracking has expanded across America, this dangerous form of oil and gas production has caused massive harm to our environment and public health.
Now the oil industry is ramping up fracking offshore, in our delicate coastal ecosystems.
The Gulf of Mexico, industry sources say, is about to experience a steep increase in offshore fracking, which involves blasting water and industrial chemicals into the sea-floor at high pressures to crack the rock and release oil and gas.
Here in California, the oil industry has already fracked hundreds of offshore wells near Seal Beach and Long Beach and in the Santa Barbara Channel. There's been almost no oversight of this dangerous practice by federal and state officials, who can't even say exactly where or how often fracking has been used off our coast.
But Californians are fighting back, determined to protect the Golden State's coastal communities, beautiful beaches and endangered marine wildlife.
A majority of state voters back a ban on offshore fracking, according to a new poll commissioned by my organization and conducted by Public Policy Polling.
The poll also found 2 in 3 California voters are concerned about offshore fracking's effects on endangered marine wildlife like blue whales, who congregate in the Santa Barbara Channel.
That concern is well founded. The federal government, astonishingly, has given oil companies to dump more than 9 billion gallons of wastewater, including fracking fluid, a year into the ocean off California's coast.
That ocean dumping should be halted, according to 65 percent of poll respondents. Our poll also found that almost half of state voters are less likely to visit beaches because of chemical discharge and offshore fracking.
The poll is just the latest sign of discontent in the Golden State over fracking's threat to our ocean.
And more than 150 environmental groups and thousands of state residents have called on the state's Coastal Commission to halt offshore fracking.
They're concerned in part because of the dangerous chemicals used in these fracks.
A recent analysis by biologists with my organization found that oil companies fracking in California waters have admitted to using at least 10 chemicals that can harm aquatic life.
That's deeply alarming given that offshore fracking is taking place near the Channel Islands National Marine Sanctuary and some newly designated "marine protected areas" -- which host many endangered species vulnerable to pollution and other threats posed by fracking.
Human health is also at risk. Our analysis found that a third of the chemicals employed in 12 recent frack jobs in California waters are suspected of affecting human developmental and nervous systems. Other can cause cancer.
But chemicals aren't the only concern. Californians also worry about the potential for an accident that will fundamentally transform our coast.
The ocean floor is simply a dangerous place for oil industry activities. As one oil industry engineer recently told Bloomberg News, "It's the most challenging, harshest environment that we'll be working in. You just can't afford hiccups."
Because of the dangerously high pressures involved, fracking increases the threat of a catastrophic accident like the 1969 oil spill that contaminated the shoreline from Santa Barbara to Silver Strand Beach in San Diego.
Strong public opposition to fracking may help persuade the California Coastal Commission and federal regulators to take action. But they need to move quickly, because every offshore frack increases the risk.
Here in California -- and in the Gulf of Mexico, which is also crucial wildlife habitat -- government officials must act now to protect marine animals, beaches and coastal communities from offshore fracking.
We can't sit back and wait for another oil industry catastrophe before we act.
Photo: U.S. National Archives, Sunbathers at Huntington Beach, and an oil platform offshore, May 1975
Related
Popular in the Community