When President Obama delivered his speech on climate change in June, we all welcomed his renewed focus on this crisis. While the broad narrative of his speech was something to rally around, his actual plan to solve the climate crisis is to drill and frack more aggressively than ever before. It's said that "the devil is in the details," and President Obama's support for fracking threatens to exacerbate climate change to the point of no return, while poisoning our water, air and families in the process. It's time we as a movement unite to stop President Obama's plan to frack America. Here's what we need to do:
1.) Get the Facts About Fracking out Through Social Media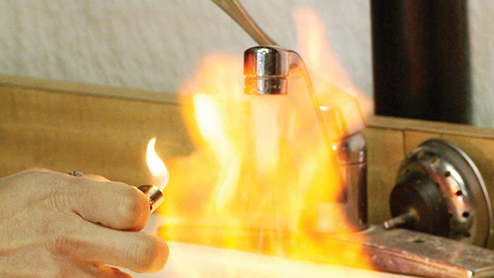 Courtesy of Gasland Productions
One of the reasons we have built such a big movement in a short amount of time is because everyday, Americans are sharing information about fracking online. Recently, we launched Americans Against Fracking, a national coalition composed of hundreds of national and grassroots organizations from across the country to take our movement to the next level. "Like" us on Facebook and follow us on Twitter to help us get the truth out about fracking. Share news, reports and studies with family and friends. The oil and gas industry may have millions of dollars for public relations campaigns, but we have the truth on our side.
Last week, our friend Stephen Colbert featured a great segment on his show about a family with sick children who were forced by Range Resources Corporation to sign a gag order to never talk about fracking again for the rest of their lives. They aren't the only ones. Forcing families to sign lifelong gag orders is the industry's norm.
Although the oil and gas industry successfully seeks to obscure the truth and science with such silencing orders, the facts are catching up with them. According to the Pennsylvania Department of Environmental Protection, records revealed through a Scranton Times-Tribune investigation in May, at least 161 confirmed cases of water contamination in Pennsylvania from gas drilling and fracking operations between 2008 and the fall of 2012. A Duke University study recently confirmed prior findings linking fracking operations to the migration of dangerous levels of methane in drinking water. Meanwhile, numerous studies including two from the President's own National Oceanic and Atmospheric Administration have demonstrated that significant methane leaks occur during natural gas extraction, storage and transportation. Far from being part of the solution or a transition fuel, such leaks make natural gas and fracking disastrous for the climate, and undermine the president's otherwise good intentions.
2.) Tell Obama: Don't Frack our National Forests and Federal Lands!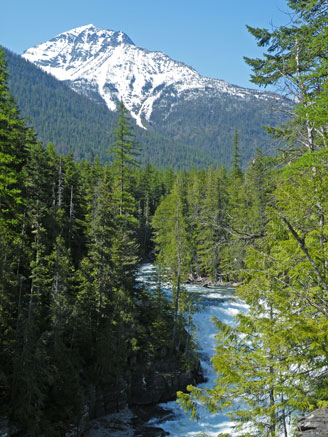 McDonald Creek in Glacier National Park, MT
President Obama's plan to frack America includes accessing over 700 million acres of federal public land managed by the U.S. Bureau of Land Management (BLM). Currently, the Obama Administration is rewriting regulations for fracking these public lands, some of which are near our national parks. Right now, about 38 million acres of federal lands are leased, and over the past four years, the oil and gas industry has drilled over three thousand new wells, most of which have been, or will be, fracked. Each one will only add to the threat of global climate change. The oil and gas beneath federal lands needs to stay where it is.
The window for public comments ends on August 23. This Wednesday, thousands of Americans will call the White House, demanding that President Obama ban fracking on federal lands. On Thursday, Americans Against Fracking will deliver hundreds of thousands of comments to President Obama and his Bureau of Land Management calling for the same. Please make the call to President Obama at 888-660-2594, and send your comment here.
3.) Demand that President Obama and EPA: "Give US the truth"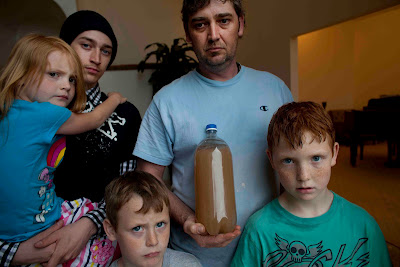 Family in Dimock, PA. Courtesy of Les Stone
Just as John Lennon sang, "give me some truth," Americans are demanding that President Obama and the EPA "give Americans the truth" about fracking. Over the past year, the EPA has repeatedly shut down its own fracking-related water contamination investigations under pressure from the oil and gas industry. Thanks to EPA whistleblowers, the Los Angeles Times revealed that the agency shut down a fracking-related water contamination investigation in Dimock, Pennsylvania, despite evidence that water there was polluted. The Los Angeles Times reported that regional EPA staff warned senior EPA officials that water tests revealed high levels of methane in the drinking water of a number of homes in Dimock. Instead of continuing the investigation, the EPA abruptly closed the case, stopped water deliveries to the residents and deemed the water safe to drink. Residents there still do not have access to safe drinking water.
The EPA has also shut down fracking investigations in Wyoming and Texas. Early results of all three investigations indicated that the EPA had evidence linking gas drilling and fracking operations to groundwater contamination, yet instead of protecting people in these areas, the EPA ignored its own scientific data and abandoned the investigations.
Americans Against Fracking is demanding that the new EPA Administrator, Gina McCarthy, and President Obama make sure that the EPA does its job by reopening these investigations and providing residents with safe drinking water. We've already sent 50,000 petitions to them - please sign the petition here to send more.
4.) Urge President Obama to Deny Permits to Export Fracked Gas to China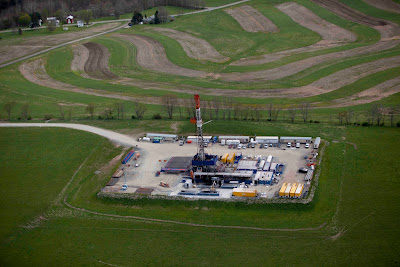 Courtesy of Les Stone
While President Obama makes stump speeches about how increasing natural gas production from fracking will help wean the United States off foreign oil, making us "energy independent," he has approved liquefied natural gas export terminals to ship fracked gas overseas. For those of us watching new pipelines and other infrastructure being carved through our backyards, we know the real plan to frack America will only profit multinational oil and gas corporations, not the American people. We are all working together to force President Obama and his Department of Energy to account for how increasing fracking, and shipping that gas overseas to China and Europe, where corporations can get five times the price for it as they do here, will affect climate change.
5.) Say "Yes" to Renewable Energy and Real Leadership on Climate Change
Our movement and coalition are about more than just saying "no" to fracking -- we are also saying "yes" to renewable energy. We know that clean, renewable energy and energy efficiency are the only real solutions to lessen our carbon footprint and slow down climate change. Together we can stand up to the fossil fuels industry and win. But we need to work together and show our collective power. To get an update on these efforts and to hear next steps, join Americans Against Fracking and Mark Ruffalo today, August 20 at 8 p.m. ET, for a conference call. To participate, call us at (559) 726-1200, and use the passcode 776632. Together, we can protect our communities and future generations. Together we can stop President Obama's plan to frack America. Join us!
Mark Ruffalo is an actor, activist, New York resident and an advisory committee member of Americans Against Fracking. Wenonah Hauter is executive director of Food & Water Watch, and author of Foodopoly.
Related
Popular in the Community