NEW YORK -- A posh Brooklyn eatery apologized on Thursday for a sign poking fun at the New York City Police Department's controversial stop-and-frisk policy.
Chop Chop Grub Shop, a bistro located in the quickly gentrifying neighborhood of Crown Heights, faced near-immediate scorn online this week after a local passerby posted a photo of the sign. The sign read in part: "STOP AND FRISK your APPETITE!"
The NYPD's "stop, question and frisk" program allows officers to stop city residents and frisk them to check for drugs or weapons. Mayor Bill de Blasio has promised to reform the program, which disproportionately targets minorities.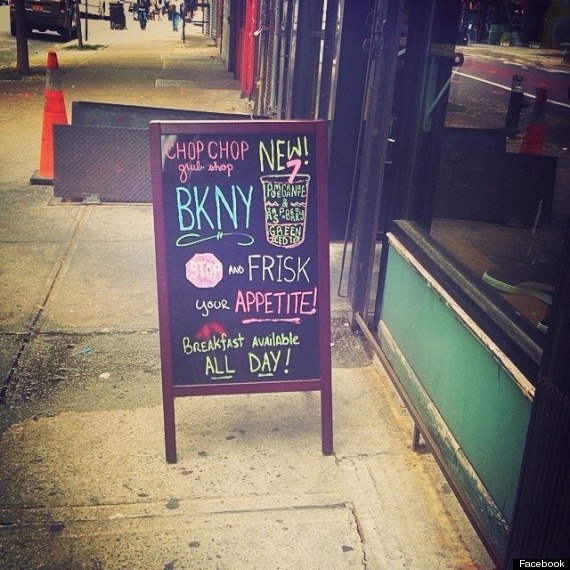 The fold-out blackboard, with letters scrolled in neon chalk, appeared on the sidewalk outside Chop Chop, which opened in January and serves $24 ribeye steaks and $12 lobster omelets.

"It was put up for a few days last week, and when we got a call from a customer who was offended by it we changed the sign," Otis Lockett, the restaurant's managing partner, told The Huffington Post on Thursday. "They put it in a social context that we didn't consider."
The joke struck a nerve in a neighborhood where race relations have been a hot-button issue. As rents have continued to rise throughout Brooklyn, gentrification has crept ever deeper into the borough -- and many new residents remain unaware of the strife that exists between police and older, minority residents. In 1991, Crown Heights was the scene of one of the most notorious race riots in recent New York history.
Olive Demetrius, the 33-year-old woman who took the photo, said she was taken aback by the insensitivity of the sign. In her opinion, the sign was marketing pomegranate iced tea and breakfast offerings to the mostly white, affluent residents that have moved into her neighborhood over the last decade.
"I was offended and all I could think was 'fuck you' or 'bitch ass hipster racism,'" Demetrius, a Brooklyn native who has lived in Crown Heights for 12 years, told HuffPost. "All for people who don't have that happen to them -- the young, white folks that have moved in the last five to seven years."
Of the 14,261 stops made in New York the first quarter of this year, 81 percent of people turned out to be innocent, according to data collected by the New York Civil Liberties Union. More than half of those stopped were black, while just 12 percent were white.
Demetrius, who is black, said she posted a picture of the sign on Instagram and Facebook. From there, the shot was widely circulated after it was re-shared by community activist Imani Keith Henry.
"To put 'stop and frisk' in an advertisement about selling you a sandwich when we're talking about people dying, people being put in chokeholds because they're grilling, people being arrested for falling asleep," Henry, who lives in nearby Flatbush, told HuffPost, "I just can't fathom why anyone would think of this as a catchphrase."
Chop Chop's sign appeared just as a series of brutal police reactions to seemingly mundane offenses are making headlines. Most notably, Staten Island resident Eric Garner died last month after being put in an apparent chokehold by an NYPD officer who was apprehending him for allegedly selling loose cigarettes.
Popular in the Community