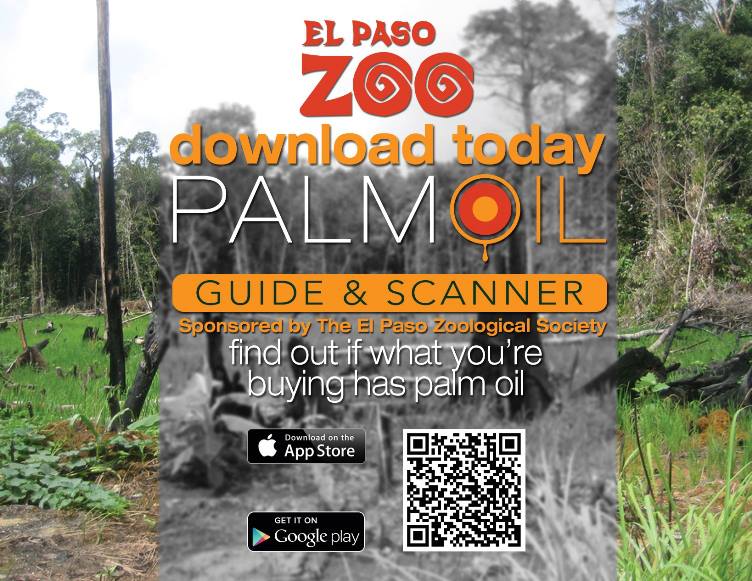 If the El Paso Zoo gets their way, we will be able to slow down global warming and save all kinds of endangered animals including orangutans, forest elephants in South East Asia, not to mention the Clouded Leopards, Sunbears and pangolins.
The zoo has created an app for smart phones that is free to download for both iPhones and Android versions. Unlike the other app which is available from the Cheyenne Mountain Zoo, this one calls for a flat-out boycott of anything in American stores that contains palm oil. The version at Cheyenne Mountain Zoo approves of products that use RSPO( Roundtable for Sustainable Palm Oil ) palm oil and in my last rant, I had railed against RSPO products.
This was a position I have taken up myself recently in frustration with the constant foot dragging by brands like Kellogg and Unilever to feed us anything but real sustainably produced palm oil so I looked into the El Paso Zoo's reasoning behind this hard edged approach.
Their approach looked like I wrote it. Excerpts below :
-- When governments and corporations fail to provide solutions to environmental problems, this app and similar tools that will undoubtedly be developed in the future, will help consumers speak out on conservation issues with their wallets

-- The current palm oil crisis is a consumer driven problem. About 50 percent of the goods we use every day including food products, cosmetics and detergents, contain palm oil.

-- Some claim to offer Certified Sustainable Palm Oil (CSPO). It is widely agreed that there are problems with CSPO in that there are flaws or limits with the way the sustainability is measured and tracked.

-- Until non-destructive palm oil that is 100% traceable is available to the consumer, the Palm Guide Oil Guide and Scanner app will help raise awareness and get more attention to this expanding global threat.
I was intrigued; the RSPO has done a great job of massaging the message to zoos worldwide to support their credentials so I rang up the El Paso Zoo and connected with Rick LoBello, the Education Curator at EPZ. We had a great chat about palm oil and how destructive it is but Rick nailed the conversation with one question: "Do you know if any products in the U.S. right now, use traceable sustainable palm oil that can confirm its not driving global warming and wildlife extinction?"
At the time, I said no, there is no product in American stores that uses certified traceable sustainable palm oil but in thinking back, I goofed. There is one. One soap from Seventh Generation. That in inself almost proves the point that the El Paso Zoo is trying to make. With hundreds of thousands of different products on our shelves, we can only find ONE that can say for certain that its clean.
What about all the other brands like L'Oreal or Avon or even Earth Balance and Ecover that claim to be using sustainable palm oil through the RSPO certification schemes?
Well, if you can understand these schemes and you're happy to accept what they stand for, then fine, buy them. RSPO, ISPO, IP, SG, MB, GP. Mean anything to you? Let me add in MSPO.
OK, the MSPO (Malaysian Sustainable Palm Oil) part is a bit unfair because you have to be on top of the industry to know what's happening. Also, the news was just confirmed this week of its formation.
The Malaysian producers of palm oil, who account for slightly less than 50 percent of the world's palm oil, are leaving the RSPO. According to Embas, an official with the Malaysian palm oil producers: "The RSPO is more of a burden to the industry. It has certain conditions that are too stringent, it is very costly, and they keep changing their goals. The premium that we get is also minimum."
I have to admit, I laughed when I read this and thought WTF? The RSPO has some great standards but we're not accepting it because so few of their members actually abide by the club rules. These guys at MSPO actually think we're going to accept a watered-down version? Half the palm oil producers in Malaysia don't even belong to any sustainable certification of any sort. The Malaysian state of Borneo, Sabah, is the last remaining hope for many unique Borneon species including orangutans, forest elephants and rhinos but its routinely carved up for palm oil plantations for the sake of "development."
Think I'm exaggerating? Read this press release from a coalition of conservation groups in Sabah who are very worried.
"The main stakeholders who do not accept the RSPO standards are some local producers who are not willing to put in the extra efforts and costs needed to raise their social and environmental standards... "
As for the ISPO, which stands for the Indonesian Sustainable Palm Oil board, this is all the information they have.
Come on people, this is not some tree-house club for a bunch of kids where you make the rules as members join in. We're talking sustainability here, actions that will make sure this earth will provide for seven generations of us.
So until these brands like Earth Balance, Seventh Generation and Avon can show us where they got their palm oil ingredients from, boycott them with El Paso Zoo's new apps.
Calling all HuffPost superfans!
Sign up for membership to become a founding member and help shape HuffPost's next chapter