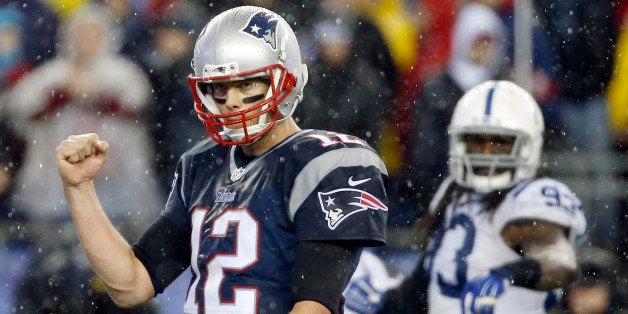 Millions of people listened with bated breath to New England Patriots star quarterback Tom Brady discuss allegations of deflated footballs in their thrashing of the Indianapolis Colts in the AFC Championship game. I was one of them. By the time the press conference was over, I was convinced that this controversy will be responsible for record viewing numbers for this year's 49th Super Bowl in Glendale, Ariz. Those companies that forked over millions in advertising dollars for 30 seconds of glory are doing cartwheels right now and thanking the marketing gods for the future Hall of Fame stud from Michigan. And they should be. Right now, those companies are checking with their technical staffs to make sure they can withstand the web traffic because it's going to be more than previously projected. A Super Bowl commercial is seen by around 111.5 million viewers, and viewership is expected to break records this year thanks to the DeflateGate scandal.
It's clear that Tom Brady can do more than just thread a perfect spiral into tight defensive coverage for a touchdown; he also knows how to artfully and diplomatically address his legion of haters. Behind a boyish smile that paired well with a team toboggan and a cozy sweater, he calmly went alongside script, and told the world cryptically, "I'm used to haters, and at the end of day they've got a lot of reasons to hate. I'm good with that." Smile.
There were several moments where Brady struggled to maintain a serious composure when being assaulted with questions that were simply ridiculous. I applaud his restraint in not defending their performance this season under the brilliance of coach Bill Belichick. As tempting as it must have been, he didn't bother to remind the world about their punishing defense that held Indianapolis's Andrew Luck to 126 yards, going 12 for 33 with no touchdowns, and two interceptions -- an important factor, and independent of Brady's passing game, handing the Colts a crushing defeat and Luck's worse game of his career.
Many of us learned for the first time the process of how a game ball makes its way onto the field. I found this whole sequence of events particularly interesting. But putting the interesting component aside, I was confronted with the irrefutable reality that the league already has a very defined system in place for game ball integrity. Like it or not, the officials of the game are charged with the responsibility of enforcing the rules regarding ball weight. Given the amount of time the rules mandate game balls from each team must be turned over for inspection in advance of play, there exists no reason that a cluster of deflated balls can be blamed on some underhanded, choreographed scheme by Tom Brady or coach Belichick.
The sobering truth for all the naysayers out there, desperate to rationalize their wholesale failures against the Patriots, is that they don't have to cheat to beat you. They are smarter, faster, better coached and can execute on a very complicated offensive scheme that makes it very difficult to prepare against. It's hard to accept, but it is what it is.
Before this DeflateGate scandal, Vegas odds makers had the Seattle Seahawks a 2.5 point favorite. The line on 1/25/15 is PK, known as a "Pick 'Em", meaning there is no spread to worry about. Just pick the winner, straight up. A movement of this magnitude suggests a dramatic shift in public sentiment, and most importantly, millions of dollars are behind backing Brady.
The Super Bowl is expected to take in more than $100 million in legal wagers this year, making the event the single highest wagered event of the year. Of course, that doesn't count all the bets on the black market, which account for the majority of betting in the United States. One reason for such a shift of betting dollars is the feeling I got that Tom Brady and the Patriots as a whole have even more motivation after the world questioned their integrity, and they want to silence the haters in a major way. I think by stomping the Seahawks, they will achieve that and make a lot of gamblers happy in the process.
When it comes to sports betting, the public consistently gets it wrong, but this time I think they have it right. I think Tom Brady's Patriots are going to make a very big statement against the Seahawks, and I'm riding with Brady through every overinflated, deflated, or "just right" ball. I think Patriots will win in a big way, and Tom Brady will be flashing his pearly whites as he hoists up the Vince Lombardi Trophy.
When Brady said he got home late after beating the Colts, I imagined him falling into bed with his supermodel wife Gisele Bündchen. An appreciative smile broke on my face because, love him or hate him, Tom Brady is the man.
Blayne Davis is the author of Wild Game, an international legal thriller about a sports betting hedge fund.
Calling all HuffPost superfans!
Sign up for membership to become a founding member and help shape HuffPost's next chapter