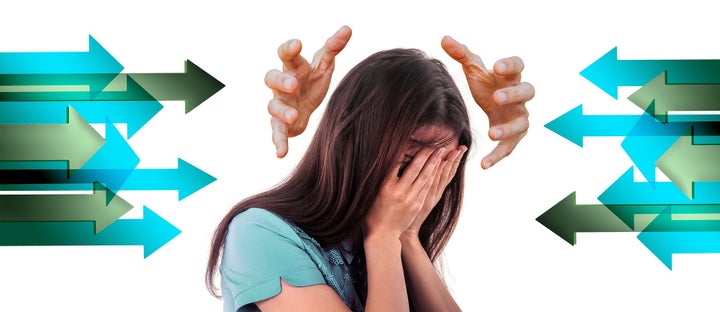 If you are anything like me, you hate hidden fees. In fact, you don't have to be at all like me and it's safe to say you still hate hidden fees. Most people do, yet businesses still hide them and consumers like us keep paying them.
Hidden fees cause resentment and are often used as a means to lure consumers to make a misinformed purchase. This, according to a report released by The White House National Economic Council in December 2016.
"In many industries, businesses use so-called "hidden fees" – the addition of mandatory or quasi-mandatory fees to the advertised price of a good or service, added at some point in the transaction, to effectively raise the final price – in order to drive down the perceived price and lure consumers to make purchasing decisions based on misinformation. At their worst, such fees can be fraudulent or deceptive; at a minimum, they make prices unclear, hinder effective consumer decision making, and dull the competitive process."
I have no idea why companies don't do anything about it. But, I have a secret for you. Let your competitor's loss be your gain and start telling your customers exactly what they are paying for. You will likely take business away from your competitors and increase customer sentiment in the process.
Some Mobile Providers are Getting the Picture
We all know how bad our cell phone bill is. We hate to open them because we know what we are supposed to pay is only a drop in the bucket compared to all the fees that are tacked on. With all the competition out there, I am surprised that carriers have not found ways to use hidden fees.
Virgin Mobile did it back in 2002 with its simple pricing plan. With an advertising budget that was 1/10th of its competitors, the company offered a pay-as-you-go pricing plan with no hidden fees, no time restrictions, and no contracts.
Well, T-Mobile took a page from Virgin and recently began offering a one-price, all-fees included plan. That means their 4-lines plan at $160 per month is the total amount you pay. Taxes and fees are still there, but they include it into that price. Other carriers who charge similar rates add the fees on top of that so your $160 per month plan becomes $190 by the time you get the bill.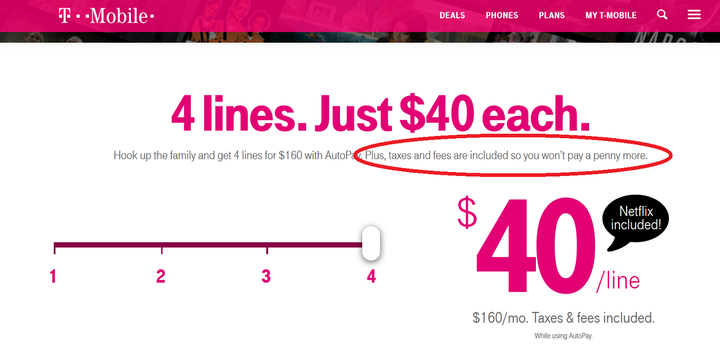 Screenshot showing T-Mobile's advertisement for all taxes and fees included pricing structure.
Even investors agree, as Barron's recently recommended T-Mobile as the only stock to own in the mobile sector due to Verizon and AT&T trying to regain positive subscriber sentiment. Looks like T-Mobile didn't need to read this article to know there was an issue in the industry.
There isn't anything I can find published that talks about the results of T-Mobile's fees, but Boost Mobile, one of its main competitors, also began following suit in September 2017. Looks like the industry may have woken.
Showing Customers Exactly What They Pay
Keep in mind that hidden fees are not necessarily "hidden." When we talk about hidden fees, we are talking about the additional charges that are built into agreements or even thrown at us during transactions (also known as "surprise fees"). You find them not only with utility providers, but travel companies, banks, and ticket vendors.
You often find hidden fees on websites that require setup or shipping charges. Wouldn't it be great to see everything as you go instead of going back and forth from the shopping cart? Hell, some websites don't even show you the fees in the shopping cart until you proceed to checkout with payment information.
Some companies are starting to show these fees to consumers up front so there are no surprises at checkout. One such company is Quality Logo Products that touts a "No Surprise Pricing," a shopping tool that shows all associated fees in real time. Not to mention, their pricing table self-adjusts based on any changes made by the customer like quantity or zip code.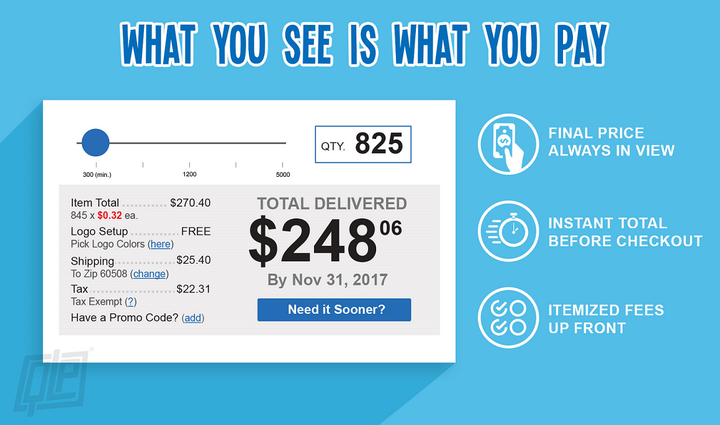 Screenshot example of what the pricing structure looks like from Quality Logo Products. The total delivered price changes as you move the quantity to the right.
This is just one example of how showing people what they are actually paying can help with customer sentiment and closing leads. The fewer clicks people have to make, the more likely they are to make a purchase. By showing the total fees without making them go to the shopping cart (or proceed to checkout) it is likely to take business away from competitors who put unnecessary work on the consumer.
Additional Facts to Make You Cringe
To be successful in business, you must stand out from the crowd. So what is the crowd doing about hidden fees? Very little. That is why you need to take advantage of the situation. Here are some great examples of industries gouging consumers. Some may make you sick while others may just motivate you to change your business model.
Airlines made close to $11 billion off fees in 2014. According to Fortune, this included everything from baggage fees to seat reservations.
Resort fees?? Yes, you pay "resort fees" on top of your fee for staying at a hotel. You would think this would be all included in one price but this is a perfect example of what is discussed in the National Economic Council report. The hotel industry makes approximately $2 billion per year off these fees, which is approximately 16% of all hotel industry revenue.
Most tickets for concerts and sporting events charge "service fees." In 2015, the industry collected $1.6 billion in these fees.
Final Thoughts
For me, I am an all-inclusive guy. I like to pay one price to enjoy the product or service I am paying for. Hidden or surprise fees turn me off and really put a bad taste in my mouth before I even get a chance to enjoy what I paid for.
If you want to make an impact in your industry, start addressing hidden fees. Do something different like T-Mobile and people will start to take notice. You will likely take business from your competitor and increase consumer sentiment in the process. It's a win-win scenario.
Popular in the Community