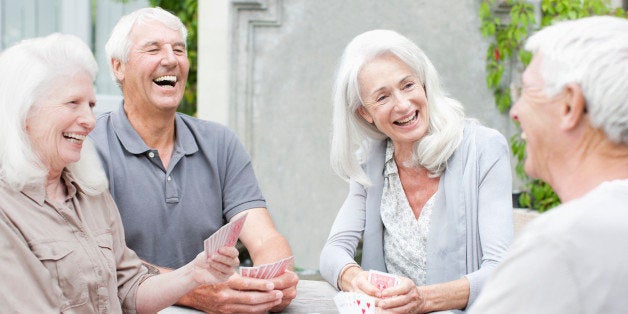 As I write this, I am 55 years old. Like most people my age, I like to think I am a "young 55" or that I look good "for my age." As I get older, I think I have become a little more patient, more accepting, less doctrinaire, and, yes, sadder and wiser. However, I have not become more adorable, precious, charming, or sweet.
Although I am not yet extremely old, I've already noticed that younger people I hardly know sometimes refer to me as "sweetheart" or "sweetie." This seems to be a particular problem in health care settings. Some call it "elderspeak," which is characterized by treating older people more as children than as fully functioning adults (I personally feel this demeaning language is often inappropriate for children as well, but I will take one thing at a time). For some reason, when people talk to older patients, they tend to slow their speech, raise the volume, and sing their sentences. In addition, every statement seems to become a question and second person pronouns are replaced with first-person plural pronouns ( e.g., "you" becomes "we"). You can read more about this phenomenon here. At a time when nursing home workers are sharing explicit photos and videos of older adults on social media, complaining about "sweetheart" seems almost quaint, but both the diminutive terms and the more extreme demeaning media rob patients of their dignity and personhood.
Other people seem to think they are honoring older adults by treating them as mascots. Many videos on social media feature adults who are "adorable" or "precious" dancing, singing, or doing other activities they have no doubt done for their entire lives. The videos are presented with the exact same attitude behind videos of kittens, puppies, and babies. Samuel Johnson once said, "A woman's preaching is like a dog's walking on his hind legs. It is not done well; but you are surprised to find it done at all." Videos of the elderly seem to take the same attitude: It is amazing that older people might still do the things they love. If they make the attempt to engage in the activities that make them happy, the are "so cute."
The consequence of assuming adults become children once again in later life can have serious consequences. For instance, health care providers often ignore the sexual health of older patients. As this article states, "prevailing misconceptions among health care providers regarding a lack of sexual activity in older adults contribute to making elders an extremely vulnerable population." The result of this ignorance is that STD rates among the elderly are increasing at an alarming rate. Although about 80 percent of adults aged 50 to 90 years old are sexually active, they are infrequently screened for STDs.
I am more concerned, though, about the basic harm of a society that treats its elders as mascots for amusement. As we age we lose the respect of our fellow beings and we lose our status as persons. For the most part, younger people don't mean any harm, even if they are doing harm; they are acting out of ignorance. That being the case, I am here to help. The following are things you should know about your elders:
They have and talk about sex. In a movie, it is always easy to get a good laugh by having an old person, especially an old woman, make any kind of statement that indicates she knows what sex is. Apparently, many young people believe that when you hit a certain age you become an innocent and naïve virgin, completely unaware of how people reproduce.
They curse. This is related to the first point, but it slightly different. If you curse now, you will probably curse in 10 or 30 years. At what point do you think it should become funny or cute? Old people have the same right to words that everyone else has. Language is a human right.
They still know how to do things. It isn't amazing that someone who has danced since he was 7 still likes to cut the rug when he is 80. Our abilities may diminish over time (some do and some don't), but we don't suddenly forget everything we've learned over a lifetime.
They are still rational and intelligent. I realize we all suffer some cognitive decline as we age and some are affected by diseases that accelerate or accentuate that decline, but young people also suffer brain injury, disease, and other limitations on cognitive ability. Age is not a sufficient reason to believe someone is stupid.
They've won the battles you are fighting. Somehow, your elders have survived. If you can manage the same, you should be honored, as you should honor them now. Any old person can tell you it isn't easy growing old. Someone who has survived had the wits and strength to overcome many adversities. They could teach you a thing or two.
They are persons. Here, I am using the word "persons" in a philosophical sense of someone who bears human dignity and value. It does not diminish as you age. If anyone has value, you do.
In case you haven't seen any of the videos I described above, here is an example:
Support HuffPost
The Stakes Have Never Been Higher
Related
Popular in the Community