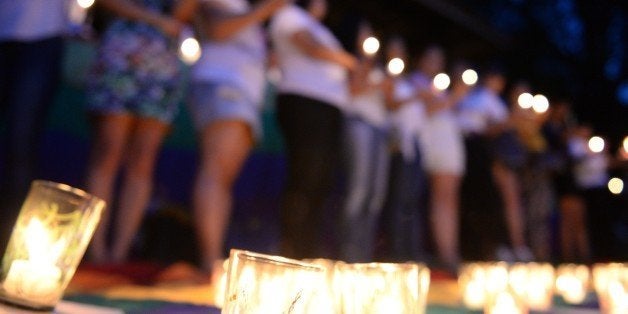 A few weeks ago in the Advocate, I wrote that every trans death indicts our society. That parents, friends and allies should make safe space open and available to trans people, especially the youngest of us, who are most at risk. Safe harbor is hard to come by for all trans and queer folks, though, especially for trans women of color.
But when death comes at home, at the hands of a parent or a lover, we advocates ask ourselves -- who were the people who could have saved them? Where was their safe space?
These stories keep flooding trans activists' news feeds and discussions. Yet, greater society does not seem to hear us. We trans folks and activists see them every day: Trans folks' lives dismissed, erased, diminished, ended. Burned. In the first five weeks of 2015 there have been at least six and possibly eight known killings of trans people. When will you stop letting us die?
It is beyond time for society to say, "Not one more," to say loudly: "Stop killing trans people." And, non-trans people, it starts with you.
I call on all non-trans people: queer allies, straight activists, moms, dads, aunts, uncles, cousins, friends, bandmates, soulmates, teens and elders, ministers, doctors and teachers -- let the world know that you care about trans folk, no matter how they identify, and that you stand with us. That our treatment, the erasure of our affirmed identities, and the violence perpetrated against us, is unacceptable. Tell people our lives matter -- that we are people.
The latest confirmed killing, allegedly at the hands of an intimate partner, is Kristina Gomez Reinwald, of Miami, on Feb. 15.
These most brutal killings show how vulnerable all trans people are -- everywhere, even at home. Upon hearing of Golec's death, Topside Press editor Tom Léger tweeted, "If 7 gay white men had been shot by their fathers & boyfriends, GLAAD and HRC would be on TV every night, every channel, calling [for] justice." I sadly agree with him. Where is the justice for trans people?
We are pushed to the edges of society and targeted daily. As Léger went on to say, eerily presaging Kristina Gomez Reinwald's death: "...The only thing we know for sure is that this is going to happen again. Probably, very soon."
There is no easy solution, but it starts with visibility. And not just in death or for our accolades. As Janet Mock wrote on her blog this week, "The names of our sisters shouldn't only make headlines when we walk a red carpet or lay in a casket. Our visibility shouldn't be subject to such extreme circumstances."
Mock, and other visible trans people working in advocacy, are wonderful role models and inspirations to all of us trans folk. They work hard to bring light to our lives. But they cannot do this work alone. And we cannot only rally when our people die. Our stories are many -- but they get lost, pushed to the bottom of news feeds.
Why? Because we trans folks sometimes are the only ones talking about the issues that affect our communities. Those of us who are out are few, and those with access to media, like Mock, Laverne Cox and other people speaking prominently, are a smaller number. A great many more of us are in hiding because of horrible events like these killings.
Non-trans folks: we need you to speak up. Not to speak for us -- but to amplify our stories, our lives -- on your personal media, in your homes, on your blogs. Lobby your newspapers to report our deaths accurately and respectfully, and to include our positive stories in their coverage of current events.
With the power you have in your own social media by sharing our stories, you have the ability to not only teach others tolerance and acceptance, but to also truly make waves.
If trans folks are the only ones talking about trans folks, our stories cannot fully be disseminated. When you hear about violence, when you see a link that upsets you, when you see wrongdoing or hate or transphobic behavior anywhere -- confront it and talk about why it is wrong. When you see something fantastic, share it. Talk about it. Tell others to do the same.
The "share" feature is a very powerful tool. Please use it to share the truth.
For example, my friend Veronica is a black trans woman here in New York. In a recent blog post, she details how she was literally chased to her apartment door by a man who first harassed her, then attacked her, on the subway on her way home. While this was happening, no one came to her aid. Let me restate: She was crying out while being attacked, and no one helped her. Thankfully, she made it home with seconds to spare, the man chasing her down the block, but... what if she hadn't?
This kind of stuff happens to her all the time, and she has more than once, after reading stories of other trans women of color being brutally attacked and/or killed, said, "When is it going to be be me?"
So please, read her story, and share it. I love Veronica, and she deserves all of the good things in this life. And to live a good life -- not to have to run for her life when she comes home at night.
Tell her story. Maybe the next time a trans girl gets harassed on the D train late at night, someone will say, "That's not right," and stand up to help that person before it escalates into something far, far worse.
Besides sharing our stories, please: Help shelter us and protect us. So many trans women face housing situations so ghastly it is hard to fathom. Some "feminist" organizations still refuse to acknowledge trans women as women, and transfeminine people are often ejected from women's shelters and women's spaces, or discriminated against within them.
Here's sadly typical trans tale recently posted on Everything Transgender NYC by trans advocate Jennifer Louise Lopez: "The Nightmare of Trans Woman Melissa Maria Gonzales" tells the story of a trans girl thrown into jail for defending herself against a transphobic roommate who attacked her, to only then be discriminated against by the police, a hospital, and a homeless shelter. Kicked out of her home, she's now 21 and on the streets of New York, and reaching out to Lopez for help and community. Please, share this story, too.
I often say that every trans death should be considered a national tragedy. So I also ask you to speak these names, of trans folks known to be killed -- mostly trans women of color, many misgendered in the media after death -- thus far in 2015:
Lamia Beard, 20, Virginia
Ty Underwood, 24, Texas
Jazmin Vash Payne, 33, Los Angeles
Taja Gabrielle de Jesus, 33, San Francisco
Penny Proud, 21, New Orleans
Bri Golec, 22, Akron, Ohio
Kristina Gomez Reinwald, 46, Miami, FL
Support HuffPost
Every Voice Matters
Popular in the Community