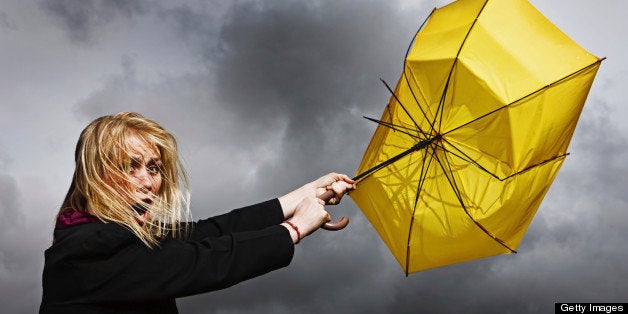 On the way out to the launch party for my first-ever book, I had to stop and clean up cat vomit.
There I was during one of my biggest nights of my career, on the ground in my slacks and fancy-schmanzy coral-colored sweater, scrubbing at the once-white carpet.
Ever had a moment like that? A moment where you feel like you've finally achieved a once-lofty goal, reached an important mark, or experienced a keen sense of joy, peace, or success, only to have it broken up by a messy moment or disparaging thought?
My moment, I can blame on the cat (though I do think we are all ultimately responsible for what we attract into our lives). But all too often, we sabotage our own success in other ways with beliefs that keep us down.
You can stop and clean up those beliefs, though -- after all, they are just repetitive thoughts that we've taken as truth, or adopted unconsciously. You can discard those that aren't helpful anymore and rework others so that they propel you toward your greatest dreams. In the short run you can also choose beliefs that will leave you feeling better, happier, more peaceful. You can subscribe to thoughts that will support your success, rather than sabotage it. So, are you ready to shrug off that skin of self-sabotage?
Start by identifying the areas where limiting beliefs are at work in your life, then you can clear them out.
Three Ways to Uncover Limiting Beliefs
1. Look at the areas of your life that aren't working as you'd like. Perhaps your relationship isn't what you want it to be, or you are stuck in a dead-end job. Usually, when we aren't creating what we want in our lives, it's because we believe that we're unworthy or that we can't have all that we desire. Identify what isn't working and start exploring the thought patterns that support that limitation. Once you know what they are you can trade those limiting ideas out for those that are more supportive.
2. Observe the self-talk. Any vague statement, anything that sounds absolute or abstract, disparaging or diminishing in any way is the language of a limiting belief. Listen for words like "I can't," "I never," "I'm not good enough," or "I'm just unlucky." Life is about energy flow. Limiting language slows the flow and can show us where bad beliefs are working behind the scenes of our lives. Next time you catch this kind of self-talk, observe it, write it down, recognize what's fueling it and then choose different language when you talk to yourself.
3. Follow the energy. Do you feel excited and alive on Saturday when you know you have time to paint, or coach your daughter's soccer team? Are you drained Monday mornings when you head back to work? When do you feel most energized? Fatigued? Follow the energy. The things that fill us up are often those activities that steer us, even without our knowing, toward our passions and values. When we are wiped out, it's due in part to the beliefs we hold about a particular activity or event. Pay attention to the way the energy flows through your body -- when it drops and you feel fatigued, scrutinize the source of the energy lag. Behind it you'll find the belief holding you back.
So, what now? Now that you've begun exploring the limiting beliefs at work in your life, you you get rid of them and end the self-sabotage.
Start by becoming aware. Notice what you are thinking and when. Once you identify some of those deep-seated beliefs -- the things sticking like superglue to your psyche -- cross-examine them. Where did they come from? Are they helpful or a hindrance? Is there another belief that would empower you more?
Go gently, be kind to yourself. We all have beliefs that we've accepted without scrutiny. Some have even helped us survive our experience. This isn't time to beat yourself up, it is simply time to notice.
If you decide these beliefs no longer serve you, reframe them into something that does. Write a new sentence that will guide your habits.
Then, live your life from that new belief. Choose behaviors that support it. Practice it. Remind yourself of your new beliefs. Post them on your computer and bathroom mirror.
And, when you slip up and revert to the old habits -- because you will, because we all do -- notice and smile and start again. It's okay, just continue on.
Soon, the new beliefs will take hold and create tangible results in your life that will support your success instead of sabotaging it.