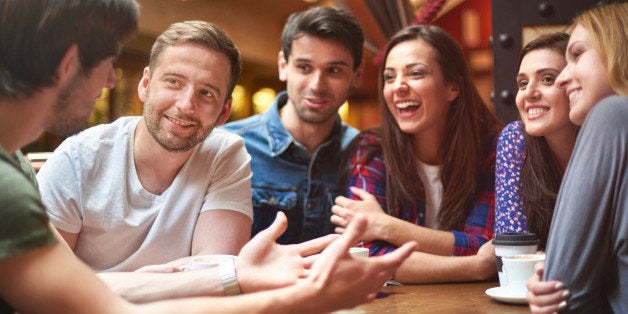 As part of CBS's "Note to Self" series, Vice President Joe Biden released a letter to his 12 year old self, mentioning his debilitating stutter and the death of his son, Beau.
You're only twelve. Your stutter is debilitating. It embarrasses you, and the bullies are vicious.

But listen to Mom when she says, "bravery resides in every heart" -- and yours is fierce and clear. Listen to Dad when he says, "we get knocked down, and then we get right back up."

Because if you listen, you'll summon the bravery to overcome the stutter and stand up to the bullies.
While I can't imagine the pain and loss of losing a significant other and children, I can relate to the first part about having a stutter so bad as a kid that people didn't even know what I was saying. Some kids can be understanding, but there will always be those who cloud their judgment in ignorance.
I've overcome my stutter by tongue-twisters and building confidence in myself, among other things.
What people don't talk about when they talk about stuttering is confidence. Standing up in front of a room of people, a circle of friends, or even in front of a mirror and talking out loud is nerve-racking. That single moment can turn into a nightmare. A stutter can stretch a second to what feels like an hour or an interminable sum of time that can be relived over and over again days and weeks later.
Being able to build the confidence when others break it down is, in it of itself, admirable. To acknowledge that you are more than your stutter, that your thoughts and opinions do matter, is huge. Picking up the words that have fallen out of your mouth into a disheveled mess and forming a new sentence takes an inner strength that people who don't stutter simply do not understand. It takes a lot to keep going, to express thoughts even when everyone else tries to belittle you because of what you are.
Sometimes, after stuttering in a group conversation, I'd wished that I'd never said anything at all. I thought it would be better off that way. What's my opinion worth, anyway? That's when the doubt crept in. Why should I bother saying anything if no one is going to understand it? Why have the ability to say words if I can't even say some words at all?
It took me years to build up enough confidence in myself to not feel so horrified whenever I stuttered. My face burned, as if I'd stood near a fire too long, my hands clammy and my heartbeat racing away in my chest. I've learned to recognize those signs and get through it. I've learned to plow through, to keep going, and part of that comes from experiencing both the good and the bad of what life has to offer. I've learned to be brave.
There are cruel people in the world, but there are also kind-hearted people as well. Those who understand and refuse to patronize, look down upon, and judge others who aren't able to say words crisp and clear.
I've met these kind-hearted souls and I can't express how thankful I am to have met them.
For the longest time, it didn't hit me that there were people out there who didn't stutter and actually cared a great deal about people who do stutter. While they didn't stutter themselves, they tried to understand what it was like for people who do stutter. They tried to live a bit in their shoes. They empathized.
The key thing to acknowledge is that even though there will always be people out there who say cruel words, there will always be people who will appear as if out of nowhere to help. I've surrounded myself with people who are fighting for those who stutter, and I've never been happier. While the journey is full of tasteless jokes and ignorance, there will always be those who help guide the way in compassion and understanding.