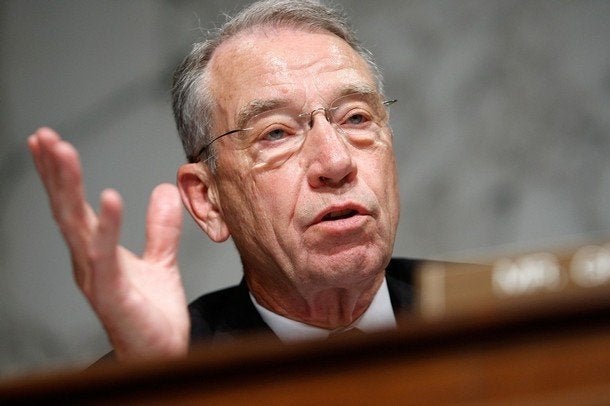 The head of the Office of Legal Counsel, Virginia Seitz, a former Rhodes Scholar and clerk for Supreme Court Justice William Brennan, hardly needs a shout-out for her stellar work providing legal advice to the White House. But the attacks leveled against her from Ranking Member of the Senate Judiciary Committee Charles Grassley do cry out for response.
As noted by Andrew Rosenthal for the New York Times, Grassley has taken to the Senate floor on two different occasions to lambast Seitz for authoring a legal memorandum in support of the president's recess appointments. Grassley groused that he should not have supported the confirmation of Seitz, and added she should never be confirmed again for any position.
The Washington Post editorial board said that Grassley "went beyond the acceptable bounds when, instead of simply disagreeing with Ms. Seitz's conclusions, he impugned her independence and judgment." Grassley, apparently in an effort to answer such criticism, issued a Jan. 23 statement calling Seitz's opinion unfounded and "entirely unconvincing."
Seitz's memorandum is straightforward and relies on precedent and historical practice of past attorneys general. If it's unconvincing to Grassley that's only because it helped the president stand up to the ongoing obstruction orchestrated by Grassley's party.
Since coming into office, President Obama has faced an intensifying front of opposition to his judicial, and many of his executive branch selections. For example, the obstructionism has greatly hobbled our federal courts, where there are more than 80 vacancies and caseloads of courts throughout the nation continue to swell, leaving far too many Americans without access to an efficient judicial system.
Senate Republicans also refused to budge on the nomination of Richard Cordray to head the Consumer Financial Protection Bureau and were obstructing the president's nominations to fill the National Labor Relations Board. As UNC Professor Michael J. Gerhardt noted in written testimony before a House Committee, "Persistent obstruction of his [Obama's] nominations to both the NLRB and the CFPB forced him to consider appropriate responses and all possible harms arising from his failure to act."
The NLRB adjudicates a myriad of cases involving the rights of workers and employers. It cannot hear those cases if there are three vacancies on the five-member board. The CFPB, tasked by law with oversight responsibilities, is hardly functioning efficiently without a chief.
Senate Republicans were refusing to act, and were using pro forma sessions to continue their obstructive ways during a 20-day recess.
But Seitz, whom Grassley voted to confirm, and is the OLC's first confirmed leader in 14 years, said the pro forma sessions did not change the fact that this Congress was in recess.
"Based primarily on the traditional understanding that the Recess Appointments Clause is to be given a practical construction focusing on the Senate's ability to provide advice and consent to nominations, we conclude that while Congress can prevent the President from making any recess appointments by remaining continuously in session and available to receive and act on nominations, it cannot do so by conducting pro forma sessions during a recess."
Grassley's attacks even drew sharp rebukes from prominent Republican attorneys, as Politico's Josh Gerstein reports. Jack Goldsmith, who led the OLC during President George W. Bush's administration said, "The senator's name-calling is misplaced. The legality of the Obama recess appointments is, as the Seitz opinion acknowledged, a close question. But much of Seitz's opinion followed long-settled executive branch legal precedent, and when she encountered novel issues, she addressed them honestly in a reasonable analysis that she published for the world to see and criticize."
Richard Painter, the Bush administration's chief ethics lawyer, added, "These OLC opinions involve very difficult constitutional issues as well as separation of powers. OLC lawyers should be free to render their honest opinion and not be threatened with adverse career consequences by either the White House or Congress."
Grassley's over-the-top reaction to Seitz's eminently reasonable interpretation of the law is unfortunately too typical of the atmosphere prevailing in this Congress. Utah Sen. Mike Lee has responded to the recess appointments by declaring he'll work single-handedly to obstruct all presidential nominations. During this week's House hearing on the recess appointments, Lee tweeted that Jan. 4 -- when the president made those appointments -- "may well be a day that will live on in infamy as a day the Congress ceded one of its rightful powers to the executive."
Please -- cut the hyperbole, senators, and get back to work.
Popular in the Community