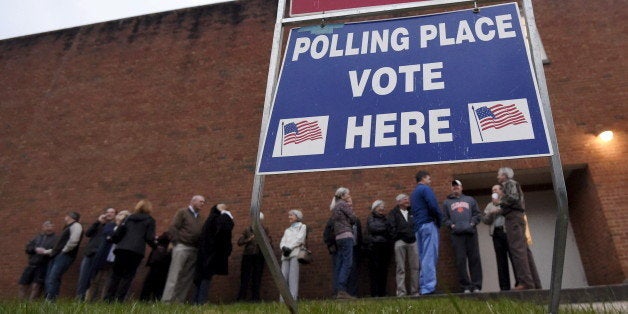 This bombastic claim runs contrary to the evidence amassed this election cycle. The Lawyers' Committee for Civil Rights Under Law leads the nation's largest non-partisan voter protection program. We received calls and complaints from voters across the country. Here is a snapshot of what we actually saw this election cycle.
Pennsylvania adopted a strict voter ID law that was found to violate the state's constitution by "imposing an unreasonable burden on the right to vote", and was struck down in 2014. Nonetheless, that did not stop poll officials from requiring that voters present id in polling sites across the state's five most populous counties of Philadelphia, Allegheny, Montgomery, Bucks, and Delaware, as well as in Berks County, Chester County, Dauphin County, Erie County, Lancaster County, and Luzerne Counties.
Officials across Texas in Denton, Tarrant, Grimes, Harris, Medina and Montgomery Counties continued to seek photo id from voters despite an en banc ruling from the Fifth Circuit that found that the state's photo id law had a discriminatory effect on the state's Black and Latino voters. In Bexar County, a temporary restraining order was issued mandating that officials remove all illegal voter ID signs and correct its website and hotline with the updated voter ID rules.
In Durham, North Carolina, e-poll books failed on the morning of the election. Voters were told to leave and return once the problem was corrected. That afternoon a court order was secured that extended poll hours at several impacted polling sites. It is unclear how many voters learned about the extension and were provided a fair opportunity to cast their ballots.
In Wisconsin, a strict photo id law, the subject of long and protracted litigation, resulted in depressed voter turnout rates across the state. The impact was starkest in Milwaukee where voter turnout rates dropped by 51,000 between 2012 and 2016. Milwaukee's election chief attributed the low turnout and problems at the polls to the state's restrictive voter ID law. In commenting on the law this summer, a federal judge found that "preoccupation with mostly phantom election fraud leads to real incidents of disenfranchisement."
Student voters were not immune. Poll workers in Erie County, Pennsylvania, home to at least seven higher education institutions, unlawfully turned away scores of college students who presented their student photo ID to vote. College students in Boca Raton, Florida were turned away after election officials told them their Florida Atlantic University address was considered "a hotel" and not a residence.
Misinformation regarding the date and location for voting spread extensively online. In some places, misinformation was sent by mail including in Tuscaloosa, Alabama where voters received a letter stating that Tuscaloosa Republicans will vote for president on Tuesday, and Tuscaloosa Democrats will vote on Wednesday.
Arizona is an open-carry weapon state. Voters in Maricopa and Pima Counties reported visibly armed individuals standing near the exits or entrances of polling places attempting to interact with voters.
And we also received complaints from some of the 6 million people in our country who are disenfranchised as a result of a criminal history -- people who are citizens and unable to vote because of a conviction in their past.

There is one central point about the 2016 presidential election that can't be ignored -- voter suppression had an impact. The most intense voter suppression efforts can be traced to a 2013 ruling issued by the U.S. Supreme Court that gut a core provision of the Voting Rights Act. Since the day the ruling was issued in Shelby County, Alabama v. Holder, states have unleashed a seemingly-coordinated campaign to make voting more difficult. Those efforts bore fruit during the 2016 presidential election cycle.
Voter suppression tactics come packaged in different forms but there is usually one single justification put forth by suppression proponents. They claim these restrictions are needed to prevent voter fraud and that there are "millions of people illegally voting." When pressed to provide the proof, they are unable to offer any because vote fraud simply does not exist.
Once we move beyond the myth of vote fraud, greater focus must be placed on the reality of voter suppression that threatens the integrity of American democracy.
Popular in the Community