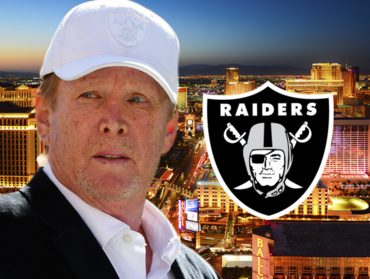 Recently, Oakland Raiders owner Mark Davis was in Nevada to pitch a state panel on a $1.4 billion stadium deal.
Taxpayers Commitment: $50 Million Annually Over 30 Years!
I think Nevada taxpayers might want to think about that when they're going to commit $50 million a year for 30 years. ... How long will it be before that venue will be considered obsolete? I would just give this cautionary note to the people of Las Vegas and Nevada who are hearing Mark Davis talk about making a lifetime commitment to Las Vegas: Don't be swept away by this. ... A lifetime commitment from the Davis family is kind of like a marriage to Liz Taylor or Larry King.
Case in point, beleaguered Missouri citizens who lost their football team earlier this year will still be paying $12 million a year until 2022 on the stadium in St. Louis!
It May Just Be a Power Play to Squeeze Oakland
The Raiders have tried and failed for years to see a new stadium built in Oakland, a city with formidable financial woes and no extra cash for such extravagances. Oh and by the way, Oakland and Alameda County are still $100 million in debt over the reconstruction of the east end of the Coliseum in 1996!
Still, some see the Las Vegas stadium bid by Davis as little more than a leverage play to win concessions from city officials in Oakland. After all, as skeptics point out, the "NFL is simply too averse to gambling" to allow a team to move to Vegas.
Subsidized Stadiums Provide Little Return on Investment to Communities
Economists have long argued that subsidized stadiums provide little, if any, return on investment to the communities relative to construction costs alone. Contrary to arguments from the NFL and its owners.
Citing the work of Judith Grant Long, a Harvard University professor of urban planning, Gregg Easterbrook, author of The King of Sports: Football's Impact on America, has noted that, "70 percent of the capital cost of NFL stadiums have been provided by taxpayers, not NFL owners. Many cities, counties, and states also pay the stadiums' ongoing costs, by providing power, sewer services, other infrastructure, and stadium improvements."
"When a stadium is publicly financed," as reported in Forbes, "it might be assumed that local governments are simply making an investment in a revenue-generating structure. However, most publicly financed projects allow teams to keep virtually all ticket, concession, and parking revenue. The public is building stadiums for wealthy team owners, and then essentially passing all the benefits of the new facility to the team."
Do Fans Benefit from Public Stadium Funds? Not really.
When was the last time you heard about owners bringing down the price of tickets, or for that matter the cost of parking, hot dogs, or beer decreasing as a result of taxpayer money building a stadium? How about better access to televised games as a result of public money?
Public funding does little to help the typical fan to enjoy a game. And if any public funds are spent, fans should demand fair prices, wide distribution of televised games, and maybe even something for the local community, like free use of the facility for all PeeWee and Little League games.
The NFL and its Billionaire Owners Don't Need Public Funding
If there is one thing that is clear from all this it is this, the most profitable sports league on the planet and its billionaire owners do not need any more taxpayer assistance!
As fans, we love the game of football, and we love our favorite teams. But when billionaire owners and politicians use our hard earned tax dollars to fund stadiums at the expense of the fan experience and other local priorities, it leaves a bitter taste in our mouths.
It's time for the NFL and its billionaire owners to pay their own way and stop leaving the rest of us high and dry!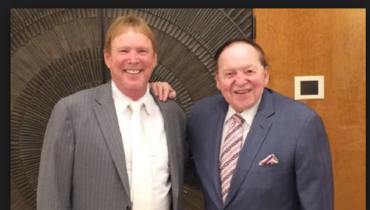 Oakland Raiders Owners and Las Vegas Sands Chairman Sheldon Adelson. Image via Kron4.com
Ryan Rudominer is Chairman of the Sports Fan Coalition's Mid-Atlantic region, a sports advocacy organization for fans. Rudominer previously co-founded SackNFLTaxBreaks.org, a winning grassroots campaign that successfully sacked the National Football League's nonprofit tax-exempt status, a special exception in the tax code carved out by Congress in the 1960s.
Calling all HuffPost superfans!
Sign up for membership to become a founding member and help shape HuffPost's next chapter