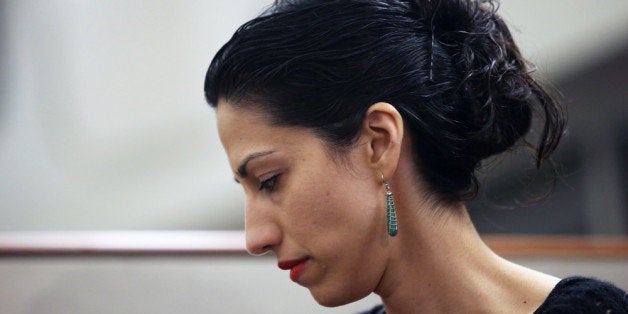 Weiner, no stranger to sexual scandals, was recently caught sexting again, his third offense. In the latest debacle, The NY Post broke the story that Weiner sent a woman he'd "met" online an image of himself wearing only his underwear and with his four-year-old son cuddled beside him in bed.
It was strange, even for Weiner, who in 2011 when his wife of less than a year was pregnant, accidentally uploaded an image of his package to his official Twitter account while he was trying to direct message a woman who was not his wife. That scandal cost him his job in Congress. Two years later, in the midst of a seemingly successful run for New York mayor, Wiener was caught having sexual conversations online with a new woman who was also not his wife, and it cost him that job too. His public sexual fumbles were the subject of the documentary, Weiner, released earlier this year.
On Monday, the morning after The NY Post's story hit sites, Abedin, Weiner's wife of six years, announced she was divorcing him.
"After long and painful consideration and work on my marriage, I have made the decision to separate from my husband," Abedin said in a statement. "Anthony and I remain devoted to doing what is best for our son, who is the light of our life. During this difficult time, I ask for respect for our privacy."
Asking for privacy is the standard line in press releases these days. And with a story this salacious, no one expected it. I was however, surprised at the snark thrown Abedin's way after she announced her departure. Across news sites, headlines announced the Abedin-Weiner split, kept saying Abedin "finally" left.
The use of "finally" in this context is so judge-y. It implies that Abedin has come to her senses--apparently, sense that she hasn't been using all along--after a long delay, and that she should have left Weiner ages ago. It implies that speaker would have done differently in Abedin's shoes. It implies that Abedin has done something wrong by trying to maintain her marriage, despite her husband's online sexcapades with strangers.
Think I'm reaching here? While most sites just imply that Abedin screwed up staying, in a NY Daily News article "Finally! What took Huma so long to kick Weiner to the curb?" writer Linda Stati flatly called Abedin a "doormat" and blamed her for Weiner's escalating behavior.
"Why did this doormat of a wife wait until photos surfaced of him doing something so unspeakably perverse and harmful to their child -- sexting photos of his erect penis in his shorts with their young son next to him -- to separate from him?" Stati asked.
Um. How was Abedin supposed to know her husband was going to do all that?
Abedin isn't the problem here. She was a married woman who wanted to keep her family intact. Or she loved her husband and wanted to keep him. Or she... wait! Do I really need to list excuses to justify why a married woman stayed with her husband? I mean, it's a marriage, not a high school fling. You're not supposed to call it quits at the first sign of trouble (unless there's abuse, at which point: run far and fast). You're supposed to try to make it work. It's not like Abedin knew her husband was going to keep on with his shenanigans and eventually drag their son into it. Weiner went to counseling. And I'm sure he swore he changed and would never sext again.
I wouldn't have judged Abedin if she left Weiner the first or second time he betrayed her and put the livelihood of their family in jeopardy and publicly embarrassed her. Marriage is hard. I completely understand why people divorce. And I also understand why spouses stay, even in bad situations. I mean, vows of forever-ever were taken. And though Weiner didn't stick to his, Abedin tried to keep them even when her husband was acting a damn fool. She believed in her marriage and she believed in her husband. Isn't that what we tell wives that they are supposed to do? So why is there so much criticism for a wife who does it?
Abedin stood by her man and even it's not the choice you think you would make in her shoes, it's the choice she made for her family and we shouldn't characterize a woman's desire to keep an intact family unit as poor decision. The poor decisions here were made by Anthony Weiner, who has repeatedly made a mockery of his marriage and of himself by sending raunchy pictures to strangers all over the Internet. His actions have cost him his reputation, career and wife. He did this to himself, and we should finally stop blaming his wife for his mistakes.
Calling all HuffPost superfans!
Sign up for membership to become a founding member and help shape HuffPost's next chapter