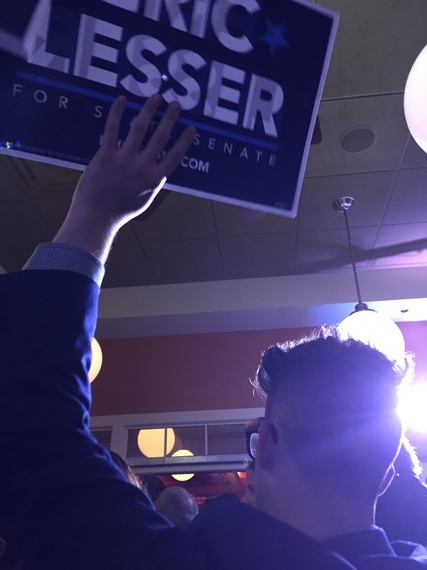 Recently, I had the opportunity to intern with a local state senate campaign. As a communications major pursuing a career in entertainment media, I didn't imagine how much I would learn about politics, my community, leadership, and myself. It was one of the most self-reflective experiences I have ever had, and has been more transformative than either of my first two internships.
Here's why I think that every college student should work on a political campaign before they graduate.
1. Perspective
What a campaign and successful election comes down to, is a shared vision. Especially in a primary campaign, the opponent's goals are never vastly different: Bettering the economy, increased infrastructure, a safer community, and availability of opportunities. You learn that both politicians are 100 percent right in their mind. It's just a manner of how many people agree with you.
Discovering firsthand that almost nobody goes into a situation as a known loser, is significant to apply to every facet of your life.
2. Political Knowledge
This doesn't apply so much for the political science, or government majors. For the rest of us, this is a phenomenal gateway drug into politics. Through meeting people (more about that later), hearing strategy, and living and breathing your candidate's vision, you begin to realize the impact politics can have on a community.
As millennials, this is even more important. Due to the embarrassingly low percentage of us that vote, it doesn't hurt to be informed.
Personally, I'm now considering pursuing political communications and plan on continuing with our successful candidate if the opportunity presents itself.
3. Getting Behind Someone
This one doesn't require much elaboration. It feels great to get behind a cause, even if that "cause" is a person. If you believe in the candidate and their ideas, the win is a victory for everyone. When your candidate wins, it's a selfless and rewarding feeling you can't even describe.
4.Networking
Even as a student who spends much time reading networking tips and nursing LinkedIn connections, I overlooked the power of politics. In a perfect world (we're far from it), people from every walk of life are involved in politics. I met editors, political consultants, electors, U.S. Congressmen, U.S. Senators, a Sheriff, and Attorney General. These relationships ranged from a handshake, to LinkedIn connections, to "Call me with the election results," but it was a surreal aspect of the campaign I didn't anticipate.
5. Learn About Your Community
If you're a resident student at a college far from home, the only sense of "community" you may have is your campus, the local mall, and the restaurants you have your parents take you to when they come to visit. Working on a campaign changes all of that. Not only will you find yourself going to events, fundraisers, and standouts in local towns, but you may also be knocking on hundreds of doors, speaking with dozens of real people.
As a junior at my university with a previous local internship, I thought I was extremely familiar with our community, but I was sorely mistaken. Learning the political climate, hometown heroes, and neighbor-next-door voters shows you that life isn't quite how you see it from your cushy campus center. There're struggles, adversity, and real issues at play.
6. Have Fun
I never thought I would ever say this, but working on a campaign is one of the most enjoyable experiences you could ever have. Between dealing with sometimes outrageous phone calls and canvasses, to experiencing the nail-biting election night party, there's plenty of fun-filled antics. Another great aspect is that campaigns are
always
looking for help, so if you have friends you want to bring on board, few campaigns would say no.
REAL LIFE. REAL NEWS. REAL VOICES.
Help us tell more of the stories that matter from voices that too often remain unheard.