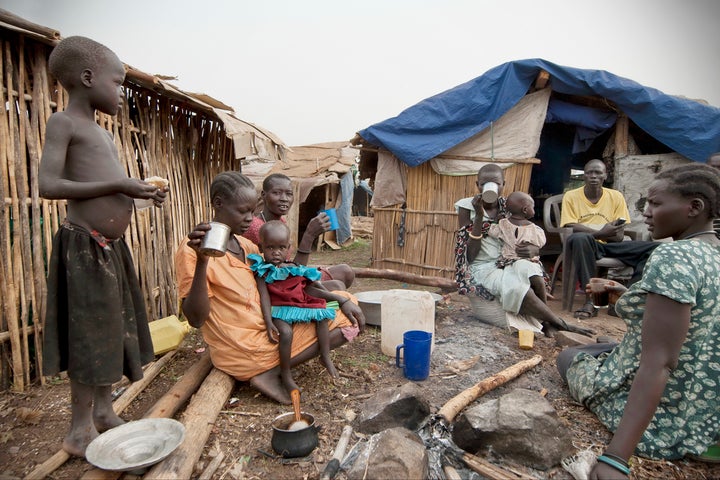 From Syria, to Nigeria to Myanmar, the number of people fleeing war and persecution around the world is at unprecedented levels. The United Nations Refugee Agency estimates the total number seeking safety by the end of 2015 was 65 million worldwide. That's equivalent to the entire population of Great Britain being uprooted and dispersed. And that was before the latest warnings of famine in parts of Africa and Yemen, before the latest upsurge in fighting in South Sudan and before the Iraqi military offensive against Islamic State.
But rather than providing refugees with protection, more and more countries are deciding to lock them out by closing their borders. This is not just morally wrong. It is self-defeating. Refugees should not be seen as a financial burden or security threat but rather as a source of potential for host countries. Instead of wasting money on building walls, it would be better to support programs to help refugees to help themselves.
I am living proof that the investment pays off.
I am a refugee from the Democratic Republic of Congo. Conflict in my homeland forced me to flee to Uganda in 2008. My family joined a steady exodus of refugees who settled in the Ugandan capital, Kampala. Humanitarian assistance mostly focused on formal camps in rural areas, so surviving in the city was tough especially for those who didn't speak English. But we didn't want handouts. We wanted to work, to support ourselves.
Uganda has been justifiably praised for its open and welcoming policy towards refugees, which guarantees freedom of movement, access to health care and education and - crucially - the right to work. It even gives registered new arrivals a plot of land on which to build a house and grow crops. Uganda actively encourages refugees to be self-sufficient and everyone benefits.
Research conducted in 2013 by the Humanitarian Innovation Project showed the contribution refugees make to the Ugandan economy. 97 percent buy their daily goods from Ugandan run businesses while 40 percent of the workforce employed by refugee run businesses are local Ugandans.
I too have repaid the hospitality that Uganda showed my family. I and two other Congolese exiles set up an organization to support other refugees. YARID (Young African Refugees for Integral Development) started with simple soccer matches to bring different communities, other refugees and local Ugandans, together. We progressed to teaching skills and trades —through things like English lessons and hosting sewing workshops. The emphasis from the beginning was on helping refugees gain the skills and confidence needed to be self-reliant. YARID now has 16 tax paying employees.
However, it is true that there is a limit to the number of people any one country can support. Today, Uganda hosts more refugees and asylum seekers than any other country in Africa and the numbers keep growing. Every day, an average of more than a thousand refugees cross the border from South Sudan. The majority are women and children escaping conflict, rape and hunger. Other countries across Africa and around the world should step up. Not just in the name of humanity, but also recognizing the tangible benefits to their societies and economies.
Refugees don't leave their homes by choice and often leave behind every possession they have but not their skills and knowledge. They are doctors, engineers, teachers and students. All of whom could make useful contributions to their host country if they were allowed to live productive lives. This is also an argument made by Professors Alexander Betts and Paul Collier in their new book, "Refuge: Transforming a broken refugee system." They cite the example of Jordan where refugees are given permission to work in special economic zones designed to attract international investment for new business enterprises. The authors see this as a model that could be replicated around the world with benefits for both refugees and host countries.
Refugees want empowerment, not sporadic charity. They know their communities better than anyone else. They understand the challenges and opportunities they face to become self-reliant. I know better than anyone that initiatives created by refugees themselves work. Give us the support we deserve and we will pay you back with interest.
Robert Hakiza is Co-Founder and Director of the Young African Refugees for Integral Development (YARID) – a refugee-led grassroots organization based in Kampala, Uganda. He is a 2017 Aspen New Voices Fellow.
REAL LIFE. REAL NEWS. REAL VOICES.
Help us tell more of the stories that matter from voices that too often remain unheard.