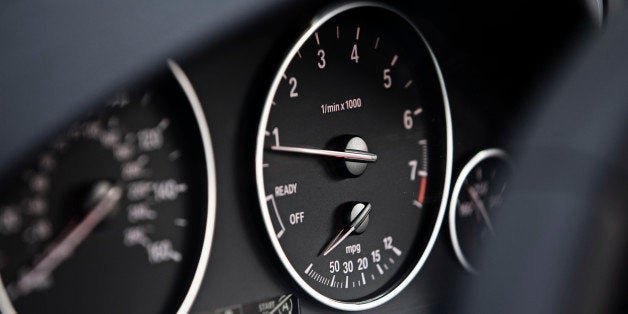 Carmakers will attempt to meet stricter emission and fuel economy standards by incorporating start/stop systems into more of their vehicles throughout the next eight years, according to a recent report.
The concept behind stop/start is simple -- the engine is shut down during periods of idling to save fuel -- however, as Car and Driver notes, such systems add cost to cars, as starter motors must be improved to handle increased use and batteries must be beefed up.
Auto manufacturers have largely ignored the American market when it comes to equipping cars with this technology. Navigant Research reports that slightly more than 500,000 of new cars sold with a stop/start system in 2013 were purchased in the United States, but it predicts the number of cars sold with the technology in the U.S. will top 7 million by 2022.
Navigant Research specifically attributes tightening emission and fuel economy standards in Western Europe, Asia Pacific and North America as factors leading to stop/start's rising popularity.
Currently, the Environmental Protection Agency does not take into account the effects of stop/start technology in its fuel economy testing -- a point the EPA confirmed to The Huffington Post in an emailed statement.
"Idling has the greatest effect on [a vehicle's] fuel economy," an EPA representative explained. "Starting/stopping a vehicle's engine has little, if any, impact on fuel economy."
The editor of Green Car Reports, a website dedicated to environmentally friendly vehicles, echoed the EPA's statement, telling HuffPost the systems typically only add 0.1 mpg to a car when subjected to the EPA's fuel economy test cycle.
"There are cheaper ways to get the same mileage gains [within the confines of the EPA's testing]," John Voelcker said, noting a push by manufacturers to lighten parts of their cars, install more efficient automatic transmissions and create more aerodynamic car designs.
The EPA said it continues to "examine new technologies...to see if there needs to be updates to our procedures." However, the rep didn't mention if the procedures will be updated anytime soon.
Industry experts like Voelcker say they believe the benefits are in the savings.
"EPA test cycles are increasingly divorced from how drivers drive today," he said. "If you do a lot of stop and go [driving]…stop/start can actually make a difference [to fuel economy]."
Related
Popular in the Community