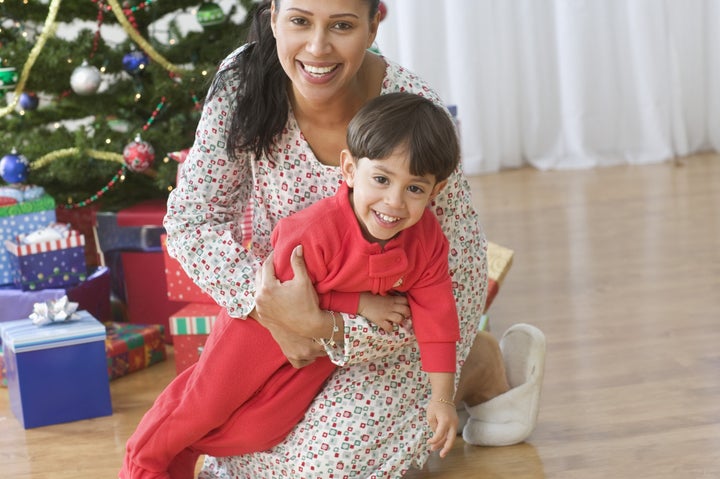 It is supposed to be fun, right? Rewarding, reaffirming, heartwarming, spiritual?
And yet the word many of us would use to describe the season is stress.
We burden ourselves with the fantasy of the perfect tree, gift, meal ... We worry about money with which to fund all of the above. We count calories, or don't, and then that inner voice starts to scold. We remember, as we do every year, that the joys of family often come with complications.
How then to reconcile the purpose of the season with the overlay of angst? Much of the answer is in letting go. You can do that metaphorically -- deciding not to worry about perfect and aim for perfectly fine. And you can do it literally -- jettisoning the pieces that you are doing for the wrong reasons.
Liz Kozak did that. In a blog post earlier this week, titled "7 Things On Mom's Holiday To-Don't List," she announced that her new family tradition includes refusing to do things that add anxiety and subtract joy. Among them: Watch Miracle on 34th Street ("I'll DVR it, just like I do every year...And then, come Valentine's Day, I'll admit defeat and delete it...); Take a seasonal family photo ("I know, I know, the mom stays in the picture. But...") ; and mail out holiday cards before December 26th ("Hey, send me your new address so I can not put it in my address book and will have to ask you for it again next year...")
Corbyn Hightower is letting go, too. In a blog post today she writes: "Like a lot of parents, I place a whole boatload of expectations on myself, trying to make sure the kids have the right set of experiences, and that they build the Pinterest-worthy memories of a well-decorated childhood. Of rickrack and gingham aren't involved, there are problems. If there aren't theme cupcakes, an 'Elf on the Shelf,' and a hand-knit Advent Calendar, I've failed."
Her solution in recent years is to confront the Rockwellian ideal head on. "We let go of the annual tradition of buying a large live tree from a commercial lot," she writes, "and instead, brought out the 'joke' pink tree from storage and gave it its rightful place in the middle of our joyous, thrift store-furnished livingroom."
"Pink Christmas" is a homage to her great-grandmother, she says, who preferred that hue for the holiday, and it brings back memories of a time when the holiday meant "easy, generous love."
At HuffPost Parents we are following Corbyn and Liz's leads this year, and liberating ourselves from the bits of the season that weigh us down. For some of you that will be not stressing over the tree. For others, the tree may bring joy, but it's time to finally accept that gift bags count as wrapping too. Maybe you will pledge to buy fewer gifts overall, leave the elf on his shelf for one night (or 12) or throw a messy house party. You've made New Year's resolutions, right? So think of this exercise as making your Holiday Vow.
Fill in the blank: "This year, I'm not stressing about ___________." Tweet your responses to @HuffPostParents with #notstressing and we'll collect your responses in the slideshow below.
Wishing you and yours the happiest (and most relaxed) of holidays.