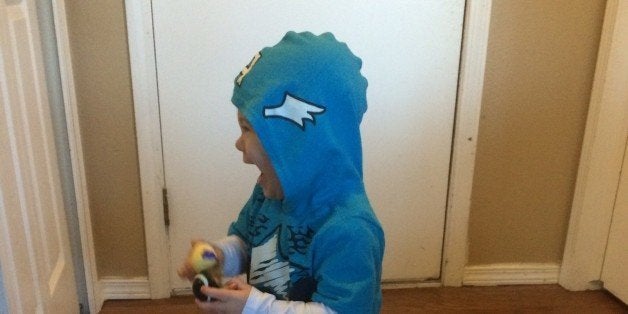 I have a daughter. A wonderful, energetic daughter. I think she is wonderful. Even if she were a boy, I still think my child would be the best child ever.
Before we knew we were having a girl, my husband and I agreed with the color green for her basic things. Green matched with many colors, we could reuse it if we had another child and most of all, it wouldn't matter if we had a boy or girl.
I also noticed I bought a lot of gender-neutral clothes even after we knew we were expecting a girl. Part of it was we were hoping for another child in our future and we wanted to keep things basic if the gender was different.
Another part was there were some clothes I liked on her and some that I didn't.
After she was born, I would flip-flop with dressing her. Some days she would wear a giant ass bow on her head with a dress, while some days she wore a simple red onesie and other days, she wore a Captain America shirt.
I never saw this as a problem with the outside world. After all we are living in the 21st Century. Bruce Jenner just announced that he is a woman. We are becoming more aware of how others define themselves; but the more I hear different comments, the more I realize what over rated jerks there are in our society.
It first started with her as a baby. My daughter was in a simple yellow onesie and she was in her green stroller with a green blanket.
"Thank you. She is a wonderful baby"
"She? Oh sorry, I thought it was a boy"
"It's OK. It's an honest mistake."
"Well, your baby isn't wearing any pink. You should put her in pink."

Excuse me? Since when do girls have to wear pink? It's OK if you mistake my child's gender. I'm not asking you to look at her genitals. Since when do I have to care what she wears so you can feel comfortable?
I remember a family member asked when I was going to pierce her ears. Why does my child need man-made holes for cosmetic purposes? She's a baby! She doesn't even know where her nose is!
A friend once said I needed to do something with my child's hair. People were thinking she was a boy. Have you ever put together a toddler's hair? It's like herding cats. Not to mention, my child has fine uneven hair. So if I feel like putting her hair in pig tails, I'm going to have to get ready for blood, sweat and bows. And even when I'm done, my child will take apart said hair style in two seconds.
My child is perfect the way she looks. I want her to feel beautiful wearing her princess dress and feel adventurous in her superhero outfit. I want her to love baby dolls and get excited about trucks.
I want my child to look back at herself and see that she was her own individual. If she grows up to do her nails and wearing the latest fashion, that's ok. If she wants to dress in a suit and tie, that's OK. In the end I want her to be happy. In the end I want her to know that I gave her be herself.
So stop telling me how to dress her so that you can tell if she's a girl or boy. My child is herself. That's all the world needs to know.