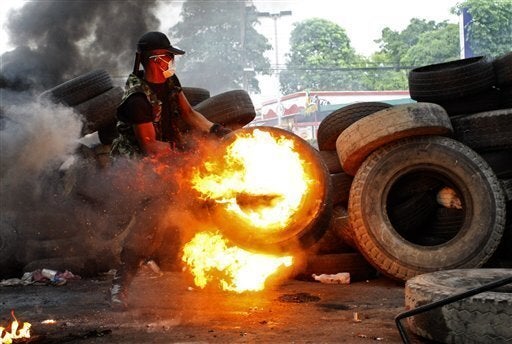 LOS ANGELES -- I have watched Thailand's free fall into the abyss with deep sadness. At this very moment, Thais are killing Thais, and the situation is getting worse by the minute with no end in sight. The violence clearly has a momentum of its own after Prime Minister Abhisit Vejjajiva's decision to use force against the protesters on May 13, 2010. This destructive momentum must be stopped now.
We have seen through the eyes of the international press that the use of force against civilians has been excessive, in clear violation of the principle of proportionality. We have seen targeted assassinations as well as random killings on the streets of Bangkok. Prime Minister Abhisit has said to the international press that there are no other options available now except for the use of military force. I cannot disagree more.
Prime Minister Abhisit must be mindful that in addition to domestic criminal liability he may face for ordering or allowing the use of force against civilian protesters, he may face international criminal prosecution as well. Under international law, the widespread or systematic attacks directed against any civilian population can be considered crimes against humanity.
An International Criminal Court (ICC) inquiry recently found that crimes against humanity may have been committed during a bloody crackdown on protesters in Guinea back in 2009. The ICC is investigating human rights situations in Kenya, Uganda, the Congo and the Central African Republic.
Even though Thailand is not presently a party to the (Rome) Statute of the ICC, Thailand may become a party in the future, and the ICC would certainly have jurisdiction over Thai nationals then. Crimes against humanity have no statute of limitations. It is also important to note that the ICC has also exercised jurisdiction over nationals of a non-state party to its statute once the United Nations Security Council has referred the case to it. The case in point is the situation in Darfur, Sudan.
Leaving the ICC aside, Prime Minister Abhisit will also have to be mindful of the doctrine of universal jurisdiction. This is a doctrine under international law which enables any national court, in any country in the world, to claim criminal jurisdiction to prosecute a person whose alleged crimes, such as crimes against humanity, were committed outside of the territory of the prosecuting country, regardless of the person's nationality or country of residence.
Here are some examples. On December 14, 2009, a British Court issued an arrest warrant for former Israeli Foreign Minister Tzipi Livni, for Israeli action against the Palestinians in Gaza. Spanish courts have pursued the former Chilean President Augusto Pinochet for the alleged crimes of humanity he had committed against Chileans in Chile. For the rest of his life, Prime Minister Abhisit may have to think twice before he travels abroad. A holiday visit to his alma mater, Oxford University, may become out of reach for him.
On May 13, 2010, the Asian Centre for Human Rights duly warned Prime Minister Abhisit of his individual criminal responsibility regarding the use of force against civilian protesters in Thailand.
Prime Minister Abhisit Vejjajiva, I call on you to decisively and magnanimously put an abrupt stop to Thailand's free fall into the abyss. The situation in Thailand is very bad, but it can get much worse. Now is the time to put a decisive end to the killings. Now is the time to put an end to the use of force against civilians. There is no more time for further negotiations. There is no more time for political posturing. The power to end this crisis is in your hands. Whatever you think could be gained from buying more time before the dissolution of the parliament surely cannot be worth more lost of lives and injuries. Dissolve parliament now and give Thailand a chance to reset itself before it is far too late.
Professor Kantathi Suphamongkhon is the 39th foreign minister of Thailand. He was in office until September 19, 2006. He is currently senior fellow at the Burkle Center for International Relations at the University of California at Los Angeles (UCLA), where he also teaches law and diplomacy.
Published with permission from GLOBAL VIEWPOINT NETWORK/TRIBUNE MEDIA SERVICES
REAL LIFE. REAL NEWS. REAL VOICES.
Help us tell more of the stories that matter from voices that too often remain unheard.