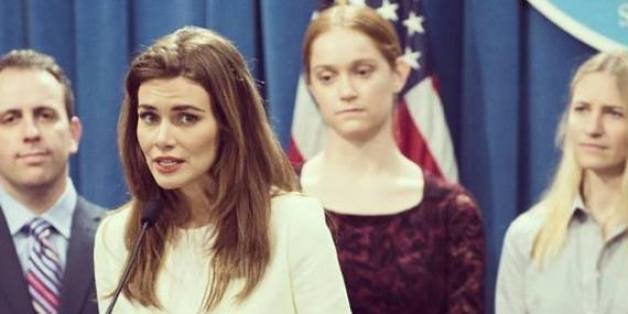 "How would you feel if you came to to work today and were subjected to sexual harassment, rape, financial exploitation, and pressures to lose weight?"
This is the question I asked Mr. Chair Assemblymember Roger Hernandez and Members of the Labor Committee on April 6, 2016, at the Sacramento Capitol Office for the initial hearing of Assembly Bill 2539, before it was passed the same day. AB 2539, authored by Assemblymember Marc Levine, addresses the need for workplace protections and health standards in the modeling industry, which is notoriously unregulated.
Because of the lack of laws and protections, models have long been subjected to sexual and financial abuse, bullying from agents, and have been pressured to lose so much weight that many have developed devastating, even fatal eating disorders.
Although models have repeatedly tried to speak out against the injustices in the past, they have been shot down by the powerhouses in the industry and thrown away like yesterday's trash. Hmm. I remember being treated that way when I was modeling and was raped.
To those who think that models are "complaining" and have nothing better to do, let me ask you the following questions. Why is it ok for abuse to go on in the modeling industry and for there not to be any laws or protections in place, but it's not alright in other industries? Would you like it if you went to work and were abused, not paid, and bullied about your weight? Would you like it if your daughter or son went through these things?
All we are asking for here are workplace protections and health standards. I don't understand how anyone can turn a blind eye or look down to people who are being mistreated. Take into account former California-based model Madeline Hill's personal experiences from within the industry and why she supports AB 2539:
AB 2539 is more than just a bill to protect pretty models. It's about creating fair working conditions for the faces of the fashion industry. In any other field, workers are given basic protections that allow them to work at their best. However, models aren't given these basic protections. When I worked as a model, I was forced to work upwards of twenty hours a day, with no breaks or overtime. Rarely was food (ever) on set. If... food (was present), it was for everyone else, (not the) model(s).

Models are overlooked, because the job of modeling is seen as (an alluring) profession. This is not the case. In fact, modeling is an industry that relies on and exploits (often) underage workers. It is an industry that has an eating disorder problem and has no clear health protections in place. (AB 2539) is not a (glamour bill), it's a bill to protect human rights.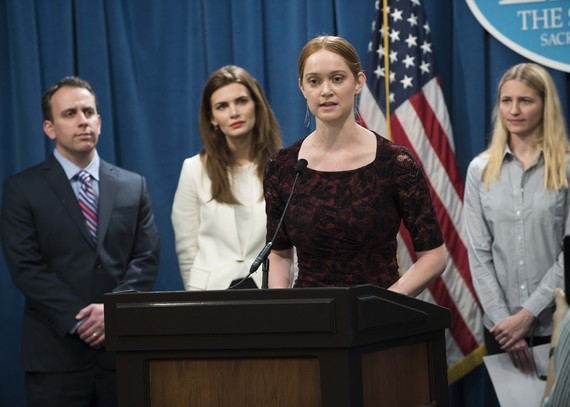 Sara Ziff, founding director of the advocacy group Model Alliance, supports AB 2539 and has recently revealed some of the horrors she faced when she modeled as a minor in the industry in an article for the LA Times:
When I started modeling at 14, I was unprepared for the adult pressures I faced, like shoots with photographers who put me on the spot to take off all my clothes and 'go-sees' with men who made sexual demands. When I raised my concerns to the president of one agency, he suggested I was being uptight and didn't see the problem. To this day the industry has no policy of requiring advance consent for casting sessions or jobs involving nudity; at the same time, because models usually are treated as independent contractors, they are unprotected by workplace sexual harassment laws.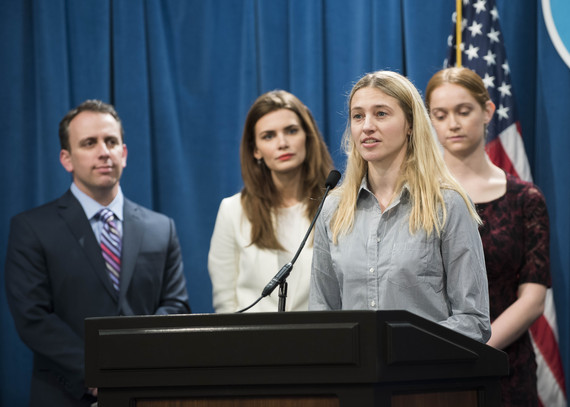 Still think there is no problem, or that models do not deserve protection and checks to ensure that they are in good health? It's difficult to ignore the obvious, although denial is a serious issue in this country.
Assembly Bill 2539 also addresses that models will have the same protections as actors, who are employees of the brands they represent. Also, the modeling agencies will be required to be licensed as talent agencies and will work with the Occupational Safety and Health Administration (OSHA), so that if a model is being sexually harassed or feels that he or she is being pressured to dangerously diet, they can report it. This is not too much to ask -- this is basic worker security.
In my work with the National Eating Disorders Association, Project Heal SoCal and Peaceful Hearts Foundation and from my own history of recovering from a seventeen year eating disorder, child physical and sexual abuse, I understand the grandiose effect AB 2539 will have. First of all, many young people get into the modeling business because they are seeking some sort of validation. I know I did; I didn't know my real worth and so I was pining for someone to love me and tell me I was "good enough"; I thought that having my face on the cover of a magazine would fill the gaping holes inside, but the unregulated modeling industry just tore me apart.
Oftentimes, it mirrored the abuse from my childhood; because it's currently unregulated, it can be a psychologically damaging business, and so many lost males and females are subjected to assaults on a regular basis. The modeling industry has the potential to be a positive place for people to work -- it doesn't have to be destructive.
I believe that Assembly Bill 2539 can be the vessel for this effective shift to occur, and that California can lead the nation in this progressive change; hopefully New York and other states will implement the changes we are addressing. Second, and just as importantly, recent research presents that nearly half of girls in grades 5 to 12 report wanting to lose weight because of magazine pictures. That's beyond alarming, and let's not forget boys and men -- they are greatly affected however may express their feelings in different ways or not at all, due to societal shaming.
However, if the industry is regulated, and the models are being given the same protections as every other employee in any industry, if they are allowed to work in a healthy environment, imagine the wonderful, far-reaching effect that this will have on society, especially children, everywhere.
If you are a California-based model, former model, professional from the industry or concerned parent, I urge you to submit a letter of support for AB 2539. Simply follow the steps laid out on Harvard STRIPED's website.
You can be the biggest advocate. You can truly make a difference in society.
Popular in the Community