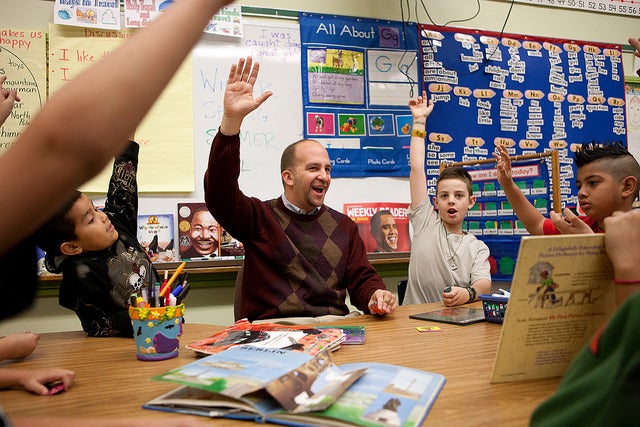 On Tues, May 16th, Los Angeles voters –the caffeinated ones awake enough to know there is a monumental election underway-- can resist a billionaire-backed hostile charter take over of the Los Angeles Unified School District by casting ballots to re-elect a champion of the arts, LAUSD Board President Steve Zimmer representing District 4, a swath of land that stretches from Westchester's jet roar to Venice's Silicon Beach to East Hollywood's rentals to the sun-splashed Valley enclaves of Woodland Hills and Tarzana.
Zimmer's District 4 seat is one of two open seats on the seven-member board; the other open seat is District 6 in the East San Fernando Valley, where another teacher-union endorsed candidate, Imelda Padilla, a former organizer with the Los Angeles Alliance for a New Economy (LAANE), and an environmental justice advocate with Pacoima Beautiful – faces charter school teacher Kelly Gomez, a competitor backed by charter school privatizers.
The question is this: Do we want public schools that are transparent, engage the entire community, and adhere to the long-established state education code – or do we want privately-run schools paid for with public money operating in the Wild West of Charterville?
With voter turn-out expected to plunge to an anemic low of 10 percent or less, a paltry number of voters will decide whether LA Unified, a district with 650,000 students enrolled in the second largest district in the nation behind New York City, continues to operate on all cylinders, serving over 200 magnet programs and pilot schools – or collapses under the weight of multiplying charters – now exceeding 220 independent charters, according to LAUSD—that create a two-tiered education system.
In what could be the most expensive school board race in US history, the billionaire boys club is spending over 4-million dollars to oust Zimmer in hopes of establishing a pro-charter majority that would turn half of the district's 900 schools into charters, 90% of which would be non-union – like the 28 LA charter schools run by Alliance, a company that violated its employees' rights to organize, according to an administrative law judge.
United Teachers of Los Angeles, my union representing 35,000 teachers, is spending over a million dollars in Independent Expenditures to back Zimmer, a Marshall High School classroom teacher and counselor for 17 years – and a two term incumbent advocating lower class size.
Since first elected in 2009, Zimmer has successfully fought devastating budget cuts to save arts education, early childhood education, and adult education; launched Student Recovery Day to bring drop-outs back to class; boosted the graduation rate from 54% to 75%; developed innovative language immersion programs; promoted science, technology and engineering magnets, and balanced the budget to earn Wall Street's top bond rating.
Joining UTLA in endorsing Zimmer is a list of electeds like LA Mayor Eric Garcetti, LA County Supervisor Sheila Kuehl, and California Senate President Kevin de Leon, but also education warriors fighting in the equity trenches: New York University professor Diane Ravitch and author Jonathan Kozol.
In the March 7th primary, an election with the one of the lowest voter turn outs in the city's history, a mere 11 percent, Zimmer was the top vote getter with 28,186 votes or 47.7% percent but fell short of the 50% plus one needed to avoid a run-off against Nick Melvoin, the runner-up with 18,532 or 31.22%. Three other candidates with a combined vote total of 12,637 didn't make the cut. Add up the votes on the pro-charter side and you can expect a tight race in which 500 votes could decide the election. That's why every vote counts and why I'm volunteering on the Zimmer campaign to organize phone banks like this one: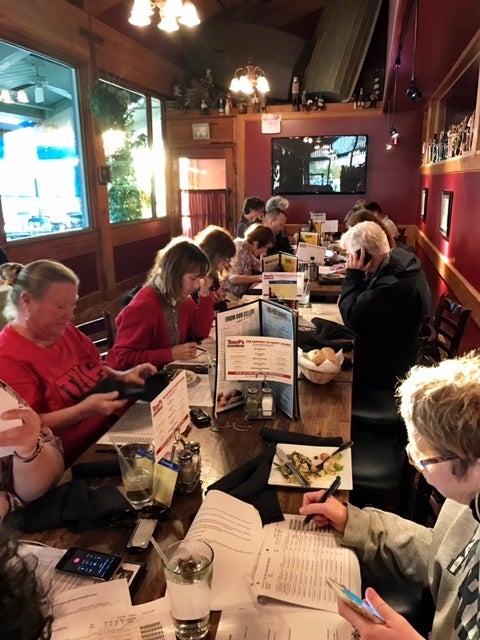 Eli Broad, former LA Mayor Dick Riordan, and the Charter Schools Association have put their money – at least 4-million -- behind Melvoin, a lawyer endorsed by gubernatorial candidate Antonio Villaraigosa, LA's former mayor who tried unsuccessfully to take over LA's schools, and by a charter school front group called Parent Teacher Alliance or PTA, which conveniently sounds a lot like the other PTA – the real one. On his web site Melvoin says he was laid off at the end of his first year of teaching at Markham Middle School due to budget cuts. He sued the District over its seniority policy "Last in, First Out", a case that was ultimately settled, and now wants the keys to LA Unified and its 7.59 billion dollar budget. In Melvoin's words "a hostile take over might be precisely what the district needs."
What exactly is a hostile take over?
Steve Bannon, Trump's top advisor, calls it administrative deconstruction. Put a guy in charge of the Energy Department who wants to gut the department. Put a guy in charge of the Environmental Protection Agency who wants to defund it.
In this case a hostile take over would establish a pro-charter majority with a directive, courtesy of the Eli Broad Foundation – and immediately opposed by Zimmer – to turn half of the district's remaining 900 schools into independent charters, privately run publicly funded schools EXEMPT from a myriad of state laws and collective bargaining clauses that require the following: a set of textbooks for each core academic class; state-approved textbook adoptions; principals and assistant principals with administrative credentials; teachers certified to teach English learners; credentialed teachers for electives; caps on otherwise exorbitant administrative salaries; teacher tenure and teacher dismissal protocols; popularly elected governing boards (some charters self-select board members) and school site councils that include teachers; public procurement regulations for third-party vendors (to avoid favoritism); adherence to most state education code provisions on student discipline, making it easier for cherry-picking charter schools with dismissal clauses written into their charters to send challenging students back to their home non-charter school.
Should a pro-charter majority take control of the board, Los Angeles Unified could be stuck with mounting costs, according to the District's own Budget, Facilities, and Audit Committee, which in a 2016 report noted that non-charter District schools serve a disproportionately higher number of severely disabled students, spending $9,888 per student versus $1,291 at a non-affiliated charter school, a trend that would increase if the number of charters continues to climb.
As more and more dollars leave for charters – with their uneven track record yet grass-is-greener appeal – the exodus will bleed the larger district of enrollment and average daily attendance dollars, leaving the skeletal district shouldering the burden of fixed costs (electricity, building maintenance) and legacy costs (pensions/retirement/health care/debt service).
In fact, a research study sponsored by UTLA found that charter schools have cost the district almost a half a billion dollars in enrollment money and underpayment for rent, oversight services, and property taxes.
Charters, once conceived of as model laboratory schools, are driving a wedge through our school district.
One edge of that wedge is called co-location.
Under California law, districts must agree to co-locate charter schools on available public school land, thus resulting in teachers at non-charter schools forced to become rovers – moving from one classroom to the next, forever carting books and stacks of papers, while their colleagues on the PE field see their class size doubling because the PE teacher can no longer use the football field or the baseball diamond six periods a day, not when the co-located charter also needs the same athletic facilities.
Melvoin's privatization agenda includes a campaign pledge to audit all LAUSD campuses for more space for charters to take over existing public school land.
Resentment seethes – while Governor Jerry Brown consistently vetoes legislation to level the playing field by requiring charter schools to adhere to the same laws as non-charters. Of course, state policy could change with a more public education friendly governor – Lt. Governor Gavin Newsome or State Treasurer John Chiang-- but not without a strong push from below and a signal from the largest metropolitan school district in the state.
Think of how happy Trump's Education Secretary Betsy DeVos will be if Los Angeles votes to further privatize our schools.
You don't have to march on the nation's capital or even adopt a nearby swing district to challenge Trump's agenda to increase funding to charter schools – a way station, a resting point, on the way to the final destination – vouchers – taxpayer funded coupons that – depending on state law—could be cashed in at bible schools or for-profit corporations that bundle tuitions and sell them as derivatives on Wall Street.
On Tuesday, May 16th, Angelenos can cast ballots that will make a difference in the national conversation on privatization and de-regulation. As goes Los Angeles, so goes the rest of the nation. The eye of the hurricane is right here, in sunny LA, in the war over who will control our schools – billionaires bloated with hubris or a real educator who believes in public education.
Calling all HuffPost superfans!
Sign up for membership to become a founding member and help shape HuffPost's next chapter
This post was published on the now-closed HuffPost Contributor platform. Contributors control their own work and posted freely to our site. If you need to flag this entry as abusive,
send us an email
.