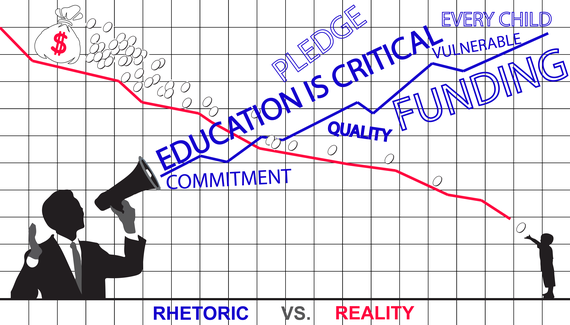 I wonder. Can we find another single issue where politicians and other high-powered decision makers more egregiously mismatch their rhetoric with spending than on global education? Can we find another example where not only the evidence about economic returns and benefits to health, equality and a stable and just society but also the moral arguments about rights and opportunity are more frequently ignored?
With new data in this week on the continued decline of global education financing, I'm not sure we can. Here are the basics released from the Global Education Monitoring Report at UNESCO:
Aid to basic education -- declining since 2010 -- went down again by almost 600 million, or 4%, between 2013 and 2014
Since 2010, aid to basic education (including pre-primary and primary, & basic life skills) has decreased 14%
In general, education fell further down the list of priorities for donors (going from 9.5% to 8.2% of total aid)
While aid to basic education continued to fall, total aid increased by 9%
Aid from bilateral donors to basic education is down by 12%. France, Japan, the Netherlands, and Spain decreased their aid to basic education by 40% or more. The UK, after reducing its basic aid education by 21%, has lost its place as the top bilateral donor to basic education.
These donors and others may cite shrinking aid budgets or the financial crisis, or a growing reliance on recipient country budgets, but honestly no one believes these simple narratives because the overall numbers tell a far more complex and longer-term story.
In part, this is because that's not what leaders actually say about education. Though overall donor ambition on basic education has stalled you would be hard pressed to find a single donor who would not list education as one of the top priorities for the poorest children and countries. This inconsistency is what I have called in the past the 'not so secret shame of the global education sector.' But last year when I said it there were 58 million children out of school, now there are 59 million.
There is every reason to expect that this estimate of out-of-school children is low and continuing to rise. The impact of decreasing resources overall and emergencies like the war in Syria that have forced millions of children to put their futures on hold practically guarantee that we are moving backward. But perhaps the worst part of this story is that the aid that hasn't been cut is still not going where it is most needed.
Less aid is going to the poorest countries now than in 2002-3. Basic education aid to sub-Saharan Africa has fallen from 49% in 2002-3 to 28% in 2014 -- despite the fact that the region is home to more than half of out-of-school children globally.
It is the already marginalized and increasingly vulnerable children -- children for whom an opportunity to learn means the difference between hope and a life of exploitation and fear -- that we continue to leave behind.
How do we reverse this trend?
The first opportunity is The Education Crisis Platform and Breakthrough Fund called for by leading civil society organizations. The Platform and Fund will be launched in May at the World Humanitarian Summit in Istanbul and the world's leading education experts, NGOs and campaign organisations are urging significant new financing to support this launch.
The mass displacements caused by the war in Syria have drawn a fine point on the need to think long-term about humanitarian crises. Evidence on the relationship between education inequality and conflict also drives home the point that making educational opportunities an important part of humanitarian response is a critical part of efforts to protect children and communities and to mitigate violence and enable future rebuilding.
The second opportunity is The International Commission on Financing Global Educational Opportunity. The Education Commission was created by Norway to reverse the negative trends in education financing around the world by making a strong case for investment and will give its report in September 2016 at the United Nations General Assembly.
While The Commission report will collate and build on existing evidence, a great deal of the case for investment is known. In particular, that early investments (in pre-primary and primary education) have the largest returns in terms of economic and equity outcomes. The numbers are clear. Increasing pre-primary enrolment to 50% in every low- and middle-income country would result in an 8%-18% return on investment.
Investments early in life and in emergency contexts are critical to ensuring all children realize their right to education. These are the investments that protect children and create equal opportunities for those from the poorest families, girls and those with disabilities who may otherwise be left or fall behind. In soaring rhetoric as well as in hard evidence, it is these investments -- which grow economies and lift families and communities out of poverty -- that donor aid was created to make.
The donors that commit significant new resources at the World Humanitarian Summit and those that immediately begin making decisions based on the evidence of The Education Commission will show the consistent leadership necessary to begin to turn this crisis around and end the hypocrisy between rhetoric and resources in global education.
Headline graphic: Dan Boyer
Calling all HuffPost superfans!
Sign up for membership to become a founding member and help shape HuffPost's next chapter