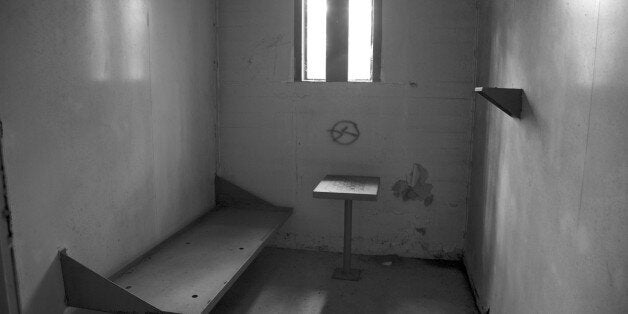 The degree of civilization in a society can be judged by entering its prisons, wrote Fyodor Dostoevsky.
By that standard, the United States does not fare well among the nations of the world in its use of incarceration, and has a ways to go to achieve the Sustainable Development Goals the UN is set to ratify this month, which strive to help all people, everywhere, live lives of dignity and security. With 2.2 million people behind bars, the U.S. has five percent of the world's population but nearly 25 percent of its prisoners. We are now a nation known for mass incarceration.
The effects of mass incarceration are at odds with Sustainable Development Goal 16, which explicitly aims at access to justice for all. That those locked up are disproportionately black and brown people -- black males are six times and Hispanic males 2.5 times more likely to be imprisoned than white males -- is particularly unjust. The outcome is that lives and communities have been destroyed, and the economic engines of a soon to be minority-majority nation have been dampened.
Perhaps nowhere is the damage of mass incarceration starker than in the overuse of solitary confinement in America's jails and prisons. People in solitary confinement are held in an isolated cell for the overwhelming portion of each day, often 23 hours, with limited human interaction and minimal, if any, constructive activity. They can be held for years, even decades. Between 80,000 and 100,000 people are estimated to be held in solitary confinement (also called segregated housing or restricted housing) in the U.S. on any given day. As noted in the Vera Institute of Justice's recent report Solitary Confinement: Common Misconceptions and Emerging Safe Alternatives, this most extreme form of confinement is used all too frequently and, at times, too casually. Yet it remains a mainstay of prison management and control despite decades of evidence pointing to the manifold negative impacts of subjecting people to such conditions, and the concurrent lack of benefit for both prison safety, and the public safety of the communities to which those who have been held in solitary confinement will return (95 percent of those in America's state prisons will return home).
Increasingly, and appropriately, this is recognized in the United States as a human-rights issue. As U.S. Supreme Court Justice Anthony Kennedy recently opined, "This idea of total incarceration just isn't working, and it's not humane."
Fortunately, there is promising attention to reform. President Obama, in a recent speech to the NAACP in Philadelphia, announced that he would have the Department of Justice do an assessment of the "overuse of solitary confinement" in Bureau of Prison facilities. Last year, Vera submitted testimony for a U.S. Senate hearing on the human-rights, fiscal, and public-safety consequences of solitary confinement. And Pope Francis, who will visit a jail in Philadelphia just days after the adoption of the SDGs, has called on "all Christians and people of good will ... to fight ... for the improvement of prison conditions in respect for the human dignity of those who have been deprived of liberty."
As significantly, corrections leaders are driving change. A new report from the Association of State Correctional Administrators and Liman Program at Yale Law School calling for a reduction in the use of this practice notes that "the insistence on change comes not only from legislators across the political spectrum, judges, and a host of private-sector voices, but also from the directors of correctional systems at both state and federal levels."
Indeed, over the past decade, several jurisdictions, some of which have worked with Vera, have reduced their use of solitary confinement and implemented alternatives. Since 2010, we have worked in partnership with state and local departments of corrections to assess their solitary-confinement policies and practices, and develop strategies to safely reducing its use; we are currently working with Oregon; North Carolina; Nebraska; New York City; Middlesex County, New Jersey; and Bernalillo County, New Mexico. Among the strategies: develop and use alternative sanctions as a response to violations of rules, in lieu of solitary confinement as a default response; limit its use for certain populations, such as the mentally ill and juveniles; reduce the amount of time someone can spend in solitary confinement; improve conditions for those in solitary, including by providing programming; and implement step-down programs for those in solitary so that they can be better reintegrated back into the general prison population and ensure that no one is released to the community directly from solitary confinement.
From September 28-29, we will be gathering with corrections leaders and the advisory board of our Safe Alternatives to Segregation Initiative in Washington, D.C., to share strategies for change. We will also be sharing those ideas at a public forum. The time is now. We must stop the overuse of solitary confinement.
This post is part of a series produced by The Huffington Post, "What's Working: Sustainable Development Goals," in conjunction with the United Nations' Sustainable Development Goals (SDGs). The proposed set of milestones will be the subject of discussion at the UN General Assembly meeting on Sept. 25-27, 2015 in New York. The goals, which will replace the UN's Millennium Development Goals (2000-2015), cover 17 key areas of development -- including poverty, hunger, health, education, and gender equality, among many others. As part of The Huffington Post's commitment to solutions-oriented journalism, this What's Working SDG blog series will focus on one goal every weekday in September. This post addresses Goal 16.
Support HuffPost
The Stakes Have Never Been Higher
Related
Popular in the Community