WASHINGTON ― A group backing GOP presidential nominee Donald Trump revealed plans on a Monday night conference call to post anonymous reports online of so-called "voter fraud" and conduct unscientific exit polls in predominantly minority neighborhoods in Philadelphia and eight other cities.
"We are not intimidating people," Andy Dion, an organizer for Stop the Steal, insisted on Monday. "We are not voter intimidation. We are conducting a fair and equitable process of determining that there was a just vote. So remember that."
Stop the Steal has no official ties to the Trump campaign, but it's the brainchild of Roger Stone, an infamous political "dirty trickster" and one of Trump's oldest friends in Washington.
More than 3,000 volunteers registered to conduct "neutral, scientifically based and methodically sound exit polls" at "certain targeted precincts" on Tuesday, Dion said on the Monday call with volunteers.
As of Tuesday afternoon, The Huffington Post was unaware of any reports of those volunteers being accused of actual voter harassment or intimidation.
The "exit poll" page of the site showed Trump winning 56 percent of the popular vote. According to HuffPost Pollster's database, the highest percentage of the popular vote Trump has achieved is 45 percent in a four-way race.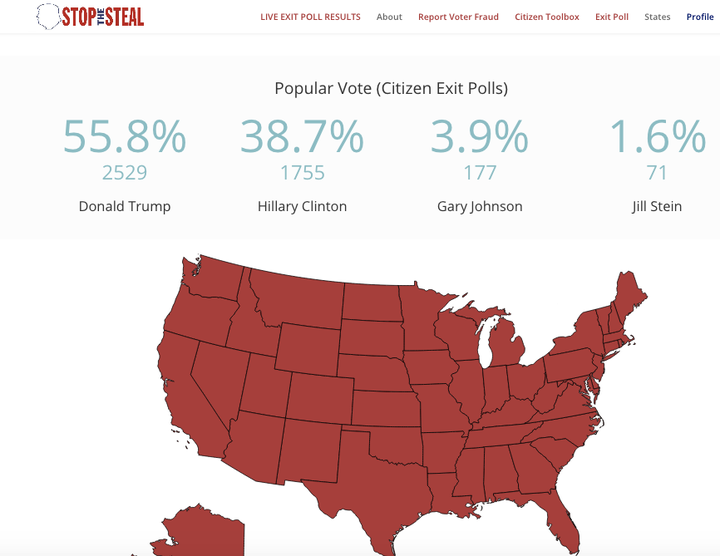 The announcement of Tuesday's plans followed a series of legal victories for the group, which successfully challenged lawsuits filed by Democrats in six states alleging that Stop the Steal's plans amounted to illegal voter intimidation. The suits asked federal judges to issue temporary restraining orders against Stop the Steal, Stone, the Trump campaign and state Republican parties, which they claimed were conspiring together. As of Tuesday, none of the the restraining orders were in effect.
But the impact of the public scrutiny surrounding Stop the Steal was evident Monday, as organizers stressed the need for the group to "present ourselves in a professional manner" and make sure "everyone is professionally dressed and does not have any campaign paraphernalia or buttons or stickers or hats displayed …. Even if you got a bumper sticker displayed on the car, if it's a magnet, take it off," said another participant on the call, Travis Irvine.
As of Tuesday, Stop the Steal's volunteers were only supposed to ask three questions in their exit polls: "Did you just vote?" "Did you vote for president four years ago?" And "Who did you vote for [this year]?"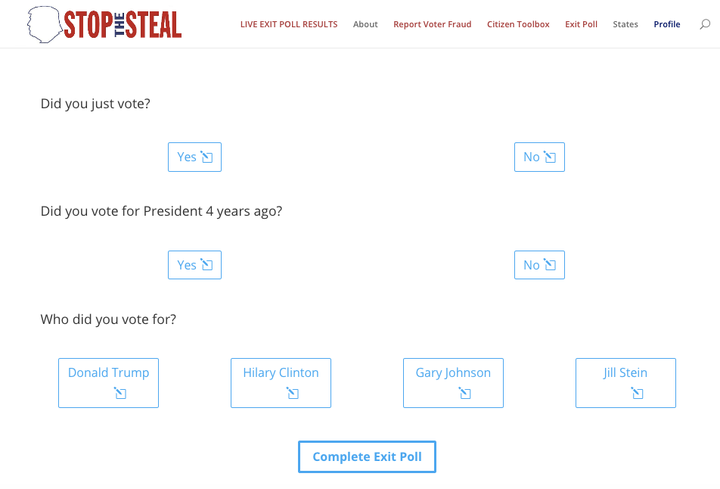 This type of survey, which does not collect any information about the individual voters, is "plainly not designed to achieve the accepted purpose of an exit poll," wrote Mark Mellman, a veteran Democratic pollster, in a report submitted last Tuesday to an Arizona federal court handling one of the voter intimidation cases.
For Stop the Steal's organizers, however, the amateur quality of the survey was a major selling point. "What this project is all about is, we are essentially doing what the news consortiums and professional exit pollsters have always done, but this time it's citizen-based," Irvine said Monday.
In their lawsuits, Democrats noted the effort was focused on nine Democratic-leaning cities that have large minority populations. Those same geographic areas are ripe for "voter fraud," Stop the Steal claimed. But if that were true, it's not clear how Stop the Steal's plan to conduct exit polling ― in which pollsters survey a tiny sample of the electorate, after their votes are cast ― would have any impact on overall rates of that crime.
Exit polls, which are routinely conducted by media outlets, are not necessarily as effective in districts that overwhelmingly support one party, raising fears from Democrats that volunteers may instead engage in voting suppression. They also pointed to inflammatory statements made by Trump, who has repeatedly claimed the election is rigged against him.
These fears weren't enough to convince the courts. In Arizona, a judge found that the Democrats had provided "no evidence of any attempts at voter intimidation ... during this cycle." A judge in Pennsylvania claimed that the Democrats' "belated, inflammatory allegations appear intended to generate only heat." And in Ohio, a ruling granting Democrats a temporary restraining order was overturned on appeal.
But as of Tuesday, Stop the Steal's website no longer contained the original instructions on how to videotape voters and stream it to the web, or how to create fake ID badges to wear while polling. Instead, the home page featured a long list of guidelines for the volunteers.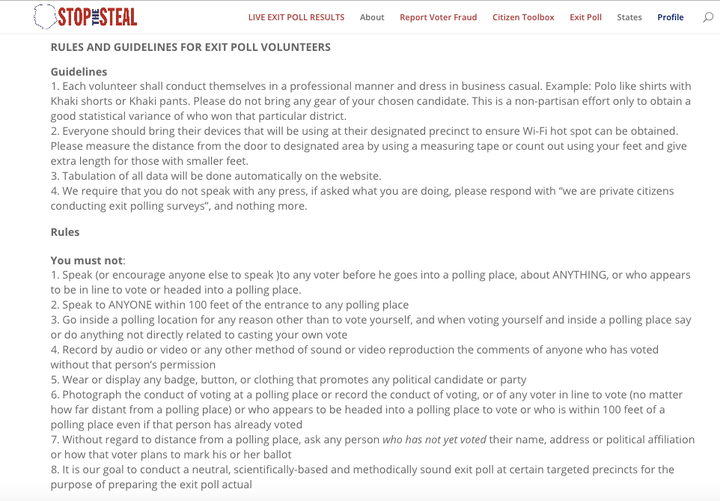 Voter intimidation is already illegal in all 50 states, and Republicans defended themselves in court by arguing that the restraining orders amounted to a redundancy, effectively outlawing something that's already prohibited under federal and state law. Democrats cited Trump's comments, and Stop the Steal's initial plans to videotape voters and wear official-looking ID badges as proof that additional legal action was needed to forbid this conduct from taking place at polling sites. A favorable ruling would have made it clear that pro-Trump affiliates cannot engage in anything that may be seen as an attempt to intimidate voters.
Trump and his campaign have been keen to distance themselves from Stop the Steal. Attorneys for the Trump campaign have claimed that they have nothing to do with the group. In court filings, Roger Stone also denied that he runs it, but acknowledged that he assists in "managing one of its projects." Stone also noted that he has "no intention whatsoever of violating any law or regulation."
In Nevada, Charles Munoz, a state director for the Trump campaign, claimed to have personally participated in three poll watcher training sessions in the state. He said he saw trainees advocate for a more aggressive approach, but noted that campaign trainers gave them proper instructions. In at least one instance, Munoz said, a trainee pushed for the campaign to be more active in challenging voters' qualifications.
"The instructor disagreed and, after some discussion, the trainee left the training session rather than accept the Campaign's policy," he said.
Popular in the Community