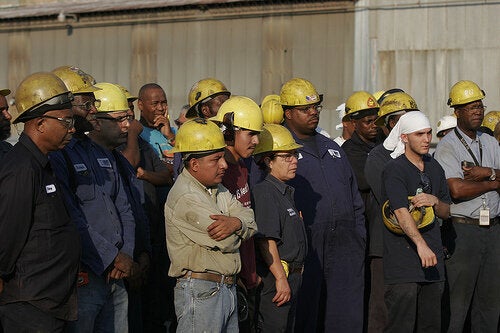 Toxic Trader. Yes, the double entendre is deliberate. The street theater is intended to hold free traders like Smith and presumptive Republican Presidential nominee Sen. John McCain accountable for millions of U.S. jobs lost as multinationals move U.S. manufacturing overseas and for deadly imports - like faked Heparin medication and melamine-poisoned dog food -- shipped into this country.
Next, the show's red-caped "Toxic Avengers" will fend off the gargantuan puppet. "Toxic Trader," on a tour of free trader's district offices across America as part of the United Steelworker's appeal for fair trade. In fair trade deals there would be, at the very least, provisions for enforcement of international environmental and labor laws. For starters, that would help prevent a situation in which American adult workers must try to compete with 13-year-old Chinese girls laboring 15-hour days, seven days a week, months at a time, manufacturing Christmas ornaments for pennies an hour, below the Chinese minimum wage and minimum age requirements, because they "voluntarily" agreed to it.This USW effort sustains the "Stop Toxic Imports" campaign launched in September to inform parents about lead-tainted toys overwhelming the U.S. market, mainly from China. As part of that Protect-Our-Kids effort, the USW distributed thousands of lead testing kids, after four-year-old Jarnell Brown swallowed a 99% -lead pendant, produced in China, from his Reebok shoes and died from lead poisoning in a Minneapolis hospital on Feb. 22, 2006.Unfortunately in the realm of free trade, what comes around goes around. The victims both times around are American working families. They lose their jobs when multinationals dismantle U.S. factories and move them overseas to take advantage of cheap labor forces, unenforced environmental laws, and virtually non-existent quality inspection. Then, those same working parents may lose a child or a pet or their own lives when those poisoned products are imported to the U.S. Standing outside that vicious circle is the beneficiary of free trade -- multinationals. They've profited big time from the era of unrestricted international transactions that Bush brought them and McCain is pledging to continue. One tragic circular situation involves tires and the decisions tire companies make. Tires get sold. Money gets made. People die.This story starts six months after Jarnell Brown was poisoned, on Aug. 12, 2006. Four Philadelphia carpenters were driving home after a day's work framing houses when one of the tires of their van blew out. They crashed; two died, and a third suffered permanent brain damage. An investigation disclosed that the tires, made by a Chinese company, Hangzhou Zhongce Rubber Co. Ltd., and imported by Union, N.J.-based Foreign Tire Sales, did not contain a gum strip between belts to prevent separation. The National Highway Traffic Safety Administration ordered Foreign Tire Sales to recall the defective tires. FTS claimed it couldn't afford to do that. The carpenters' families sued FTS and Hangzhou, but the Chinese company is claiming it is absolved of responsibility because it did not do business in the U.S. Around and around. Money got made. But no one wanted to be held responsible for deaths.Light truck owners turned in only 10,000 of the quarter million defective Hangzhou tires, sparing FTS bankruptcy. The company found itself a new Chinese tire maker, Shandong Linglong Rubber Co. Ltd., and is now back on the profitability track.Even after the bad experience with Hangzhou, it's not surprising that FTS returned to China for tires because China is the world's largest tire producer and exporter.
Contributing to that record for China is incredible investment by American companies like Goodyear, the top U.S. tire maker. Goodyear is in final talks to plunk down more than $1 billion for a manufacturing plant near the northeast Chinese city of Dalian, so the city's mayor told Reuters in February. Goodyear would join rivals Michelin, Continental AG and Bridgestone Corp. in setting up or expanding production in China.Goodyear already has a tire plant in Dalian, one that it just spent four years and $140 million expanding. The factory employs 840 and operates seven days a week, four shifts a day. Goodyear also operates tire plants in India, Indonesia, Malaysia, the Philippines, Taiwan and Thailand. Until very recently, tires like the ones that failed on the carpenters' van in Philadelphia were made in Tyler, Texas -- by Steelworkers employed by Goodyear. In 2006, Goodyear announced it would close the Tyler plant in favor of low cost imports. Even the enticement of $12 million in tax breaks didn't change the company's mind. So 725 American workers lost their jobs.Workers in Texas could not compete with those in China laboring long days, for pennies an hour, in hazardous working conditions, in places where environmental regulations are not enforced and, as the Philadelphia incident shows, quality standards are not imposed.Round and round it goes. American workers lost their jobs. American tire buyers lost their lives. Goodyear made $602 million in profits last year and Chinese tire companies made untold millions. The Toxic Avengers will appear in Ohio Wednesday. They've been invited by free trade opponent Sherrod Brown, a U.S. Senator from Ohio. Brown, who has fought fair trade as long as he has represented his state, offered the stage for "The Toxic Trader" because he has seen too many jobs roll out of his state and return from China in the form of Chinese catfish tainted with illegal veterinary drugs, toothpaste poisoned with a chemical used in antifreeze, and defective and dangerous "red lead" steel. He wants to stop this hazardous cycle. Like the Steelworkers, he wants fair trade.
The Hangzhou Zhongce Rubber Company incident and other case studies are contained in the report, "The Toxic Truth," to be released soon and available on the USW web site.
Related
Popular in the Community