What you must do as an adoptive parent (or adoptee) to ensure citizenship and avoid deportation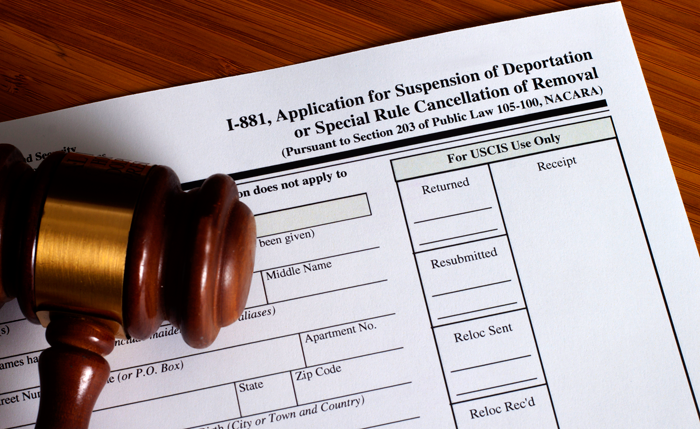 The United States has been adopting – and continues to adopt – more children from abroad than any other country. Since the 1940s, over 300,000 children (most of whom are now adults) have been adopted from abroad by U.S. citizen parents with the promise of a better life.
Even before the most recent presidential election and new, harsher immigration policies, Adam Crapser – adopted from South Korea by an American family – was deported, leaving behind his wife and two children. You may have read about the 37-year-old man (who was adopted as a toddler) in Slate or HuffPost.
Imagine yourself all of sudden exiled to a foreign country, unable to communicate. How would you find work to support yourself? Adam Crapser is finding support within the Korean-American adoptee community. Not all are as fortunate.
" . . . was not well known in the community of overseas adoptees living in Korea and did not have a lot of friends here but his suicide affects us all deeply as we all came from the same circumstances and it could be any one of us who chose to take our own life. Choosing to take your own life because you do not see any other way out to ease your pain and to die alone like this MUST affect anyone who hears about it."
The reality – unknown to many who adopt from overseas – is that the burden of completing the U.S. naturalization process and securing citizenship for their internationally adopted children was placed on the adoptive parents.
The U.S. State Department only began tracking international adoptions (IA) in the 1990s, but it is estimated that roughly 354,000 children born abroad were adopted by U.S. citizen parents between 1948 and 2014. The South Korean government alone has reported 20,000 Korean adoptees, brought to the U.S. since the 1940s, who are without citizenship. Statistical information from other countries remains underreported or unknown.
Without citizenship, adoptees have limited work and travel options, cannot access public benefits or qualify for home loans, and – like Adam Crapser – are at risk for deportation to countries where they have no known family and do not know the language or culture.
The U.S. Child Citizenship Act (CCA) of 2000 makes it possible for foreign-born children who are without U.S. citizenship at birth to gain citizenship through a U.S. citizen parent automatically if certain conditions are met.
Jenna Sipple turned 16 and went to apply for her driver's license only to discover she is not a US citizen. Like most who adopt internationally, her parents thought that they did all they were supposed to when they adopted her from Guatemala at 7 weeks of age in late 2000.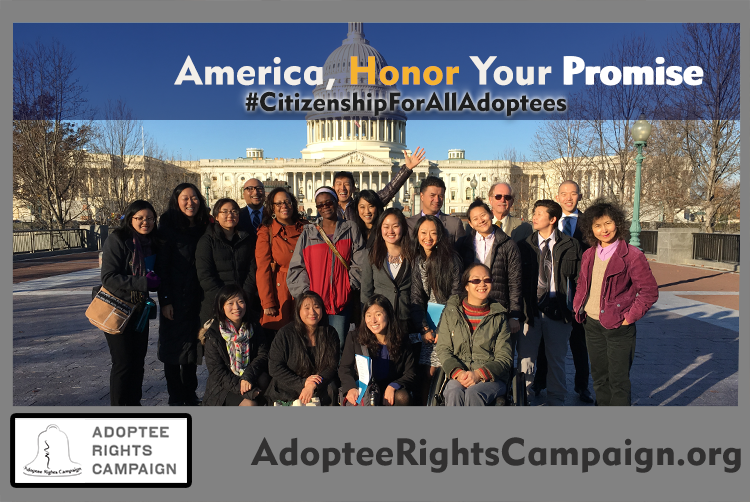 The CCA, signed into law October 30, 2000, did not go into effect until February 27, 2001 and applies only to persons who were under age 18 on February 27, 2001. Jenna and her family wonder how many other adoptees are caught in that hole, thinking mistakenly that they were automatically citizens.
The CCA demonstrates that the U.S. acknowledged the necessity for intercountry adopted children to receive citizenship. However, since the amendment did not retroactively include adoptions that occurred prior to the amendment, the law does not account for adoptees who arrived in the U.S. in throughout the 1970s and 1980s.
WHAT ADOPTIVE PARENTS and IAs NEED to DO
It is imperative that adoptive parents and adoptees ensure that you or your internationally adopted child's status is listed as "citizen" – not alien – with Social Security.
Two government agencies are permitted to "adjudicate status" – decide who is and who is not a citizen – by looking at original documents such as a foreign birth certificate and foreign adoption decree. Those two agencies are the USCIS, which issues Certificates of Citizenship (CoC), and the U.S. State Department, which issues passports.
By law, Social Security cannot list a child as a citizen unless he/she provides proof of citizenship from one of these two agencies; it cannot just inspect your adoption paperwork and decide that you or your child qualifies for citizenship under the Child Citizenship Act. If you provided a CoC or a U.S. passport, Social Security will usually have gone ahead and listed your child as a citizen, since it would have the necessary proof of citizenship.
To correct any inaccurate citizen status, provide Social Security with a Certificate of Citizenship or U.S. passport for yourself or your child.
This is vital in the event one of the adoptive parents passes away, in which case the child could be entitled to certain benefits that are granted only to U.S. citizens. Correcting the records is not difficult. But waiting until a surviving parent is grieving … is not the time to prove that their adopted child is legally entitled to benefits.
It is, however, perfectly legal to get a Social Security number for your internationally adopted child without proving citizenship. Remember that people in the U.S. on green cards (permanent resident cards) can get SSNs. If you or your parents got a SSN for you before obtaining [your] U.S. passport or CoC, you or your child will be listed in SS records as a legal permanent resident, not a citizen. Unfortunately, you cannot change status by mail or online; you have to go to a SS office and wait your turn to speak to a clerk.
First, you need to obtain a U.S. passport or CoC for yourself or your child if you do not have these documents. After that is accomplished, you need go to your SS office and fill out a change of status form – it's very brief – and give it to the clerk along with the passport or CoC. The clerk will photocopy the documents and return them to you while you are standing there; they won't be out of your possession for more than a couple of minutes. The clerk will change the adopted person's status in the computer, and that's all you have to do.
Your Social Security remains the same so you may or may not receive a new SS card in the mail. There are NO fees for changing status at Social Security.
WE CAN ALL HELP RIGHT this WRONG
The United States has failed far too many people who were adopted internationally as children by not automatically providing citizenship to them. These are people who have been raised as Americans, and they are people who did not ask to come here – legally, much less illegally. Maureen McCauley Evans writes:
"It is a matter of fairness: when internationally adopted children join their new families, they deserve all the rights and responsibilities of legal family members, as sons, daughters, sister, brothers."
Legislation has been pending in our U.S. Congress for quite a while to confer citizenship on adoptees who arrived in the United States prior to the Child Citizenship Act. The Adoptee Rights Campaign and many others have been working for years to get legislation passed.
Individuals who were born outside of U.S. boundaries but were adopted in this country deserve protections. They are as American as anyone born in this country. They should be entitled to automatic citizenship. All adoptees should be citizens by virtue of being legally the children of their adoptive parents. Most laws, such as laws of inheritance, recognize those adopted into their families as having the same rights as children born into their families. Only this citizenship issue for IAs, and the denial of adoptees' right to their own original and authentic birth certificates, discriminate against adopted persons.
Contact your elected officials to support the Adoptee Citizenship Act (S.2275, H.R.5454), which seeks to close a loophole in the Child Citizenship Act of 2000.
Text 1-520-200-2223 to find the name and phone numbers of the legislators in your state. Call them and ask them to help adoptees who were born internationally but adopted in this country.
Donate to support The Adoptee Rights Campaign. All donations are tax-deductible and greatly appreciated!
Your assistance and persistence requesting lawmakers to fearlessly champion and sponsor future bills re also appreciated.
Spread the word!
Share your story as an adoptee without citizenship with The Adoptee Rights Campaign.
Calling all HuffPost superfans!
Sign up for membership to become a founding member and help shape HuffPost's next chapter
This post was published on the now-closed HuffPost Contributor platform. Contributors control their own work and posted freely to our site. If you need to flag this entry as abusive,
send us an email
.