The greatest art theft in history is happening right now in the suburbs of Philadelphia and the odds are that you've never heard of it.
The world's greatest single collection of post-impressionist and early modern art is slated to be moved next year from its purpose-built home in Merion, Pennsylvania to downtown Philadelphia against the express wishes of the collector and donor. One of the big secrets is that the historic significance of this place -- the vast art collection, its gallery building and the 12-acre historic arboretum surrounding it -- is so great that it is eligible to be a National Historic Landmark, only if it remains intact as its donor designed and bequeathed it. But Landmark or not, part of Pennsylvania's political establishment and moneyed elite are the perpetrators set on dismantling it to convert it into a tourism cash cow at any cost. You haven't heard of it because the stakes are so high and those behind it are so powerful. But last year's election dramatically changed the political landscape in Pennsylvania in ways that present new possibilities for the organized opposition to the heist.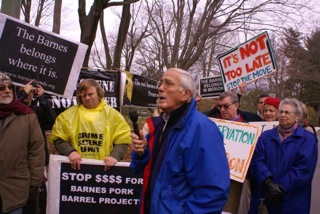 Dr. Albert Barnes loved art. Through his invention of a treatment against the effects of venereal disease around the turn of the 20th century, he rose from humble beginnings to vast wealth -- wealth he spent buying art for a revolutionary, educational purpose.
Barnes was one of the earliest fans of the post-impressionist movement, befriending artists and purchasing masterpieces before they were recognized as such. His love of art led him to found a school for art appreciation where his massive collection of Renoir, Cezanne, Matisse, Van Gogh, Soutine, Picasso and nearly every other great you can possibly imagine, could be studied by students with a genuine interest in it. Barnes didn't found a museum; he founded a school, with a deliberate educational mission, intended for regular people, not the privileged class.
In his lifetime Barnes once exhibited his collection in Philadelphia and, as it was long before these brilliant artists were considered masters, and they were challenging the norms of the art world at the time, the exhibition was ridiculed by the society crowd and the press. To say this irritated Barnes would be an understatement. He knew what he had, to Hell with those who they couldn't see it. It was at that point that Barnes set about to create a Foundation with iron-clad bylaws that would ensure his collection would forever be protected in the place he created for it to educate and empower.
After Barnes' death in 1951, his will was executed to the letter -- the collection was never loaned out or sold, his collection remained primarily for the students of his school with the public having only limited access, and moving it to Philadelphia was never considered. At least for a while, anyway.
As with anything so valuable (estimates of the collection's value range between $25 and $35 BILLION), those very same elites Barnes spent much of his life battling, their children and their organizations (and the rest of the world), came around to Barnes' appreciation of these masters. Jealousy over The Barnes owning such a large, important collection soon followed. Right behind that jealousy followed a desire to possess it and the power and prestige that goes along with it. The acquisitiveness reached a fever pitch even while policies permitted the art collection to become more and more accessible to the general public.
Under normal circumstances a man's will is bond, and most people wouldn't dream of challenging or ignoring a dead man's desires, especially when they are so unambiguous. But most last wishes don't involve tens of billions of dollars of some of the world's more "marketable" art.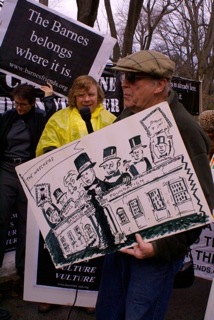 Through mismanagement, the Barnes trust dwindled. Rather than aid in replenishing the trust, politicians and charitable organizations, such as the Pew Charitable Trust, pounced. Pew, along with members of the Philadelphia elite, including Ray Perelman, the late Leonore and Walter Annenberg, H.F. "Gerry" Lenfest saw the opportunity and offered to raise money for the struggling Barnes only on the condition that its Board was expanded to include Pew-approved Trustees and that it move from Merion to Philadelphia. Pew described their right of approving Barnes Board nominees as protecting their "charitable investment."
Through a series of legal maneuvers, mystery earmarks and deals cut with the controlling authority of The Barnes Foundation, Lincoln University -- a small, cash-strapped traditionally black university -- gradually but steadily, control of the foundation was shifted from where Barnes set it in his will to the very groups and people Barnes created his will to protect it from in the first place.
This maneuvering is laid bare in the excellent 2009 documentary Art of the Steal, now streaming on Netflix.
The shift in power was to guarantee the transfer of the Foundation with its prized art collection to Philadelphia under a farcical plan its self-serving boosters say furthers the "vision" of Dr. Barnes; whereas Dr. Barnes' vision can only realized in Merion, where he intended the art collection to remain as a powerful educational experience forever.
Dr. Barnes never had children, so there was no heir to speak on his behalf. Thankfully, a group comprised of residents of Merion, former Barnes students and citizens outraged at the undermining of a man's last will and testament, formed The Friends of the Barnes to speak for their friend and mentor.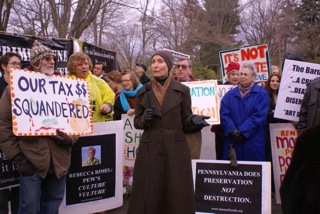 Though they've suffered legal losses, as is to be expected when challenging such powerful interests, the Friends haven't given up.
Citing misconduct by former Pennsylvania Attorney General Michael Fisher, the Friends have filed a petition with the courts seeking to re-open their case against the move.
In addition, Ed Rendell, who was behind the Barnes move is no longer governor; Tom Corbett is. Pennsylvania, as is nearly every other state, is facing a tight budget reality. Before leaving office, Rendell pledged more than $47 million, of which $38 million remains unspent. Meanwhile, U.S. Congressman Jim Gerlach, whose district includes Merion, has recently urged Governor Corbett to re-evaluate the situation and stop taxpayer funding for the project. So, the future of the Barnes remains lively.
When a person dies, their wishes are set forth in a formal document based on a sacred trust. Every effort, within reason, is made to ensure their desires are followed as closely as possible. The explicit wishes of Dr. Albert Barnes have been swept under aside for the desires of a few who wish to control that which Barnes spent his life assembling. The Barnes case is extraordinary, but so is every precedent-setting case. If a man of means who employed the best lawyers around at the time can have his wishes overrun by government officials and monied interests simply because they want control over something he bequeathed to the world in a specific way, what hope do the rest of us have if similar, or even less powerful, interests want something of our when we pass?
No battle is lost until it's over. Thankfully, the battle for The Barnes has begun anew. And the good guys just may prevail.
To learn more and to get involved, visit The Friends of the Barnes and sign their petition today.
Support HuffPost
The Stakes Have Never Been Higher
Related
Popular in the Community