Every year in November, we enter into a time of transgender remembrance. At memorial services, we read the names of transgender women and men who have been killed in the last year. We lift up all those who have been attacked and murdered since the very first day of remembrance in 1998 to memorialize Rita Hester, who was killed in Massachusetts.
In Metropolitan Community Churches across the United States -- and now across the world, we call out the names of those who have died at the hands of bigotry. We pray for their souls and the souls of the killers. We pray for the soul of a world that is tied to such a rigid understanding of gender that it murders its sons and daughters who are perceived to be gender queer.
This year is no different -- yet very different. This year, caricatures of trans people and fear mongering about fabricated bathroom attacks scuttled a non-discrimination statute in Houston. This year, an anonymous campaign was launched to take the "T" out of LGBT. This year, Germaine Greer, iconic feminist from the '70s, opined that transgender women "are not women" and that accusations that she is inciting violence against trans women are "absolute nonsense."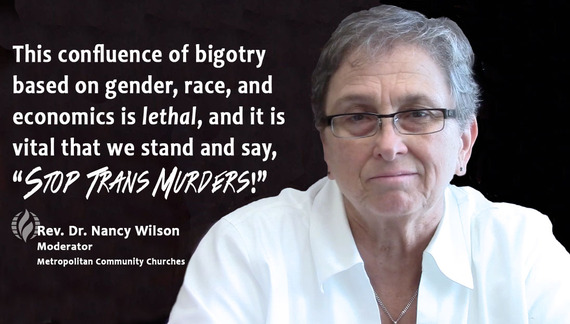 But where does the violence come from? It keeps coming and the violence has patterns that reek of racism, sexism and classism.
To resist this, The LGBTQ Taskforce urged us to join in the effort to Stop Trans Murders, and called out the names of Zella Ziona, Papi Edwards, Lamia Beard, Taja Gabrielle de Jesus, Penny Proud, Kristina Grant Infiniti, Mya Shawatza Hall and London Chanel -- just some of the names of some of 23 trans women and gender non-conforming people murdered in 2015.
The National Coalition of Anti-Violence Programs (NCAVP) reported that 80 percent of all LGBTQ homicide victims were people of color. More than half of those people killed were transgender women and 90 percent of the trans women murdered were women of color. This confluence of bigotry based on gender, race and economics is lethal, and it is vital that we stand and say, "Stop Trans Murders!"
In the coalitions of lesbian, gay, bisexual and transgender people, we must say, "NO!" to demeaning dismissals of transgender people, and "YES!" to the diversity among all people.
It is tragically ironic that a figure with as much profile and access to conversations about gender, such as Germaine Greer, would resort to arguments about what a "real woman" is, and draw a line that excludes transgender women. It was in the '70s that the National Organization for Women (NOW) tried to silence and keep lesbian women in the closet because we might frighten away "real women."
"Real women" are simply diverse. This is a lesson that should have been learned long ago. In church, we call all of us "the children of God," and claim diversity as one of God's most creative actions.
Today, I speak as a lesbian woman and a white feminist who has been a member of Metropolitan Community Churches since the '70s, and now I serve as MCC's current global moderator. We dare not reduce women to a definition that comes full blown from the head of Zeus or Germaine Greer. We dare not abandon our transgender brothers and sisters who are targeted for discrimination and violence. We dare not ignore the race-driven violence that escalates the murders of trans women of color, dominates Black communities and imprisons massive numbers of people of color.
Reese Rathjen, a white transgender man, reflected via Facebook on the fact that 48 percent of employers who were tested say they preferred a less qualified candidate than a more qualified transgender candidate. "As I near 2.5 years without full-time, sustainable work, research like this helps me feel sane. Thanks DC Office of Human Rights for doing this research and spreading the message. This is why non-discrimination laws and enforcement are critical," he said.
How much more discrimination do transgender women of color face? They face deadly discrimination.
Most people reading this article want to stop racism and are appalled by the murders of transgender people. Please do not stop at an emotional response. Assess your life. Where can you take a next step to fight racism and to Stop Trans Murders?
Become an advocate. Learn from transgender organizations. Get to know transgender people in your community. Start with saying, "hello." Plan to make friends. Plan to learn about your own uniqueness, not just theirs. Ask what gender pronoun they prefer and do not be surprised if they ask what pronoun you prefer -- just share your pronoun preference with them without comment, joke or caveat.
Cross the lines of race. Racism is both personal and institutional. Do you have friends from racial groups other than your own? Reach out. Are you speaking out against mass incarceration and police brutality? Are you supporting the efforts of our day to bring about racial justice? What is your personal and institutional next step? Be willing to make mistakes and keep coming back.
If you are in a position where you hire and fire people, be proactive and hire transgender people, and be proactive for people of color. Racism can be defeated. Human beings constructed it, and human beings must be the ones who deconstruct it.
As you remember the transgender lives lost this year, know that you are walking at the crossroads of so many forms of oppression. If you have personal and institutional power, know that you are not helpless in the face of these atrocities; you can do something. In the name of God, in the name of justice and in the name of our incredibly diverse humanity and creation, Stop Trans Murders!
Popular in the Community