Update:Three days after the historic Women's March on Washington, activists across the country rallied at their Congress members' state offices Tuesday to protest PresidentDonald Trump's Cabinet picks.
The nationwide protest was part of #ResistTrumpTuesdays, a series of events that are expected to take place every Tuesday during Trump's first 100 days in office, led by liberal activist organization MoveOn.org, progressive grass-roots advocacy group People's Action and the Working Families Party.
Victoria Kaplan, organizing director for MoveOn, estimates several thousand participated nationwide in the protests Tuesday.
Seven protesters were arrested in Chicago during a rally targeting Illinois' Democratic senators, Dick Durbin and Tammy Duckworth, said Kathy Mulady, press secretary for People's Action. The protesters were arrested for shutting down traffic and blocking streets, and had not been released as of late Tuesday.
Several hundred people braved the rain and bitter cold to protest outside the New York offices of Sens. Chuck Schumer (D-N.Y.) and Kirsten Gillibrand (D-N.Y.) in an effort to pressure them to delay or stop the Cabinet confirmations.
Nelini Stamp, an organizer for the Working Families Party, said the turnout at the New York demonstration significantly exceeded expectations.
"People decided to really throw down," Stamp said. "I think this is the largest crowd we've had outside of Schumer's office since the new Congress has been in session."
Representatives of Schumer and Gillibrand greeted participants and collected letters from the crowd to deliver to fellow senators before heading back inside the building.
The protesters continued to chant "Drain the swamp!" and "Serve the people!" long after the staff members sought refuge from the driving rain.
"I think it demonstrates both the commitment and the urgency that many, many people are feeling," Kaplan said about the protests. "And that we're not going to accept what Trump is trying to do to this country."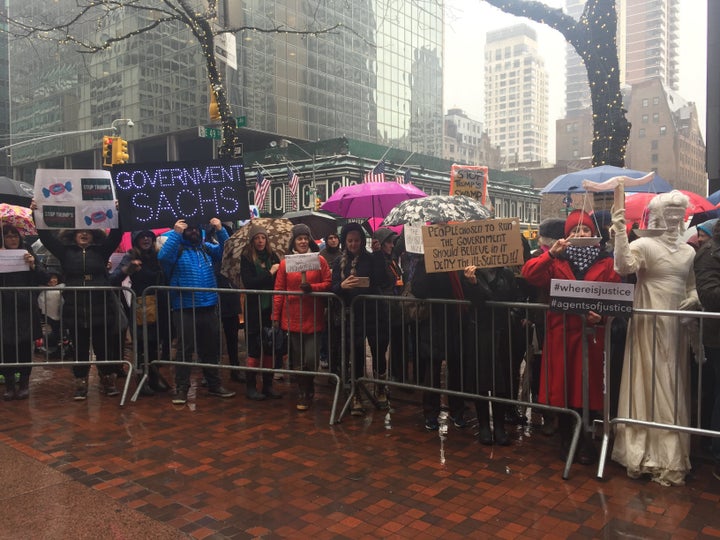 After the success of the worldwide Women's Marches this weekend, activists are planning another wave of demonstrations against President Donald Trump. Protesters across the country are expected to gather at the state offices of their members of Congress on Tuesday in an effort to stop the Senate from confirming several of Trump's Cabinet picks.
More than 100 "Stop Trump's #SwampCabinet" demonstrations are planned in at least 35 states and will target dozens of senators and representatives, both Democratic and Republican. (The complete list of events can be found here.)
The nationwide protest is being led by liberal activist organization MoveOn.org, progressive grass-roots advocacy group People's Action and the Working Families Party.
"People's lives are on the line," said Victoria Kaplan, organizing director for MoveOn. "It's our responsibility as participants in our democracy to make sure that our senators understand their constituents expect them to do everything in their power to stop this swamp Cabinet that Trump has put forward."
Kaplan expects several thousand people to participate in Tuesday's events, and encouraged activists to lead rallies in cities that don't yet have any scheduled.
The rallies aim to undermine the "most egregious and dangerous" Cabinet appointments, Kaplan said ― such as billionaire philanthropist Betsy DeVos as secretary of education, Rep. Tom Price (R-Ga.) as secretary of health and human services and Sen. Jeff Sessions (R-Ala.) as attorney general ― by pressuring lawmakers to delay or stop their confirmations.
"You can't play footsie with the KKK and expect to be attorney general of the United States," Kaplan said about Sessions, whose former assistant once accused him of describing the white supremacist group as "OK until he learned that they smoked marijuana."
Senate Minority Leader Chuck Schumer (D-N.Y.) renewed his calls on the Office of Congressional Ethics to launch an investigation into Price's potentially illegal stock purchases. A spokesman for Trump's former transition team said last week that Price, a staunch opponent of the Affordable Care Act, "had no knowledge" of the investments.
"Democrats in the Senate have the power to slow, delay, stop these Cabinet picks," Kaplan said. "And we expect them to use every tool in their toolbox to do so."
At some of Tuesday's events, speakers will address the crowd before groups of demonstrators attempt to speak directly with members of Congress or their office staff to voice their opposition to Trump's nominees, Kaplan said. The actual schedule of events may vary from rally to rally.
Organizers hope to build on momentum created from Saturday's Women's March protests.
"If every person who marched [in the Women's March] were to visit their Congress member's office one time this week ― on their way to work or after school ― we would be unstoppable," Kaplan said, noting that those who can't attend the Tuesday protests in person can reach out to their members of Congress at any time.
Several confirmation votes and hearings are scheduled for this week, including a decision Monday on former Exxon Mobil Corp. CEO Rex Tillerson as secretary of state, and decisions Tuesday on former neurosurgeon Ben Carson as secretary of housing and urban development and Sessions as attorney general.
Secretary of Defense Gen. James Mattis and Secretary of Homeland Security Gen. John Kelly became the first two of Trump's Cabinet members to be confirmed following the Senate's vote on Friday.
How will Trump's first 100 days impact you? Sign up for our weekly newsletter and get breaking updates on Trump's presidency by messaging us here.
Popular in the Community