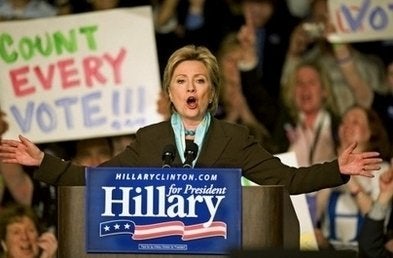 UPDATE: Since I wrote this post, 17 previously uncommitted superdelegates have endorsed -- 15 for Obama, 2 for Clinton -- so now it's 17 down off the fence, 202 to go. Click here to read the latest on the Countdown to the Nomination
The dust refuses to settle on the Democratic race. Hillary Clinton wants to cloud the issue with talk of Zimbabwe, Gore 2000, slavery, the civil rights movement, and fuzzy-math-derived popular vote totals. The media steadfastly refuse to clear things up by sticking to the facts, preferring to keep the horse race going.
So let's see if we can put the focus on those with the power to bring to an end this political equivalent of a 50s horror movie (The Campaign That Just Won't Die!): the superdelegates.
There are currently 212 uncommitted superdelegates (not counting Michigan and Florida). What are they waiting for?
I understand there are still three more primaries to go. But there is nothing that is going to happen in Puerto Rico or South Dakota or Montana that is going to convince Hillary Clinton to leave the race. Her argument isn't about pledged delegates, which is what is at stake in these remaining primaries. Her argument is about Florida and Michigan and convincing the superdelegates to overturn the pledged delegate majority Obama has won.
And there is also no reason for the superdelegates to wait until the Rules and Bylaws Committee meeting on May 31st. Not even the Clinton camp is delusional enough to think it is going to walk away from the meeting with enough additional pledged delegates from Michigan and Florida to overtake Obama.
So it's time for the uncommitted superdelegates to stop their dithering, come out of hiding, hop off the fence, endorse Obama and officially bring this nominating process to an end.
The Democratic leadership -- starting with Pelosi, Reid, and Dean -- should begin working behind the scenes to get all uncommitted supers to immediately commit. Let Puerto Rico, South Dakota, and Montana have their say, but start bringing the curtain down now.
And let's not just wait for the party leaders to put pressure on the superdelegates. Let's start putting pressure ourselves. Below you will find a list of all the uncommitted superdelegates. And this link will lead you to profiles of them. Please call or email the elected officials and track down the DNC members who live in your state and let them know that you want them to stand up and be counted. Now.
Hillary Clinton has more than earned the right to stay in the race until the bitter end. So it's up to the superdelegates to accelerate the bitter end.
Bud Cramer (AL)
Gabrielle Giffords (AZ)
Nancy Pelosi (CA)
Jerry McNerney (CA)
Mike Honda (CA)
Sam Farr (CA)

Bob Filner (CA)
Susan Davis (CA)
Mark Udall (CO)
John Salazar (CO)
Jim Marshall (GA)
Rahm Emanuel (IL)
Nancy Boyda (KS)
Dennis Moore (KS)
William Jefferson (LA)
Charlie Melancon (LA)
Don Cazayoux (LA)
Rep. Michael Michaud (ME)
John Sarbanes (MD)
Steny Hoyer (MD)
Chris Van Hollen (MD)
John Olver (MA)
Niki Tsongas (MA)
John Tierney (MA)
Edward Markey (MA)
Collin Peterson (MN)
Gene Taylor (MS)
Rep. Travis Childers (MS)
Rep. Rush Holt (NJ)
Rep. Bob Etheridge (NC)
Rep. Mike McIntyre (NC)
Rep. Tom Udall (NM)
Charlie Wilson (OH)
Marcia Kaptur (OH)
Rep. Zack Space (OH)
Rep. Dennis Kucinich (OH)
Rep. Dan Boren (OK)
Bob Brady (PA)
Jason Altmire (PA)
Tim Holden (PA)
Rep. Mike Doyle (PA)
John Spratt (SC)
Rep. Jim Clyburn (SC)
Lincoln Davis (TN)
Bart Gordon (TN)
Nick Lampson (TX)
Jim Matheson (UT)
Alan Mollohan (WV)
Distinguished Party
Leaders
Jimmy Carter (GA)
Al Gore (TN)
Fmr. Senator and Majority Leader
George Mitchell (NY)
Fmr. DNC Chair Bob Strauss (TX)
Senators
Ken Salazar (CO)
Joe Biden (DE)
Tom Carper (DE)
Tom Harkin (IA)
Mary Landrieu (LA)
Ben Cardin (MD)
Carl Levin (MI)
Max Baucus (MT)
Jon Tester (MT)
Harry Reid (NV)
Frank Lautenberg (NJ)
Sherrod Brown (OH)
Ron Wyden (OR)
Jack Reed (RI)
Jim Webb (VA)
Herb Kohl (WI)
Governors
Bill Ritter (CO)
Steve Beshear (KY)
Brian Schweitzer (MT)
John Lynch (NH)
Phil Bredeson (TN)
Joe Manchin (WV)
Add-Ons

Terry Goddard (AZ)




Jay Nixon (MO)
Rusty McAllister (NV)
Jerry Lee (TN)

35 Unnamed Add-Ons,
including 2 from Michigan

DNC Members
David McDonald (WA)
Yvonne Gates (NV)
Joe Turnham (AL)
Nancy Worley (AL)
Don Bivens (AZ)
Lottie Shackleford (AR)
Art Torres (CA)
Hon. Carole Migden (CA)
Bob Mulholland (CA)
Christine Pelosi (CA)
Robert Rankin (CA)
Steve Ybarra (CA)
John Perez (CA)

Nancy DiNardo (CT)
Donna Brazile (DC)
Christine Warnke (DC)
John Daniello (DE)
Harriet Smith-Windsor (DE)
Richard Ray (GA)



Edward Smith (IL)
Vacant (IL)
Helen Knetzer (KS)
Jennifer Moore (KY)
Nathan Smith (KY)
Chris Whittington (LA)

Elsie Burkhalter (LA)
Sam Spencer (ME)
Jennifer DeChant (ME)
Hon. Heather Mizeur (MD)
Susan Turnbull (MD)
John Sweeney (MD)
Belkis Leong-Hong (MD)
Debra Kozikowski (MA)
James Roosevelt Jr (MA)
Carnelia Pettis Fondren (MS)
John Temporiti (MO)
Yolanda Wheat (MO)
Leila Medley (MO)
Hon. Robin Carnahan (MO)
Hon. Maria Chappelle-Nadal (MO)
Dennis McDonald (MT)
Margarett Campbell (MT)
Sam Lieberman (NV)

Hon. Catherine Cortez Masto (NV)
Philip D. Murphy (NJ)
Raymond Buckley (NH)
Irene Stein (NY)
Ralph Dawson (NY)
David Parker (NC)
Muriel Offerman (NC)
Carol Peterson (NC)
David Strauss (ND)
Hon. Chris Redfern (OH)
Ronald Malone (OH)
Patricia Moss (OH)
Hon. Joyce Beatty (OH)
Ivan Holmes (OK)
Jim Frasier (OK)
Jay Parmley (OK)

Frank Dixon (OR)

Wayne Kinney (OR)
Gail Rasmussen (OR)
Hon. Bill Bradbury (OR)
Eliseo Roques-Arroyo (PR)
Hon. Gilda Cobb-Hunter (SC)
Cheryl Chapman (SD)
Gray Sasser (TN)
Dr. Inez Crutchfield (TN)
Boyd Richie (TX)
David Hardt (TX
Denise Johnson (TX)
Betty Richie (TX)
Linda Chavez -Thompson (TX)
Helen Langan (UT)
Jim Leaman (VA)
C Richard Cranwell (VA)
Hon. Alexis Herman (VA)
Jerome Wiley Segovia (VA)
Howard Dean (VT)
Eileen Macoll (WA)
Ed Cote (WA)
Sharon Mast (WA)
David McDonald (WA)
Nick Casey Jr. (WV)
Alice Germond (WV)
Paula Zellner (WI)

Cynthia Nunley (WY)
Marylyn Stapleton (VI)
Vacant - 1 (At-large)
Vacant - 2 (At-large)

Popular in the Community