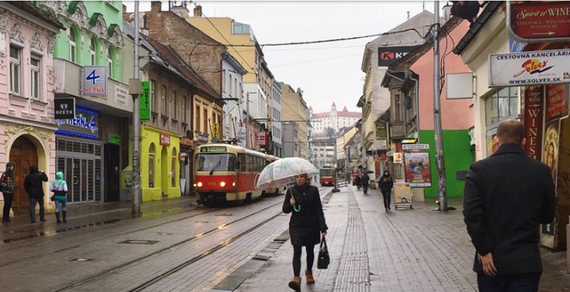 By College Tourist; Author: Ben Rissler, American University
Take a short trip to the dynamic "Beauty on the Danube."
The Slovakian capital boasts wonderfully preserved medieval architecture and contemporary buildings alongside remnants of its communist past. Having been under the control of many empires and rulers, Slovakia officially gained independence from Czechoslovakia in 1993, making it a very new country in comparison to its European counterparts. Bratislava is an eclectic place that showcases this historical past throughout the city.
The "Beauty on the Danube" is the perfect getaway for a curious traveler wishing to see off the beaten path Europe, something many tourists omit from their itineraries. The city is just a short hour-long bus ride away from Vienna, the Austrian capital known for its classical architecture and music. Alternatively, Bratislava lies along the popular bus route from Prague to Budapest (and vice versa) that virtually always makes a stop in Slovakia to unload and load new passengers. The city also has a small international airport serviced by Ryanair that offers discount flights across the continent. (More: How to survive RyanAir). With endless travel possibilities, Bratislava is easily connected to other major points of interest just a few hours away.
It is a very walkable city with a quaint downtown area filled with restaurants, cafes, shops, and other landmarks. Stroll through Old Town to see Bratislava's medieval culture come to life, while heading up to the city's impressive castle. Located on a giant hill overlooking the Danube River, the Bratislava Castle dates back to prehistoric times, and was later occupied by the Celts and Romans. It can be easily seen throughout the city, and offers amazing views of the river and the largest communist-era concrete block housing complex in Central Europe. Directly across from the castle is the Slovakian parliament building, illustrating the contrast between modernity and antiquity. Head back down the hill to St. Martin's Cathedral, the largest church in Bratislava, that showcases both Gothic and Baroque style architecture.
Spanning across the Danube is the interesting SNP Bridge, which contains a flying saucer-looking structure that houses a restaurant named UFO. Offering stunning views overlooking the skyline of Bratislava and the surrounding area, the restaurant is highly rated for its traditional Slovakian and international cuisine.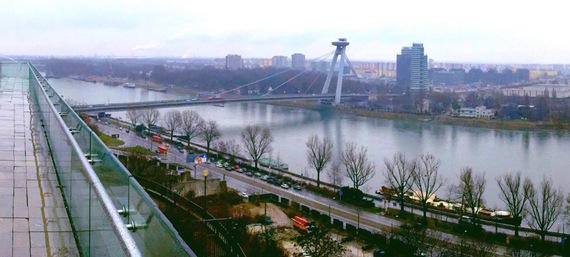 One great thing for budget travelers is that this city is incredibly cheap! Head over to ORBIS Street Food for a taste of the streets across the world and its infamous Belgian frites. Try some delicious, inexpensive traditional Slovakian food at the Slovak Pub, frequently by Bratislava's many university students. Hit up Regal Burger for some American comfort food and a local beer.
This is also a perfect destination for nightlife due to its compact nature and variety of bars and clubs to choose from. For an unforgettable night out, go to Subclub, an underground club located in a former Soviet bunker under Bratislava Castle. With a cover charge around €5 and 0.5 liter beers for €1.30, this is one of the most unique venues around to dance to techno, drum & bass, and electro house music.
The city is best discovered by chance, without an agenda. Tourists often assume that one needs to have a massive hour-by-hour itinerary in order to accomplish a checklist. Travelers, on the other hand, strive to get acquainted with a new place in the eyes of the locals. Bratislava is definitely a city for the latter, someone wishing to uncover a hidden gem of Europe at a relaxed pace. Wander through the streets and Old Town area in the hopes of understanding the rich, dynamic past of the city. Everything is relatively concentrated inside a compact area, making "sightseeing" very simple. Slovakians are also very nice and genuinely happy to see foreigners exploring their country. Don't be afraid to get to know this beautiful, underrated city!