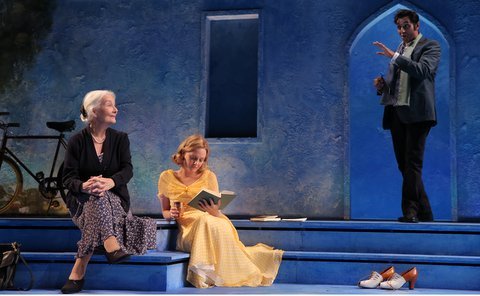 Rosemary Harris, Romola Garai and Bhavesh Patel in Tom Stoppard's Indian Ink. Photo: Joan Marcus
Mid-period Stoppard -- that is, the work of the acclaimed Czech-born British playwright in his fifties and early sixties -- brought forth a remarkable series of intricate, thought-provoking-but-inviting plays like Hapgood (1988), Arcadia (1993), The Invention of Love (1997) and The Coast of Utopia (2002). Each of these was brought stateside in effective productions by Lincoln Center Theater, and each was a highlight of their respective seasons.
And then there's Indian Ink, written in the middle of the group; it premiered in London in 1995, and met with substantial acclaim. The play didn't make it to New York, though. There was a well-received 1999 production at the American Conservatory Theater in San Francisco, which was directed by resident director Carey Perloff and which opened the very same evening that Stoppard won an Oscar for Shakespeare in Love; but something about Indian Ink was presumably deemed "too foreign" to follow Hapgood and Arcadia here. Many of Stoppard's plays have been foreign by New York standards, sure; but it's one thing to be veddy English or even Russian, as in the case of The Coast of Utopia. Indian Ink, as the title suggests, centers on India. More precisely British India, with the action jumping back and forth between 1930 (India) and 1980 (India and England) in a typically Stoppardian shuffle.
While British audiences were understandably at home with this tale of the subcontinent, the flavor was thought to be too exotically spiced for those Yankees across the sea. While almost all of Stoppard's original plays (as opposed to translations) have been seen here, the successful Indian Ink has been -- if you will -- blotted from the sight of New Yorkers.
Until now, that is. Ms. Perloff has been imported from San Francisco by the Roundabout to mount a new production at its off Broadway-sized Laura Pels Theatre. The answer seems to be both yes and no. That is, Indian Ink works perfectly well for New York audiences even if it is not quite so accessible as Stoppard's masterworks. The production is lovely and pretty much a treat, and perfect fare as a subscription offering for a major nonprofit. But it is not compelling, exactly; while Rosencrantz and Guildenstern Are Dead, Jumpers, Travesties, Arcadia and The Coast of Utopia give us much to discuss and ponder, Indian Ink -- at least as presented here -- is welcome but not indispensable theatergoing.
What is indispensable is Rosemary Harris, who plays the elderly (in 1980) younger sister (in 1930) of the risqué poetess who goes to India (in 1930) and dies of tuberculosis, leaving behind a batch of juicy letters and a mysterious nude portrait of herself. To say that the eighty-seven-year-old Ms. Harris is incandescent is overtly clichéd, except it's true. We shouldn't be surprised every time Ms. Harris -- or Maggie or Judi, for that matter -- comes along with one of these brilliant portrayals; we should just go out of our way to watch them and add to our personal theatrical memory bank.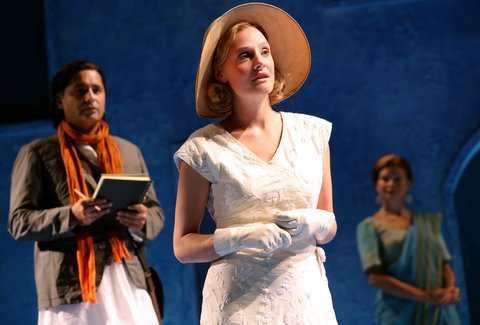 Firdous Banji and Romola Garai in Tom Stoppard's Indian Ink. Photo: Joan Marcus
Sharing the stage with Ms. Harris, and doing quite nicely, is British actress Romola Garai, whose credits range from film to screen to the London stage. She plays the dying poetess, a role which Stoppard wrote for then-muse Felicity Kendall, and does indeed pose for that nude portrait. Ms. Garai is very effective, altogether, as is Firdous Banji as the shy painter. In a smaller role, Bhavesh Patel makes a strong impression playing opposite Ms. Harris as the painter's son, searching for answers about the mysterious portrait of the nude Englishwoman he found in his father's effects.
Perloff's delicate production -- with evocative work from Neil Patel (scenery), Candace Donnelly (costumes) and Robert Wierzel (lighting) -- is lovely, and just what the Roundabout should be giving its subscribers. (They have more Stoppard on tap, with The Real Thing starting previews this week at the American Airlines Theatre.) But it is Ms. Harris -- rather than Mr. Stoppard -- who makes this Indian Ink a treat for playgoers.
.
Indian Ink, a revival of the play written by Tom Stoppard, opened September 30, 2014 at the Laura Pels Theatre
Calling all HuffPost superfans!
Sign up for membership to become a founding member and help shape HuffPost's next chapter