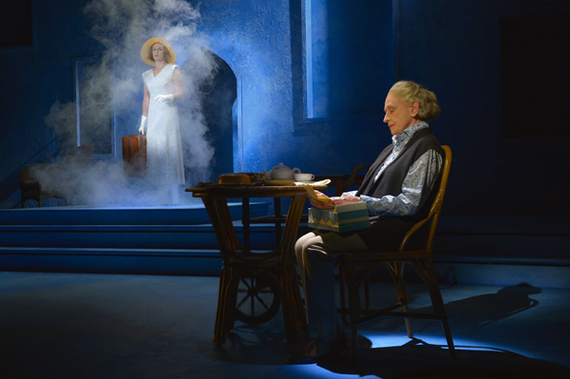 Time-traveling through memory: poet Flora Crew (Brenda Meaney) in the 1930s, sister Eleanor (Roberta Maxwell) with her letters in the '80s.
Photos by Kevin Berne
No one should be surprised when any theatrical canvas painted by Tom Stoppard is enormous: In Indian Ink, he outdid himself, perhaps too ambitiously.
In close to three hours, the play skips between the early 1930s and the '80s, debates nuances of colonialism and revolution, contrasts aspects of arrogance and subservience between cultures and classes, glances at issues of literary scholarship and especially biography, and does it all against a background of cross-cultural liaisons in an era when such connections were virtually unthinkable.
And, although Indian Ink was written in the '90s, it even contains a painfully timely reminder of a historic disaster that befell the world's greatest military power. That power was Great Britain; the year was 1842; the place was Afghanistan.

The play received its American premiere in ACT's Geary Theater in 1999 under the direction of Carey Perloff, the company's artistic director. Now it's back in the same venue, with the same director, in a slightly revised version that has its premiere at Roundabout Theater in New York last fall. It's visually beautiful and frequently tender but too often marred by characterizations and images that slip into caricature.
Much of the action takes place in memory, drawn from letters written in the '30s by the British poet Flora Crewe to her sister Eleanor, who preserved them through the decades. She has unearthed them at the insistent request of an American scholar who recently published a volume of Flora's verse and hopes to follow with a volume of her letters, possibly sprinkled with hints of scandal.
But Eleanor (Roberta Maxwell, who evolves expertly from cynicism to warmth and sympathy) and the scholar (Anthony Fusco, who bristles with stagy excess), serve only to provide a starting point for the drama.
The stories that matter involve Flora's evolving bonds with Indian painter Nirad Das in the '30s and Eleanor's changing relationship with the painter's son, Anish, some five decades later.
The meeting between Flora (a radiant Brenda Meaney) and the painter (Firdous Bamji, blending charm with awkwardness) takes place in a city called Jummapar, where English aristocrats play polo and enjoy lavish balls while most of the locals treat them with obsequious deference. The relationships among Indians, as sketched by Stoppard and Perloff, are far harsher and dependent on social status.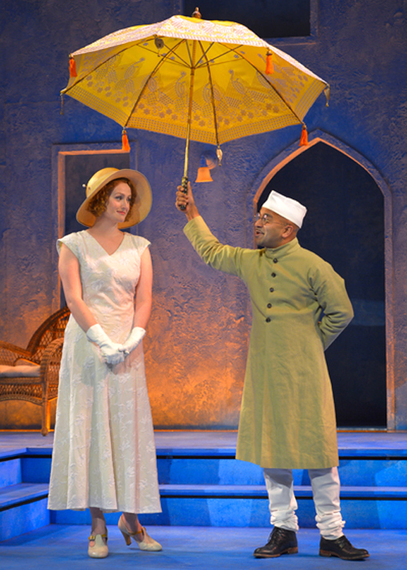 Flora's arrival in India merits protection from the scorching
sun, via parasol provided by Ajay Naidu.
Flora, a minor celebrity with ties to the famed Bloomsbury Group of artists and intellectuals, has traveled to Jummapur in part to lecture about literary England and in larger part for her health. She is a very sick young woman, though capable of disguising her illness most of the time. India's warmer climate, she hopes, will prove therapeutic.
Painter Nirad, who is enraptured by virtually all things British, sketches Flora at a public lecture then approaches her in hopes of painting her portrait. When she agrees, with some reluctance, bonds slowly develop. Although he harbors revolutionary dreams of Indian independence, their personal chemistry outweighs political issues. Still, it would be an overstatement to call their rapport romantic.
She is far more responsive to the entreaties of a dashing British officer (Philip Mills) and naively susceptible to the overtures of a bejeweled prince (a too-transparently lecherous Rajeev Varma), but in times of need it is Nirad who comes to her aid.
Five decades later, Eleanor still mirrors many of the condescending attitudes of British colonials when she is approached by Nirad's son, Anish. His reason for calling is a picture he has seen in the new volume of Flora's poetry; he believes it was painted by his father, and dearly hopes that Eleanor has it and will show it to him. Her initial response is chilly and its evolution from hostility to friendship is dramatically conventional. But it works, with emotion.
Where Indian Ink sags most visibly is in its focus on the peripatetic literary scholar, following him from England to a modern India, bristling with rock sounds, neon gaudiness and boorish tourists. Travel never raises him or many of the characters with whom he interacts to a level that rises above parody.
Neil Patel's fluid and versatile sets, along with Robert Wierzel's lighting and Dan Moses Schreier's music, contribute hugely to the show's moods, from the cool to the mysterious to the opulent and erotic.
Indian Ink covers much of the same thematic ground as Stoppard's masterful Arcadia, which criss-crossed centuries and intellectual pursuits with clarity and heart. That said, it is a play that only Stoppard could have written, and no small achievement.
Indian Ink runs through Feb. 8 in American Conservatory Theater's Geary Theater, 415 Geary St., San Francisco. Tickets cst $20-$120, from 415-749-2228 or act-sf.org.
Calling all HuffPost superfans!
Sign up for membership to become a founding member and help shape HuffPost's next chapter