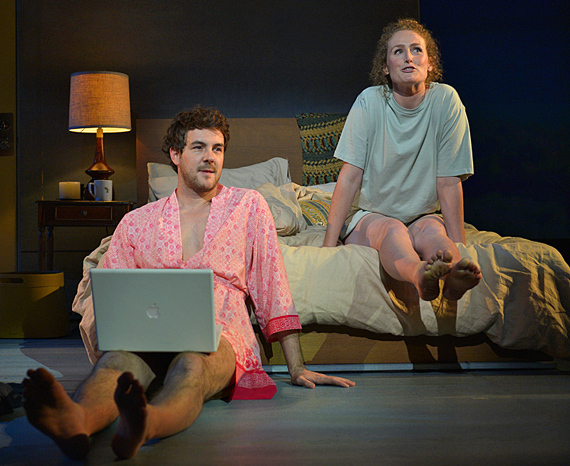 Hilary (Brenda Meaney) and Spike (Dan Clegg): What's on their minds? God and math.
Can everything in human life, or in existence of any sort, be explained by higher math and supercomputers? Some scientists believe it can, though that secular grail is yet to be reached. Are there qualities of life that defy reduction to numbers, such as consciousness and altruism? Some scientists believe there are, as do the millions who attend churches and synagogues and mosques, along with nonbelievers who doubt the infallibility of science.
Those puzzles and responses hardly sound like grist for something theatrical, but Tom Stoppard is hardly a commonplace playwright. Since 1966, when he turned Hamlet inside out into the tragicomedy Rosencrantz and Guildenstern Are Dead, he has been charting new directions for the theater.
With The Hard Problem, which is receiving its West Coast premiere at the Geary Theater in San Francisco, he has outdone himself by delving into philosophical concepts that encompass biology, computer science, math, ethics, survival strategies, the value of prayer, the dynamics of hedge funds and more. Oh, also, he didn't ignore love and sex, both heterosexual and homosexual.
That's obviously a huge load to pack into one hour and 40 minutes, with no intermission, but he hasn't attempted to prove any of the assertions. Rather, he has assembled them into a play that nimbly introduces concepts through characters, opens many avenues for thought and argument, and leaves deeper scholarship to anyone who cares to pursue it. The play's brisk and expert direction was provided by ACT artistic director Carey Perloff, whose cast of 10 is generally admirable.
If cerebral theater is your thing, don't miss it. If you prefer to head home with a smile or a teary eye, skip this one.
The play opens with a bedroom scene involving biology student Hilary (Brenda Meaney) and her math tutor, Spike (Dan Clegg). Their rapid-fire wordplay is certainly like none that has ever been uttered between characters who have just made love. One tiny example:
Hilary: "You believe a thermostat has consciousness potential, but you find God a bit of a stretch?"
Spike: "Uh, huh, but you should stick with God ... your way with an equation would need his collaboration."
His tutoring is designed to help her land a research position at the high-powered Krohl Institute for Brain Sciences. She prays frequently, for a reason that has nothing to do with career advancement and all to do with the unknown fate of a daughter that she bore at age 15 and gave up for adoption.
Hilary's introduction to the institute involves conversation with another job applicant, name Amal (Vandit Bhatt), a mathematician who derides her pursuit of psychology as a worthy subject for study at Krohl. But she lands the job, thanks in no small part to her personal and intellectual attractiveness to her future boss (Anthony Fusco). Ditto for Amal, thanks to his statistical genius.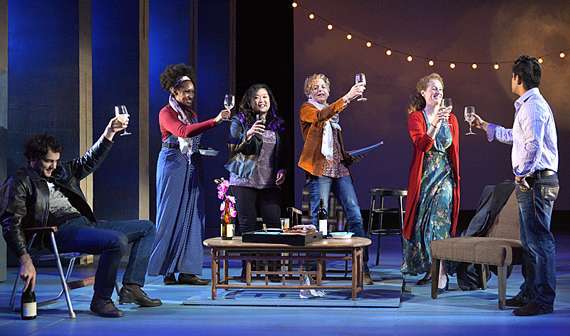 Time for a toast: from left, Dan Clegg, Safiya Fredericks, Narea Kang, Stacy Ross, Brenda Meaney, Vandhit Bhatt
Even with frequent undercurrents of erotic relationships, most of the dialogue skims across the esoterica of scientific concepts, especially explorations of consciousness and attempts to forecast the directions of financial markets. That last pursuit is crucial to Jerry Krohl, who founded the brain institute primarily as a way to make gazillions as a hedge fund operator. He hires brilliant number crunchers to fulfill that goal.
Jerry (Mike Ryan) embodies Stoppard's approach to one of the play's major concerns: altruism. Does it flow from an urge to do good or from hopes of receiving a valuable return of some sort. We see him as a no-nonsense businessman who deals constantly, commandingly and cryptically via multiple cellphones; we also see him as a philanthropist and as the gentle father of an adopted daughter. Whether those traits stem from nature or nurture is among the play's quandaries, though it's obvious that Stoppard leans toward the humanist answer.
Others at the institute, which seems to operate like a Silicon Valley high-tech campus, include pilates instructor Julia (Safiya Fredericks), her lover Ursula (Stacy Ross), mathematician Bo (Narea Kang) and Jerry's pre-teen daughter Cathy (Carmen Steele.)
Andrew Boyce's set, with thick floor-to-ceiling panels lining both sides of the stage and a coffered ceiling that contains lights but no decoration, looks stark before the play begins. That impression quickly vanishes as those panels slide in from left and right, along with furnishings that clearly establish an array of venues, from intimate to institutional. The moods receive excellent support from Russell H. Champa's varied lighting patterns.
For Perloff, who has worked with Stoppard for more than two decades, nothing about the production suggests that this latest play -- his first in nine years -- was a hard problem to tackle. It may not offer easy going to every viewer, but it should be amply rewarding to anyone willing to meet Stoppard and his challenges half way.
The Hard Problem runs through Nov. 13 in American Conservatory Theater's Geary Theater, 415 Geary St., San Francisco. Tickets are $20-$105, from 415-749-2228 or act-sf.org
REAL LIFE. REAL NEWS. REAL VOICES.
Help us tell more of the stories that matter from voices that too often remain unheard.