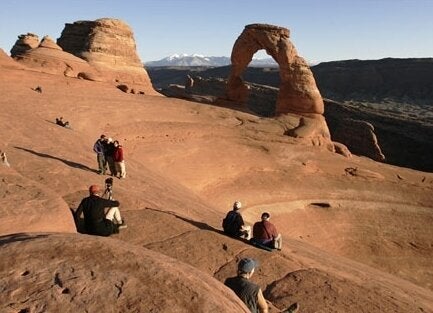 Democracy is working. At least that's the news for now from my friends at the Natural Resources Defense Council, which has filed a lawsuit against last-minute Bush administration plans to lease huge swaths of majestic wilderness in Utah for oil and gas extraction.
Late last night, NRDC and a coalition of environmental and preservation groups filed an agreement with the Bureau of Land Management that could save 100,000 acres of pristine land that are endangered. The deal temporarily prevents the Bureau from issuing leases on 80 contested parcels of Utah wilderness, including land adjacent to national parks, for 30 days (until January 19).

Although the Bureau will go forward with the auction today, based on the agreement it will not issue the contested leases. The delay will give a federal court time to hear the case.
As I've written previously, words alone cannot do justice to the beauty of these places, but they do capture the absurdity of the Bush plan. Oil and gas drilling in Desolation Canyon? Industrial development along the meandering Green River? The thought makes one wince.
Utah's Red Rock country is one of America's few remaining wilderness treasures. It's our land, it's our legacy, but will it still be here for our children and grandchildren?
The Bureau's agreement has delayed the potential destruction. We will now get our day in court and I know that NRDC, the Southern Utah Wilderness Alliance (SUWA) and their partners will continue to do all they can to protect Utah's unspoiled landscapes.

Popular in the Community