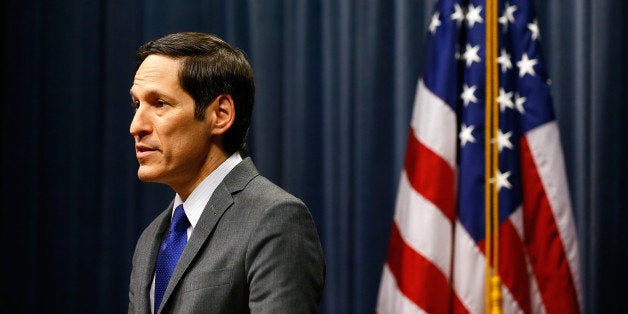 As the Ebola crisis continues to grow, America is facing the proliferating challenges of how best to help in West Africa, how to prevent the spread of the disease in the United States, and how to assert incontrovertibly that public health scientists understand how to prevent and control outbreaks like this. Our nation is fortunate to have at the forefront of that effort the most capable public health organization in the world, and as these challenges multiply, it is imperative that we allow the Centers for Disease Control and Prevention, and the larger public health community, to act on the best science available without becoming distracted and immobilized by media and partisan second-guessing. Too often, they cloud our vision and thwart an effective response.
The 2014 Ebola epidemic is the largest in history and poses a real threat beyond West Africa. But we know how to contain and defeat it. Without pausing for politics, we must mobilize resources on a scale and with an urgency that has not yet been realized. On October 10, United Nations Deputy Secretary-General Jan Eliasson reported to the UN General Assembly, according to Reuters, that the world's nations have pledged only one-quarter of the $1 billion needed to defeat the disease.
The Ebola epidemic represents exactly what the public health world is trained to defeat. We must follow research-proven public health protocols rather than the untrained instincts of commentators who have access to national media. A case in point is the dispute that emerged recently when news anchor Bill O'Reilly of Fox News urged:
"First of all, all flights from West Africa should immediately be discontinued to the U.S.A., and Europe should do the same thing... Also U.S. immigration should allow no one, no one, to enter this country holding a passport from any West African nation. That policy should last until the Ebola epidemic subsides in Africa."
Dr. Tom Frieden, the CDC's director, was forced to rebut that prominent charge with an opinion piece that Fox News rightly published. In the article he stated:
"...for every complex problem, there's a solution that's quick, simple, and wrong. A travel ban is not the right answer. ... In addition to not stopping the spread of Ebola, isolating countries will make it harder to respond to Ebola, creating an even greater humanitarian and health care emergency. ... People will move between countries, even when governments restrict travel and trade. And that kind of travel becomes almost impossible to track."
Frieden was arguing, in effect, to let the science of public health dictate our actions, because we know how to defeat Ebola, and we have done so in the past on smaller scales. The proven technique is to follow four steps rigorously and consistently: find the cases of disease; isolate and care for the ill people; contact people who were exposed to the ill people, and further isolate and care for those contacts if they develop symptoms. This is standard public health practice and expertise.
The challenge of mobilizing aggressively on the current scale is a daunting one, even without second-guessing from people with no experience in fighting disease. The challenge becomes exponentially greater, if scarce resources are diverted by uninformed demands -- for travel bans, for instance -- which are difficult to implement and do not contribute to defeating the disease. Wasting resources by following casual advice -- even if adamantly spoken and mightily propelled -- would make the tragedy of this disease even greater.
In public health, populations are our patients, and we must deliver the best care for the populations of West Africa, just as any doctor would want to deliver the best care for an individual. In the United States, we should rely for that care on the people who are trained to deliver it, and do so based on the best science. We should depend on Dr. Tom Frieden and his colleagues at CDC, their counterparts at state and local public health departments across the country. They are by far our best hope of defeating this terrible disease and can do so with our full non-politicized support.
This post is part of a special series produced by The Huffington Post in recognition of the threats posed by Ebola, particularly to West Africa. To see all the posts in the series, read here.
Popular in the Community