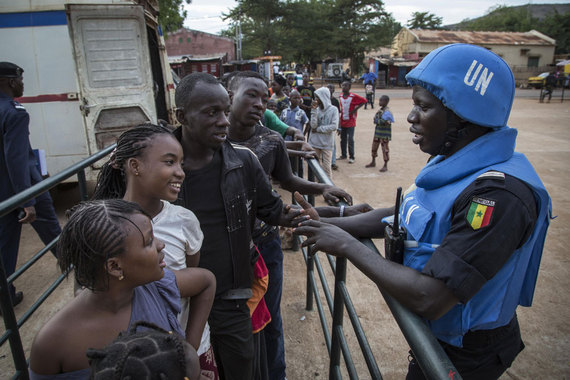 Senegalese peacekeepers from the UN Multidimensional Integrated Stabilization Mission in Mali (MINUSMA) speak with Malians while on patrol. UN Photo/Marco Dormino
The United Nations flag represents the highest ideals of humanity. All those who work under this banner have a responsibility to live up to those values.
As I end ten years as head of the world Organization, I feel enormous anguish that sexual exploitation and abuse by UN peacekeepers continues to compound the suffering of people already caught up in armed conflict. Such acts are an atrocious form of betrayal, destroying a covenant with the very people these forces are meant to serve and protect. It also undermines the work of the United Nations, as the shameful acts of some UN personnel cast a shadow over the achievements of the many.
In 2016, 82 reports of sexual exploitation and abuse have been received to date across all missions. While this number is high, nearly 60 per cent of the allegations reported this year relate to incidents which took place in 2015 or before. The United Nations currently deploys more than 100,000 troops, police and other personnel. The overwhelming majority of our personnel abide by our policies and serve with honour. But even one case is too many. Throughout my tenure, I have taken robust measures to enforce the Organization's zero-tolerance policy, which was put in place in 2003. The United Nations and Member States have been taking unprecedented measures to prevent, ensure accountability for and remediate acts of sexual exploitation and abuse. I have made the fight against sexual exploitation and abuse by United Nations personnel a day-to-day effort and a top priority.
I have sent a clear message to senior leaders across the UN system that they will be held accountable for failure to respond to allegations. In the face of abuses in the Central African Republic, I removed the top UN official from his position. I have sent entire troop contingents back to their home countries, imposed financial penalties on countries whose troops and police have committed these crimes and barred perpetrators from ever serving again with the United Nations.
To ensure transparency, for the first time in UN history, allegations, investigations and actions taken by Member States and the United Nations are publicly reported.
To increase speed in assessing evidence and pursuing justice, Member States are required to complete full, credible investigations in less than six months -- and in three months where circumstances suggest the need for greater urgency.
To ensure that each and every allegation is reported and investigated, we have put in place community-based reporting mechanisms across all peacekeeping missions so that victims and witnesses can come forward without fear and with guarantees of confidentiality. This has resulted in the documentation of more allegations, mostly from earlier years, that had gone unreported.
And to coordinate and unify efforts across the UN system, I appointed a Special Coordinator.We have made huge strides but one big challenge remains. The United Nations relies on Member States to loan us troops, and those soldiers can only be prosecuted by their own authorities. Everything beyond investigating allegations and repatriating personnel is outside the UN's control. Many Member States have adopted best practices, but the timeliness of investigations and punishment still needs improvement. It has been suggested that prosecutions could take place in the host country, but many of the countries in which we are deployed are themselves in the midst of conflict, with judicial institutions that are corrupted, weak or fledgling.
Partnership between the United Nations and Member States is crucial in eliminating these heinous acts. Perpetrators must know that if they commit a crime, we will do everything possible to pursue them and bring them to justice. And victims must know that we will strive to uphold our institutional responsibility to safeguard their security and dignity. We have established a Trust Fund to provide legal, medical and psychosocial support. And I have said clearly to victims: Please come forward. Please feel safe in knowing that we will do all we can to respond to outrageous crimes. Victims should never feel shame. Shame must always belong to the perpetrators.
In my final speech to world leaders at the opening of the General Assembly in September, I expressed my deep regret that individuals working for the United Nations have traumatized many people we serve and sullied our own reputation. My successor as UN Secretary-General, António Guterres, has pledged to continue the battle. I urge every government to give him the support and resources he needs. Sexual exploitation and abuse must end - least of all in the United Nations which stands for the rights of the world's most vulnerable.
Ban Ki-moon is the Secretary-General of the United Nations
Related
Popular in the Community