This is part two of my blog on sex trafficking. There are two parts because there is so much being done around the world to help women and girls leave the trafficking system, that all of it would not fit into one article.
Research shows that 89-95 percent of all women and girls involved in prostitution would like to get out. If only...
They had somewhere safe to go.
They weren't drug addicted.
Their families weren't in danger.
They had a way to support themselves when they got out.
They could physically escape their environment.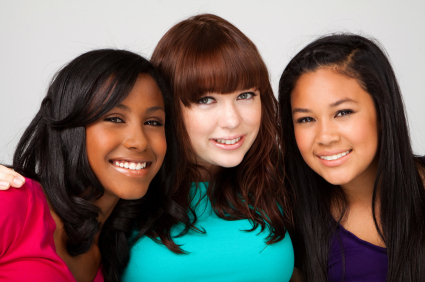 Vednita Carter, the founder of Breaking Free, and a survivor herself, says "Prostitution is not the world's oldest profession. It is the world's oldest oppression. "Breaking Free" helps an average of 400-500 women and girls escape systems of prostitution and sexual exploitation through advocacy, direct services, housing, and education." They are located in Minnesota. California has San Francisco SafeHouse. New York has the Girls Educational and Mentoring Services (GEMS). Kansas has Veronica's Voice. Over and over again I find that here in the US, big cities and small communities all have groups working tirelessly to serve, protect, and educate women trapped in these circumstances.
Chicago has the Young Women's Empowerment Project, run entirely by young women under the age of 24. Their mission is to offer "safe, respectful, free-of-judgment spaces for girls and young women in the sex trade and street economies to recognize their goals, dreams and desires." They aren't trying to replace, or even work with, social services or law enforcement. Instead their focus is to be a safe space and offer eminently practical services like free computer access, a clothing exchange, and supplies for safer sex.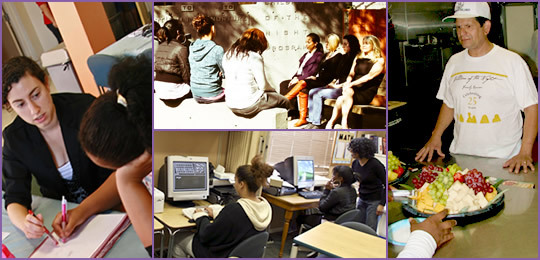 Children of the Night is based in California but is open to children anywhere in the country who call their hotline (800-551-1300). They will fund cab or airline fair to any young person 11-17 who wants to come live in their house. Once sheltered they will have access to GED tutoring, social services, and the opportunity to grow and figure out who they can be without worrying about food and shelter.
In places like India where poverty is staggering, it is relatively simple to lure young girls away from their families with the promise of steady jobs. Groups like Prajwala work not only to help girls escape the life, but also to build a place for herself in the future. They have Employability Training Units that provide "need-based, aptitude based, market assessed, viable & sustainable economic options for survivors, which is critical for long term rehabilitation." Not only do they help the girls train for jobs, they also help with social reintegration. With such a traditional and family oriented culture, when safe and beneficial rescued girls are reintegrated with their families. Some girls are able to be rehabilitated to the point where they seek out marriage, and Prajwala acts as guardian and social representative to help the girls build the future they want.
Groups like these exist in nearly every country and provide a huge support system for women who want to get out. But even better is when women have more options and more education before they get lured or forced into prostitution.
In India, women of the nomadic Lambada community are taking it on themselves to help their girls avoid the cycle of poverty and the traps inherent in it. By watching to make sure that their girls attend school, and investigating when they don't, there is an opportunity to interrupt the cycle. The Gramya Resource Centre for Women is their local non-profit that runs a residential school. Gramya trains local 'Child Protection Committees' what the danger signs are so they can intervene when girls are in danger of losing their opportunity for education and safety.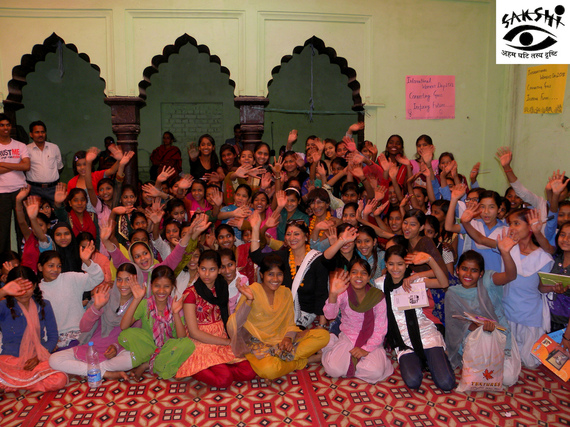 Shakshi, also in India, goes well beyond academic education in their Girls Education Project. "We provide them coaching in navigating circumstances they will encounter in life. For example, these are vulnerable girls from needy families. The parents being mostly at work, they are left without protection. There is high probability they will encounter a dangerous situation. We teach young girls to recognize situations where they are not comfortable and provide them a number they can call to ask for help if needed." Community buy in is also critical. In rural areas where every pair of hands makes a difference, it can be difficult to convince parents that their girls need education. "This is not easy. For a poor family, a pair of extra hands in the house or an extra income makes all the difference. So it becomes a question of asking them to bear some material difficulties now for a brighter future for their daughters. The financial subsidy we provide for their daughter's education helps a lot in making this task easier."
There are so many ways that making women's lives better improves the health of an entire community. By changing the way that society views and treats women who become trapped in sex trafficking and prostitution, we can change the circumstances that make it such a lucrative business, and change the shape of the future for millions. Let's do that.
Calling all HuffPost superfans!
Sign up for membership to become a founding member and help shape HuffPost's next chapter