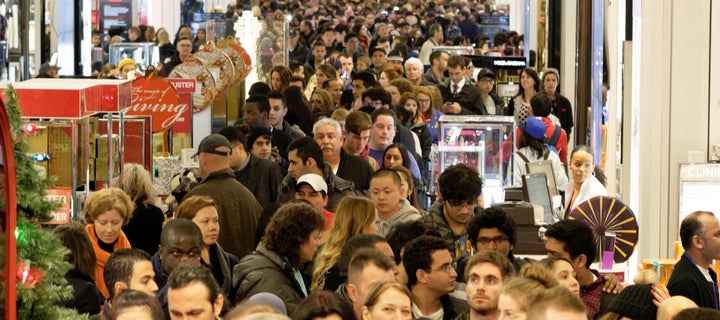 It's 4:30 p.m. on Thanksgiving and you're contemplating a slice of pecan pie (your third... potentially). You aren't eager to leave the warmth of the dinner table and the company of your family and friends ― plus, the gluttonous third slice would give you sufficient excuse to delay tackling the pile of dishes in the kitchen. Inhibitions long gone, you go for it.
Meanwhile, in a cold department store two miles away, fluorescent lights illuminate stacks of inventory. Frenzied shoppers on the sales floor need to know: Why won't you price match? What's the company's return policy? Does it come in stainless?
Welcome to the dichotomy of Thanksgiving, a holiday ostensibly about appreciation and giving thanks that is struggling to compete with profit-driven companies eager to kick off the holiday season.
This year, 49 percent of retailers plan to open on Thanksgiving, according to PricewaterhouseCoopers' 2016 Holiday Report, 1 percent more than last year. (About 9 percent of the retailers PwC surveyed have yet to decide their plans for the day). Amid that small uptick, however, the share of retailers opting to remain closed has become increasingly vocal.
"Almost half of those choosing to close their doors on Thanksgiving Day are doing so to better align with their corporate values—and with their employees," notes PwC. More than a fifth of those surveyed said employee morale is their primary reason for not opening on Thanksgiving this year.
Among those is Mall of America, the biggest mall in the country, which will close for Thanksgiving this year for the first time since 2012.
"We think Thanksgiving is a day for families and for people we care about," Jill Renslow, the mall's senior vice president of marketing, explained earlier this month. "We want to give this day back."
"We think Thanksgiving is a day for families and for people we care about. We want to give this day back."
In Maine, Massachusetts and Rhode Island, decades-old "blue laws," holdovers from the area's Puritan past, actually prohibit most large stores from opening Thanksgiving Day.
And in Ohio, state Rep. Mike Foley (D-Cleveland) introduced a bill in 2014 that would protect workers from retaliation by their employer if they refused to work on Thanksgiving. (Enthusiasm for the bill fizzled and it didn't come close to being signed into law.)
"Thanksgiving Day is supposed to be a day when we retreat from consumerism," Foley explained at the time. "It's a day when you hang out with your family, go play touch football, have a big turkey dinner, and complain about your crazy uncle or cousin—but you don't think about super blockbuster sales at Target."
(On the flip side, it's worth noting some employees don't mind working Thanksgiving, and in some cases welcome the opportunity for overtime pay. Few retail employees, however, have the luxury of making the decision for themselves.)
For those keeping track, Black Friday, the day after Thanksgiving, is an entirely different creature: PwC found 85 percent of retailers plan to open that day, the same number as in 2015, despite predictions the shopping event will see 8 percent fewer shoppers this year.
Here are some of the larger retailers who have announced they will close on Thanksgiving (with a hat tip to BestBlackFriday.com for much of this list):
A.C. Moore
Academy Sports + Outdoors
American Girl
Ace Hardware
Barnes & Noble
Bed Bath & Beyond
BJ's Wholesale Club
Blain's Farm and Fleet
Burlington
Cabela's
Chico's
Christmas Tree Shops (some locations)
Costco
Crate and Barrel
Dillard's
Dressbarn
DSW
GameStop
Gardner-White Furniture
Guitar Center
Half Price Books
Harbor Freight
Hhgregg
Hobby Lobby
Home Depot
HomeGoods
IKEA
Jo-Ann Fabric & Craft Stores
Jos. A Bank
Lowes
Mall of America
Marshalls
Mattress Firm
Menards
Mills Fleet Farm
Navy Exchange
Neiman Marcus
Nordstrom
Nordstrom Rack
Office Depot
Office Max
The Original Mattress Factory
Outdoor Research
P.C. Richard & Son
Patagonia
Petco
PetSmart
Pier 1 Imports
Publix
Raymour and Flanigan Furniture
REI
Sam's Club
Sierra Trading Post
Staples
The Container Store
T.J. Maxx
Tractor Supply
Von Maur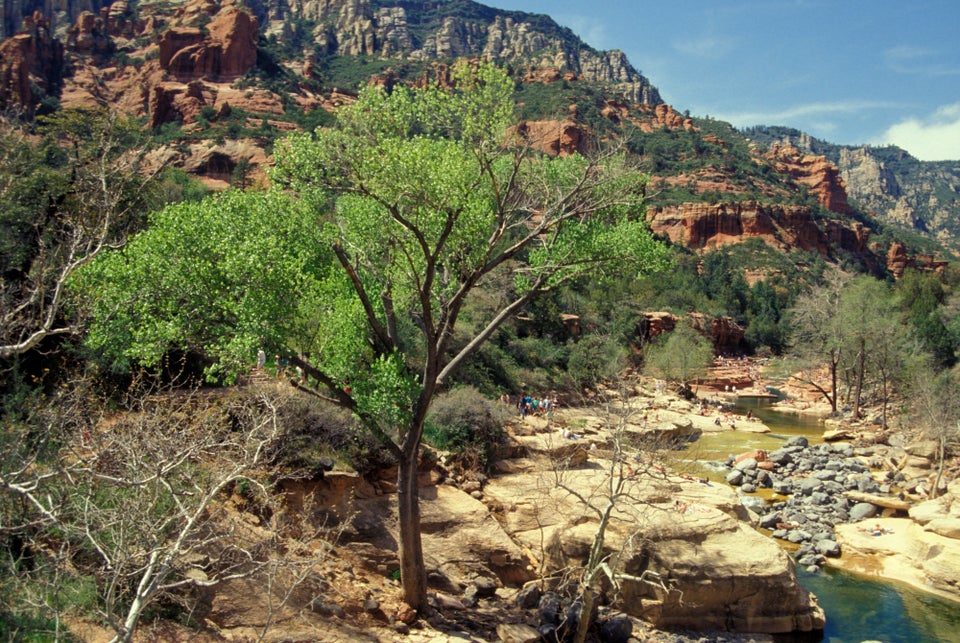 State Parks Open For Free On Black Friday