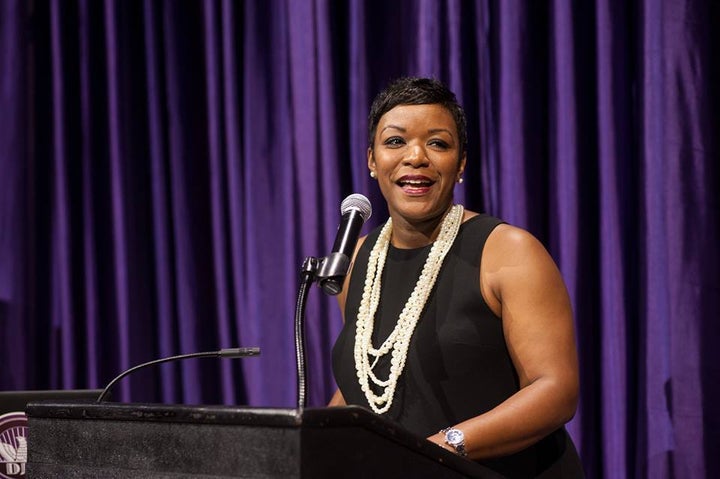 "I am honored to be selected as the CEO of Turning Points for Children, and fortunate to have been mentored by Mike Vogel, who helped pave the way for Turning Points' leadership in child and family social services," said Woods.
Woods, Turning Points' previous Chief Financial Officer, succeeds Michael Vogel and will also serve as PHMC's Managing Director of Children and Family Social Services.
A dedicated citizen and servant of her sorority's Ivy Legacy Foundation, currently serving as Vice President of Programs, Woods has been named a Philadelphia Business Journal "40 under 40" in 2014, "Nonprofit CFO of the Year" by the Philadelphia Business Journal in 2010, and Burlington-Camden Chapter of Kappa Alpha Psi Fraternity "Woman of Distinction" in 2009. Formerly Chief Administrative Officer of Children's Aid Society of PA, Woods has also served as an auditor with PricewaterhouseCoopers and corporate consultant with PECO Energy.
"With Dawn's leadership and vision, dedicated staff, and alignment to PHMC's family of public health programs and services, Turning Points is poised for continued growth and operational excellence," said Richard J. Cohen, President and CEO of PHMC.
Leading one of Philadelphia's most impactful social services organization, Woods will sheppard the agency that serves more than 9,000 men, women and children annually by providing the critical resources, life skills and supportive partnerships needed to create stronger families.
Improving the lives of children across America's most impoverished major city, Turning Points provides evidence-based programming that nurtures children and their families who are struggling with economic and environmental challenges.
Serving youth and families in Philadelphia for more than 175 years, Turning Points provides a comprehensive continuum of services through its affiliation with PHMC to connect children and their caregivers in the areas of primary care, behavioral health, financial services, parenting programs, workforce readiness and early childhood education.
"I look forward to continuing my passion and commitment for youth and family advocacy, and working alongside the dedicated PHMC and Turning Points colleagues who strive to better the lives of children and families in our region," said Woods.
Honoring Woods for being the first African American female to be appointed CEO of Turning Points, next month iHeartMedia's Patty Jackson will host a celebratory Black History Month concert produced by one of Turning Points' Community Umbrella Agencies.
Related
Popular in the Community