Collecting autographs has always been a favorite hobby. I've been hooked ever since snagging John Elway's signature on a picture I drew of the quarterback, at the end of a Broncos training camp session in the early nineties. For me, autographs don't have any sort of financial upside. Instead, it's all about the stories that come from pursuing someone's "John Hancock."
After Obama's presidential inauguration in 2009, President George W. Bush published his memoir. Interestingly, he came to my local Costco for a book signing. Warehouse employees handed out wristbands, mine was #862. Reportedly, Bush could sign 300 books per hour and would stay for two hours. Because most people were walking away with two copies, my odds for a signature weren't good, but regardless, I waited. Eventually, the line navigated toward the Tire Center where the former president greeted people with a handshake and slight perspiration emerging on his forehead. I walked away with two signed books that smelled like Sharpie ink and tire rubber.
In 2010, my cousin won a contest that landed us in the backseat of a Las Vegas limo to attend a Lady Gaga meet-and-greet after her concert. As a country only listener, I'd never heard "Poker Face" or "Paparazzi" until purchasing her CD to get autographed. Surprisingly, her handlers resembled clean cut BYU co-eds. She wore a pink feathered boa and dark sunglasses as she posed for pictures and signed autographs. Holding a cell phone, one of the other contest winners said, "Hey Gaga, will you give my friend some advice, she's in fashion school." Lady Gaga took the phone, placed it next to her ear and answered, "This is how you can get an 'A' in your class: f--- fashion."
As a kid, I listened to dad's Elvis Presley cassette tapes and became a fan. Born years after he died, I never had a chance to cross paths with the King, but had been on the lookout for his autograph. Celebrating what would have been Elvis' 76th birthday, the local news station ran a story about a lady who was selling her Elvis memorabilia collection. I tracked Marge down and visited her home to browse through scarves, lunch boxes, ornaments, CDs, stamps and her Elvis autograph collection. I walked away with an amazing black-and-white 8x10 portrait that Elvis personalized to Marge.
She told me about becoming friends with Elvis' first cousin and Graceland gatekeeper Harold Lloyd. They'd met when Harold let Marge pull her car inside Graceland's gate, after an all-day drive from Missouri. This was the beginning of a lifelong friendship with Harold and his family. To celebrate Elvis' 30th birthday, Harold's wife invited Marge to Graceland. A group of fans waited anxiously at the gates with a huge birthday cake. Because the party was an intimate gathering, they brought the cake to the house and gathered in what would eventually become known as the Jungle Room.
Remembering his blue eyes and bubbly laugh, Marge was introduced to Elvis and given a tour of the downstairs and main level by his grandmother, Minnie May Presley. The next day, Marge went back to Graceland on an errand with Harold and got his signature on the 8x10 she ended up giving to me.
In college, I wrote for the Daily Universe at BYU. Michael Jordan's Washington Wizards were coming to Utah, so I called the Jazz PR department to see if I could score a media pass. The PR manager wouldn't let me into the game, but he did allow me to attend a Jazz practice where I interviewed John Stockton and Karl Malone. Initially when I asked Karl for a few quotes he responded saying, "I don't talk to women." My jaw dropped before he engulfed me in a side hug laughing, "I'm just messin' with ya girl!"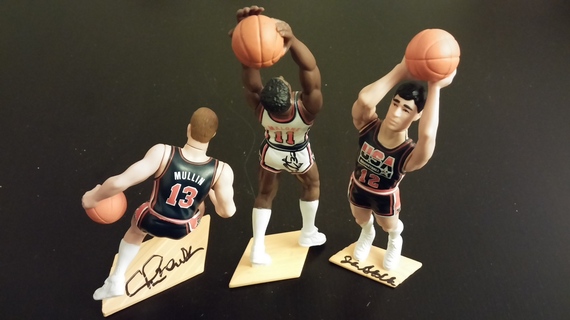 A few years later, I collected Karl and John's signatures on their respective 1992 Dream Team Starting Lineup figurines (Karl signed the butt, fitting I guess). Chris Mullin signed at a Warriors event, but Patrick Ewing rebuffed my effort before a Bobcats game in February. I'm optimistic about collecting the rest of the Dream Team's signatures. Help be part of that story.
Calling all HuffPost superfans!
Sign up for membership to become a founding member and help shape HuffPost's next chapter