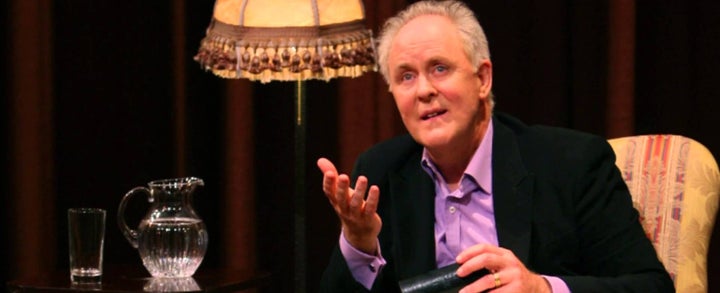 STORIES, I'VE HEARD TELL, are the lifeblood of societies and cultures. Whether they're factual reporting … convincingly true-to-life fiction … or gripping, incredible fantasies … we all do seem to need 'em. They can pump through our system with rousing drive, or calm and reassure us like a soothing heartbeat.
Actor John Lithgow, in his much-traveled one-man show that came to rest and opened tonight on Broadway, poses a fundamental question to his audience when the show begins. Why do we tell and listen to stories?
And by way of giving us an answer, his answer … he determinedly shows more than tells.
Gratifyingly, his 'Stories By Heart' is written and staged with deceptive simplicity, and entirely avoids any air of the didactic – even though the mock-haughty lecturer is a characterization that comes easy to Lithgow's comedic chops.
The small stretches of writing he has himself contributed are cannily woven around two classic short stories that he's chosen to perform. He places both these tales – one sinisterly edgy and disturbing from Ring Lardner, the other hilarious and socially edgy from P G Wodehouse – within settings that mark a passage in his own life, illuminating the power and kind of joyful utility that stories can often carry with them.
Lithgow, as well as the commanding classical thespian we already know (one of the few Americans recruited, for instance, to play in London with the Royal Shakespeare Company), turns out also to be a deft mime-artist.
While he plays a mid-West barber in Lardner's 'Haircut' he conjures up the shaking-out and slapping-on of hot towels, the lathering-up of a beard, stropping of a razor, combing and cutting of hair … all the while telling his tale to a visiting (invisible) customer in the chair. Oh, and he voices sound-effects for the mime, too – rapidly click-clacking his tongue for his 'scissors' as he clips away.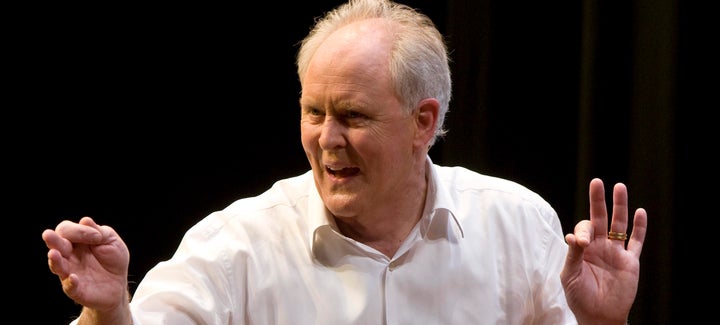 The barber's account of feckless small-town cruelty and misogyny is made all the more vicious through its casual delivery by this ingratiating, giggling character … while Lithgow's intricate but off-hand stage-business captures our eye with the workaday nature of his task, and thus underlines the casualness in the horror.
The Wodehouse piece 'Uncle Fred Flits By' is a rollicker from the 1936 'Young Men in Spats' collection, during which the vintage oaf Pongo Twistleton was first introduced to the world. Pongo is something of an early protoype for Bertie Wooster among Wodehouse's league of largely witless males who are accident-prone and resource-less, apart from what Wodehouse calls their 'form-fitting tweeds' and all that those represent.
Pongo's Uncle Fred of the title is a kind of male, aristocratic (and obviously English) equivalent of Patrick Dennis' Auntie Mame, but with one big difference. Nephew Pongo, as opposed to Mame's nephew Patrick, reacts not with delighted, but with utterly terrified awe when his older relative pulls off truly outrageous escapades.
Lithgow recites and enacts the story – a study in class and snobbery, as often from Wodehouse – with utter irrepressibility, throwing himself (quite literally at times) into each of the ten or so characters or caricatures that populate it and give side-splitting voice to P G's preposterous prose.
In full command even before the Wodehouse story begins, Lithgow poses to the audience another, narrower question than his overall "why stories" query from the show's opening. It concerns this story itself, and just how it affected Lithgow's own family, in particular his father, the mid-west theater impresario Arthur Lithgow, at a critical point late in his life. By the end of his son's wacky, rhapsodic performance … all of us in the audience have an answer to his question. For each of us it might be different … but then, that's how stories are.
— — 'JOHN LITHGOW: Stories by Heart', directed by Daniel Sullivan, continues at the American Airlines Theatre, New York City, presented by the Roundabout Theatre, until March 4th 2018
Read more of David Tereshchuk's media industry insights at his online column, "The Media Beat", with accompanying video and audio. Listen also to "The Media Beat" Podcasts on demand from Connecticut's NPR station WHDD - and at iTunes.