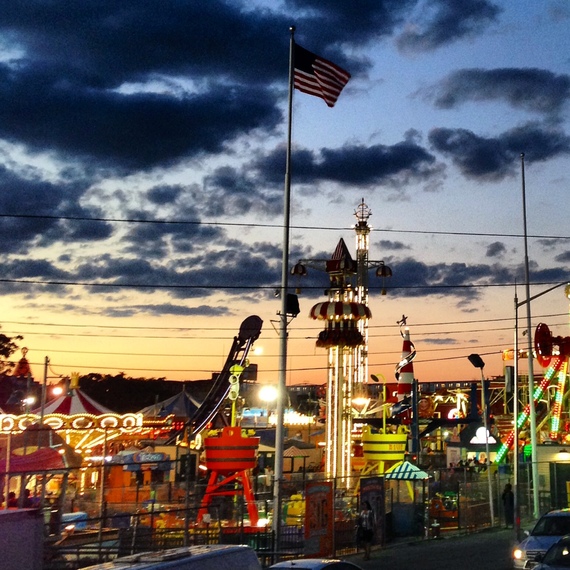 Late one unusually crisp August afternoon in 2014, I was riding my bike around the Gowanus Canal area in Brooklyn. Just as I inhaled the still sometimes pungent smell of the water down below, I gave myself a challenge. I decided I'd ride all the way to Coney Island and make it there before dark.
I made it to Coney Island, but by the time I arrived on the boardwalk, the sun was mostly gone.
I'd known that at some point, I wanted to pedal along Ocean Parkway to get out there. I'd read someplace the parkway is home to the nation's oldest bike path which had aroused my curiosity. What inspired typical urban planner thinking back in the day when they laid out a map of Brooklyn and there was room for a bike path?
The 4.73 mile stretch of road called Ocean Parkway was built in 1874-76 to designs by Frederick Law Olmsted and Calvert Vaux. They were the landscape architects for both Central Park in Manhattan and Prospect Park in Brooklyn. Originally, the boulevard was part of a grand plan to extend the landscaping of Prospect Park throughout the cities of Brooklyn and New York according to the architectural historian and Columbia University adjunct professor Anthony W. Robins.
He told me Ocean Parkway originally connected Prospect Park with the Atlantic Ocean at Coney Island; Eastern Parkway trails off today, but the original plan called for it to turn around, cross the East River, run up Manhattan Island to Central Park, and eventually cross the Hudson to the Palisades.
Today's Ocean Parkway no longer connects directly to Prospect Park -- Robins explained the 1950s era highway, the Prospect Expressway, intervenes -- but that was the original plan: Ocean Parkway connecting to the park's southern entrance, and Eastern Parkway connecting to its northern entrance.
Regardless, I wanted to see, smell and hear a moment in the life of this pumping urban artery. At first glance, it's a car choked mundane appearing place. Yet, I sensed the avenue was storied. It is in fact an ever-changing string of distinct communities that extends from all that's familiar to me about Brooklyn on one side to a more exotic mysterious place on the other.
Devoid of retail signage, New York's tell-tale clues of a neighborhood's cultural or ethnic mix, passers-through headed to the neon of Coney Island will see all manner of robes, hats, coats, wigs, veils and other markers of religion and culture. They all co-exist peacefully, a slice of the gorgeous mosaic, the grand experiment that continues to work beautifully, this road is New York and Ocean Parkway is most especially, Brooklyn.
From Gowanus, once I'd made my way up the hill of Park slope, into the park, and pedaled around half the loop, I found the Parkway and its bike path on the eastern side. The path is part of what's called "the malls:" a long narrow series of plazas filled lined by rows of wooden benches on one side for pedestrians, the bike path on the other, all separated by a waist-high metal fence, crowned by trees.
A couple of times, I wasn't sure I was headed in the correct direction, but instead of checking my phone's GPS, I'd stop and ask if I was on the right route to Coney Island so I could hear a person's accent. Everyone said yes, some with enthused hand gestures, others more meek, but all showed especially common New York City courtesy. The accents were as diverse as what I expected.
"A stroll down the Parkway is like being in the United Nations, a true rainbow of cultures and physiognomies, and a Babel of tongues can be heard," according to another historian I spoke with, Benjamin Feldman.
Feldman told me the parkway's diversity defines the New York of today.
He said residential development along the Parkway was initially confined to large private homes in neighborhoods served by commuter railroad lines that gradually got taken over by the New York City Transit Authority system after the 1920s. They included the modern-day subway stops Prospect Park and Newkirk Avenue.
He said the residential areas around the parkway developed pretty slowly until the end of WW II. But soon, a mix of Irish, Italian and German Americans and later, European Jews migrated out from slum neighborhoods in Manhattan and Brooklyn and created communities along the path. Even later, after World War II, African Americans began to settle blocks east of the upper reaches of the Parkway.
"Droves of Orthodox Jews of Sephardic origin also moved to the southern reaches of the Parkway in the 1950s, particularly Syrians. Other waves of immigration from Russia, Pakistan, India and the Levant have created a true melting pot, an "olla podrida" along the Parkway," Feldman said.
But, I was still curious about the parkway's urban design inspiration. That day on my ride, cars whizzed by at what appeared to be rapid speeds. Cars also dart in and out in front of where the bike path crosses countless side streets that feed into the artery. A coworker who grew up along the avenue told me that it was a speedy race track at times, a place where his own parents had totaled a car but escaped injury in an accident a few years ago.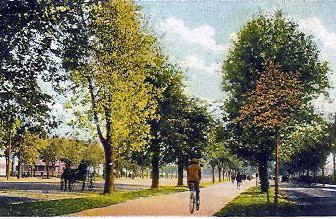 (un-dated postcard image courtesy John Manbeck)
In recent years, Ocean Parkway has been called out as one of Brooklyn's most dangerous streets for pedestrians. In a period between 2009 and 2011, motorists killed six people.
But, John Manbeck, Brooklyn's official historian for eight years under former Borough President Howard Golden, said like the Eastern Parkway, Ocean Boulevard was inspired by the grand boulevards in the European mode such as the Champs-Elysees in Paris or Unter den Linden in Berlin.
"Both parkways opened about 1880 with a more formal appearance than they have today with a center strip of trees, statuary and fountains dividing the roadways for horses and carriages," said Manbeck. And, bicycling was becoming increasingly popular back then, just as it is becoming more-so in today's Brooklyn.
During Olmstead's time, Brooklyn was considered a "wheelman's paradise" because of its relatively flat landscape, according to Manbeck. Wheelman was a term for cyclists back then.
First proposed in the 1890's the nation's first official bike path opened in 1894. The path proved popular. There were even songs about it.
Brooklyn's current official borough historian Ron Schweiger explained that in the late 1800's, Brooklyn had the biggest and most popular resort in the United States, Brighton Beach, Manhattan Beach, Sheepshead Bay and Coney Island.
He said there were three horseracing tracks, a vaudeville theater, major hotels, restaurants, and three major amusement parks in Coney Island.
In the winter, there were horse drawn sleigh races as well. On the opposite side of the Parkway, where there is another path for pedestrians, there was a bridle path for horses.
Of course, this being Brooklyn, there were protests surrounding the bike path. Most of the naysayers were members of the elite or the clergy. They apparently had issues with the improper dress of the cyclists according to Manbeck.
Who knows what sort of stink that generation of New Yorkers might have raised had they witnessed the parade of spandex-types that whizzed by me that day in 2014. They might have even had problem with the cutoffs and tank top I was sporting that afternoon.
I certainly didn't feel any tension or judgement from current residents who were wearing what looked to be religiously-inspired traditional fashions.
Perhaps that's the beautiful core essence of Ocean Parkway and New York City itself; that a reality as dense, diverse and different as Ocean Parkway is today, might prove chaotic almost anyplace else in the world, yet here in Brooklyn, it all works out so beautifully.
As I rode along and the sky grew increasingly dark, I saw a familiar site, where the above ground subway line comes into Coney Island where just beyond that, Ocean Parkway morphs into Surf Avenue.
I'd made it to Coney Island and the sea. I rode my bike up on the boardwalk and took in the beauty of neon lit amusement park rides, the rumble of the Cyclone, as Bob Dylan songs played on a speaker.
I rode further along the boardwalk to the recently re-lit parachute drop, which got built for the 1939 Worlds Fair , and was later moved to Coney Island's Steeplechase park in 1941. Over the years, they've called it Brooklyn's Eiffel Tower.
A pinkish orange hint of the day that had passed mixed with the bold colors from the lights and it cast a perfect spell on the sky, which for me, spelled out the exquisite magic that embodies this big crazy lovely place we all together call home.
Popular in the Community