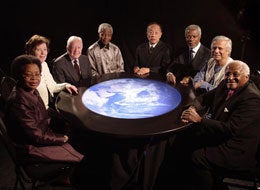 People around the world tell stories at this time of year - around the table, by reading aloud to one another, and through song. These tales are a way to inspire us, to remind us what's important, and to connect us with the generations that have come before.
You've undoubtedly heard of this group of senior statesmen, who have 1000 years of collective experience to offer the world. A small group of luminaries who've come together to think about the world's problems together. People like Jimmy Carter, Nelson Mandela, and (former Irish president) Mary Robinson. They are our living link to tradition and a powerful reminder of deeply held and universal human principles and values.
Kelly Toughill writes from Paris that The Elders have just sponsored the Every Human Has Rights Media Awards. "It is significant that when some of the smartest, most respected people on the planet came together to figure out how they could best help the world, one of the first things they chose to do was to encourage the telling of stories that matter." Read more about the awards in Kelly's moving article here.
I wrote about The Elders in my book, We Are The New Radicals. I've often said that all of the New Radicals (people like you and me who are finding ways to leverage skills acquired in our careers and put them to work on the world's greatest challenges) feel like my children, and that I see my books in the same way. Which is why I'm at a loss to describe the brand-new audio version of my book. Is this my first clone?
Wishing you the very best this season. May it be a "coming of the light" in your life, and in that of people around the world.