A veteran storm chaser says he filmed himself being attacked by a knife-wielding maniac amid the deadly tornadoes in Texas over the weekend.
Jeff Piotrowski was broadcasting storm coverage northeast of Dallas Saturday night when he filmed the skirmish, with one shocked Periscope viewer writing: "We almost witnessed your murder."
The Emmy-award winning chaser was driving outside Farmersville, documenting the destruction, when video shows him passing a man holding his head on the side of the road.
"I've got to go back and help that guy. It looked like he was injured," Piotrowski tells his viewers while turning his vehicle around.
"Are you hurt, are you OK?" he's heard repeatedly asking after pulling up to the man.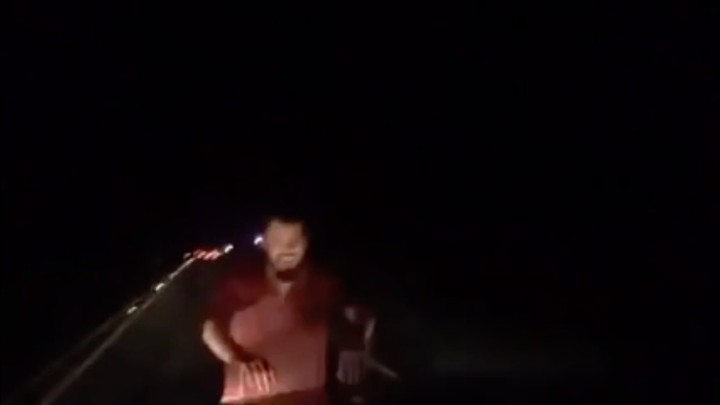 "I need to speak to an attorney, please," the man calmly replies off camera. "An attorney!" he shouts when Piotrowski questions him.
Some kind of tussle ensues in his car before the unidentified man is heard saying, "This is some bulls—t dude."
In an interview with the New York Daily News, Piotrowski claims the man lunged into his vehicle from his driver-side window and grabbed his throat. He consequently stepped on the gas, momentarily leaving the suspect hanging onto his truck.
"This guy tried to attack me with a knife!" he's next heard screaming in the video.
"He almost got me. Almost stabbed me in the chest," he says while racing down the road in pursuit of a police officer up ahead.
After pointing an officer in the man's direction, Piotrowski resumes his course along State Highway 78. Shock then turns to anger.
"Stop to help somebody and they stab you," he fumes. "In 35 years of chasing, I've never had anybody try to freakin' stab me after a freakin' tornado. I'm mad as Hell. I wish I had my gun; I woulda shot his ass. This is ridiculous."
Piotrowski described the man as appearing "wide eyed, like he was wiped out on drugs or something."
In a message to his fans on Twitter after, he assured them that he was OK though a little banged up.
"I was attacked tonight I'm ok the guy was trying to kill me. I hurt my arms from fighting him off of me. [I'm] glad I'm alive," he posted. Several hours later he announced that a Collin County Deputy had arrested "the thug" responsible.
The suspect has yet to be identified by the sheriff's department. A request for comment was not immediately returned.
Piotrowski's fans are meanwhile expressing sighs of relief, including some who claim they witnessed the attack as it unfolded.
"I was watching LIVE!! I was So Scared for you. I'm so glad your ok & safe. It was Horrible!!" @tamara710 posted.
"Glad you are OK. We almost witnessed your murder on periscope. You have very clear pictures of him for the police," Debbie Fenelon tweeted.
PHOTO GALLERY
5 Of The Deadliest Weather Disasters Of 2015
Calling all HuffPost superfans!
Sign up for membership to become a founding member and help shape HuffPost's next chapter