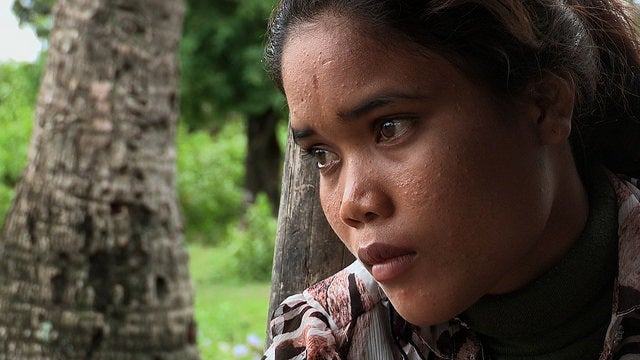 Some 155,000 Cambodians -- about 1 percent of the country's population -- are enslaved, the Global Slavery Index estimated last year. "The Storm Makers," a documentary premiering Monday night on PBS, goes behind those numbers to show the human beings who suffer and prosper from trafficking.
"Behind every figure, there are families being wiped out by the system," French-Cambodian filmmaker Guillaume Suon told The Huffington Post via email. "I wanted to give a face to an opaque and secret plague. Revealing the voice of the 'voiceless victims' of trafficking."
Suon interviewed people in remote Cambodian villages, in the suburbs of the capital Phnom Penh and along the Cambodian-Thai border from July 2011 to September 2014. "The Storm Makers" -- the name that some Cambodians give slave traffickers because of the havoc they wreak -- follows the lives of three individuals: Aya, a peasant girl sold into slavery at 16, who returns to her village with a child born out of rape; Pou Houy, a ruthlessly successful trafficker in the Cambodian capital of Phnom Penh; and Ming Dy, an impoverished mother who sold her daughter to Houy and continues to provide the trafficker with others from her village.
"Money was at the center of all the discussions," Suon said. "Everything has a price. I was surprised to see how far people were ready to go in order to have money."
In a July report that looked at human trafficking in Cambodia (and elsewhere), the U.S. State Department wrote, "Children from impoverished families are highly vulnerable to forced labor, often with the complicity of their families, including in domestic servitude and forced begging." The department noted that the Cambodian government does not fully comply with even minimum standards to combat human trafficking.
Suon said he wanted his documentary to tell the untold stories of those enslaved Cambodians.
"They were not complaining. They accept their fate," he said. "So the film had to carry this voice. Because it hasn't been heard."
"The Storm Makers" will premier on PBS's "Point of View" at 10 p.m. EDT on Aug. 31 and will continue streaming throughout September exclusively on PBS's website.
Check out a preview of the documentary here:
Popular in the Community